To pacify or not? That is completely up to you. What is important is if you choose to use a pacifier that it's safe.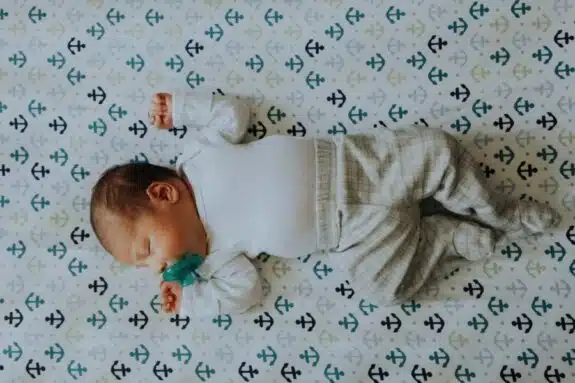 Many parents want the very best for their babies, but many don't realize that countless products contain potentially unsafe chemicals. PVC, latex and phthalates are often found in pacifiers as well as Bisphenol A (BPA). Latex from rubber trees is allergenic to some people and can cause skin irritation in some babies. Phthalates are chemical agents added to plastics so that they remain flexible, and have been linked to hormone disruption. Lastly, BPA is an industrial chemical used in various consumer products like infant bottles, sippy cups, and baby bowls. Thus, it's important for parents to be aware of these potential environmental hazards when purchasing items for their little ones.
A lot of companies have entered the market over the past decade with products that are modern looking, and free from these chemicals.
Here are 10 Safe Pacifiers Brands For Babies!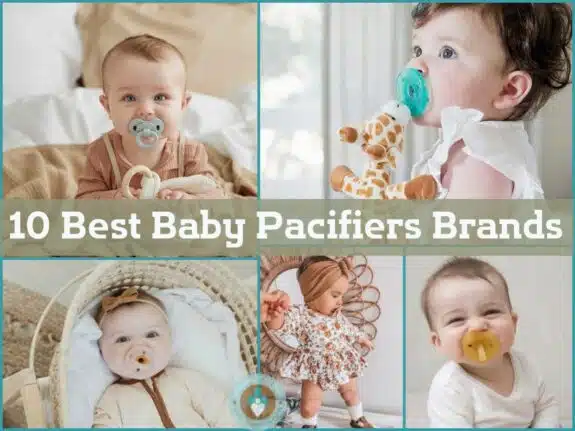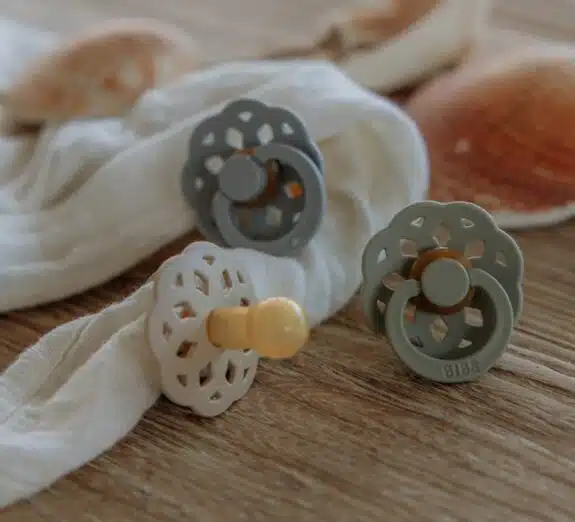 Manufactured in Denmark, these soothers are designed with the help of orthodontists to ensure a proper fit for babies. Their pacifiers include a one-piece silicone body that is easy to clean and comes in different designs and colors. The shield features ventilation holes and extra soft edges that provide comfort while avoiding skin irritation.
Bibs also offer try-it boxes of their 4 styles for babies to try.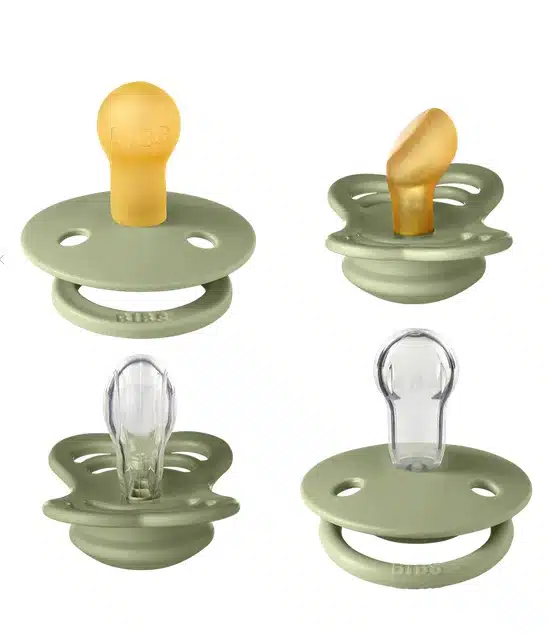 Bibs Pacifiers come in 50 different colours, 3 nipple shapes, and 4 sizes to accommodate babies at every developmental stage.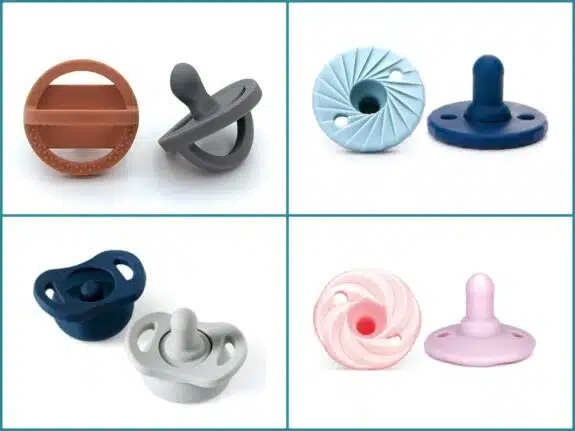 These stylish pacifiers are made from high-grade silicone. Their unique design is ergonomically shaped to minimize pressure on your baby's face, lips, teeth, and palate while still providing maximum comfort. They come in fun, modern designs including the Pop Pacifiers tuck the nipple away to protect it from unwanted surface contact when you and your baby are on the go.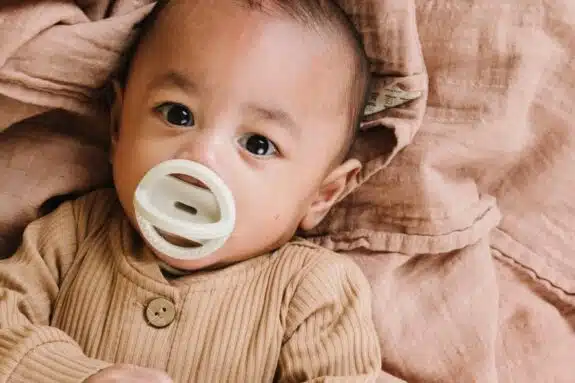 Doodle & Co offers 4 styles of pacifiers in 22 colours with 2 nipple shapes for babies 0-3 months and 3 months+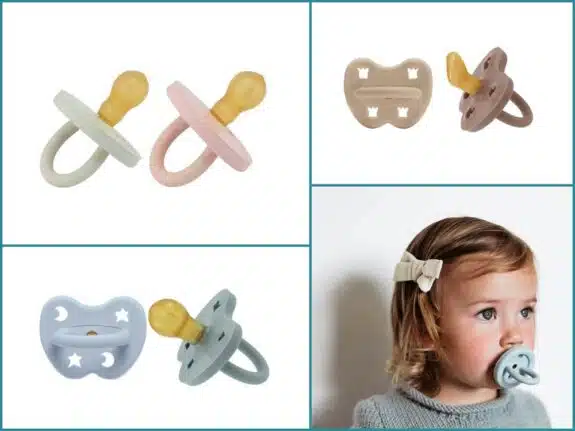 Hevea manufactures high-quality pacifiers with an ergonomic shape that fits comfortably inside your baby's mouth. They are made from 100% natural rubber that is vegan-certified and completely free from plastic, silicone, and BPA. Additionally, their pacifiers and packaging are 100% biodegradable. Heava's pacifiers are offered in 3 nipple styles and a seamless one-piece build that makes them easy to clean and hygienic.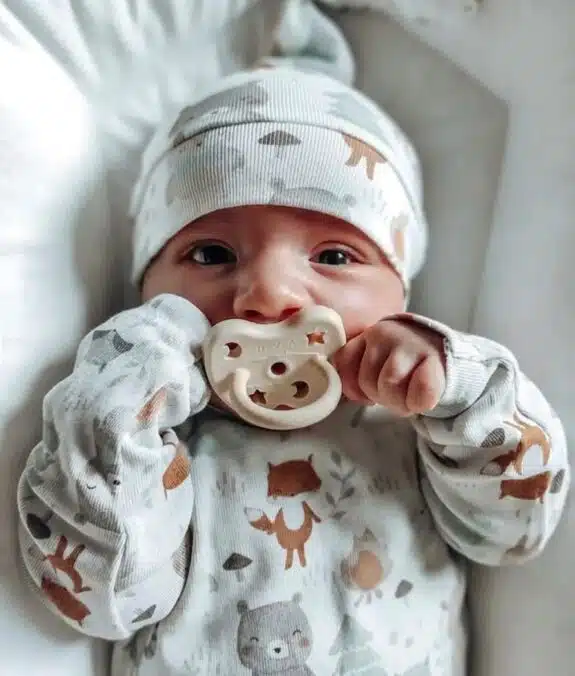 Hevea pacifiers come in several beautiful color choices perfect for newborns and babies 0+ months.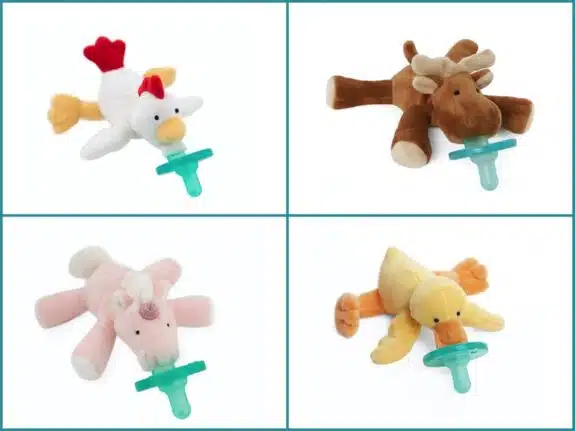 Wubbanub is a safe and fun baby product that provides comfort and entertainment to infants. This one-of-a-kind baby soother combines a soft plush animal with a traditional, 100% silicone, latex-free pacifier to create an adorable and comforting friend for babies. It offers peace of mind to parents since the pacifier is attached to the animal, making it much less likely for it to get lost or misplaced. Additionally, as babies explore their Wubbanubs, they are able to practice fine motor skills such as grasping and manipulating. Wubbanub is not only safe and practical but also sure to bring smiles to both babies and parents!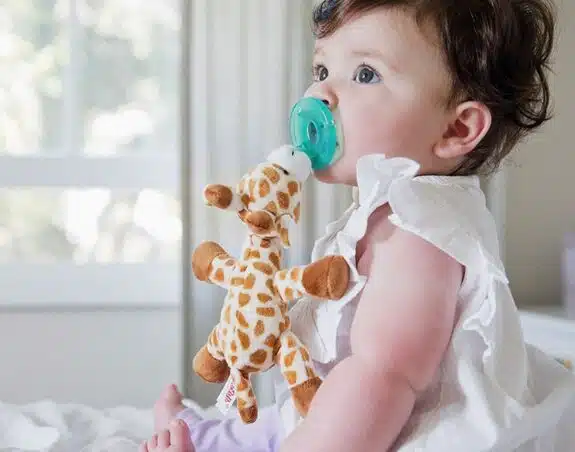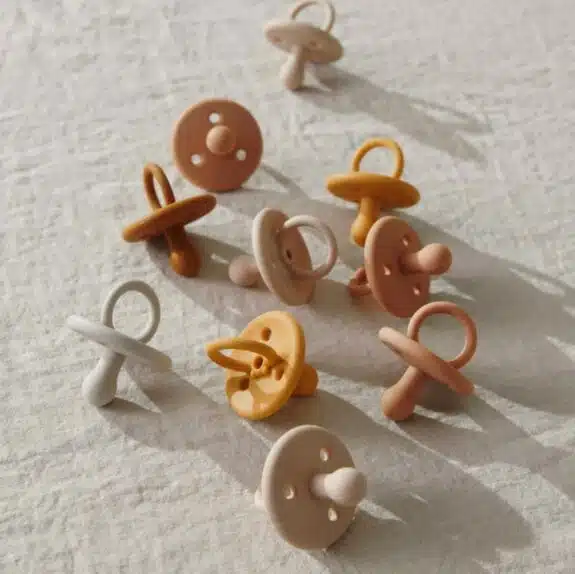 Liewood's pacifiers are a safe and natural option for your baby. This baby soother is made of rubber, which makes them safe to chew. They come in a variety of colors and shapes, offering babies a unique set of options to experience soothing stimulation in multiple ways. A smaller size makes it easier for babies to find and hold onto the pacifier, while their soft material feels comfortable when placed against their skin. With these safe, stylish pacifiers from Liewood, parents can have peace of mind that their baby will have the best possible comfort and care when looking for soothing relief.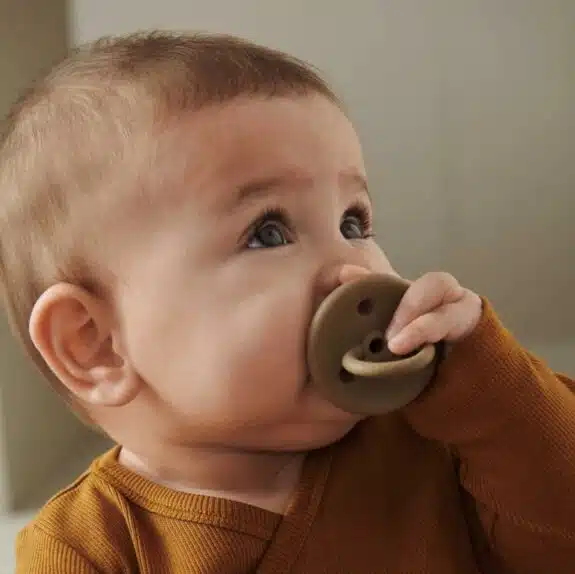 Available in two sizes: Size 1 – most suitable for 0 – 6 months. Size 2 – most suitable for 6 – 36 months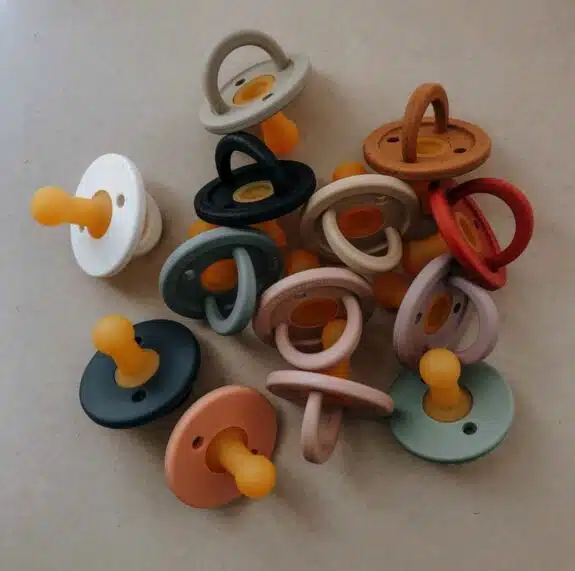 The Pretty Please Teether Modern Pacifier was created with a one-piece silicone design that is free of BPA, PVC, latex, and phthalates. These soothers feature a rounded silicone bulb shape nipple and a perfect for the first year (0-12m).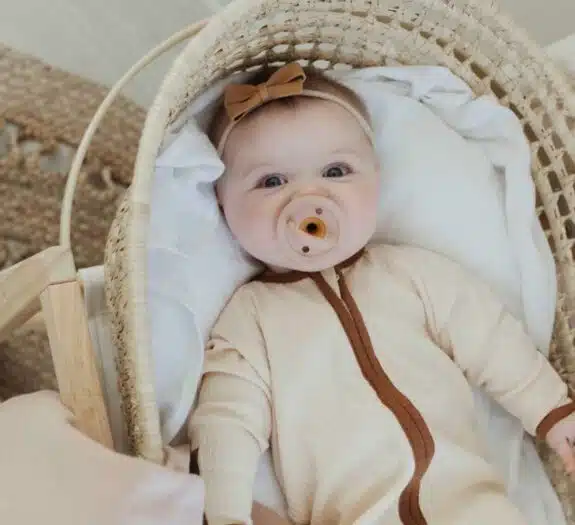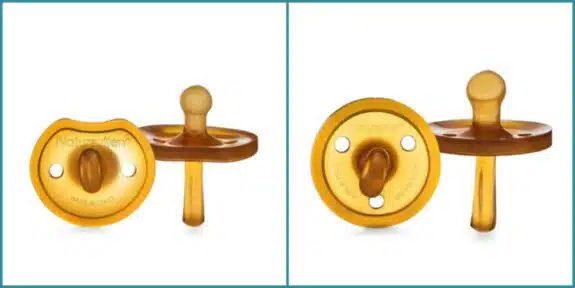 Natursutten is a safe and innovative choice for baby pacifiers. Made with natural latex rubber from the Hevea tree, Natursutten prioritizes baby safety above all else–it's entirely free of any chemicals or dangerous materials. It also features a special orthodontic shape that helps guide the development of your baby's teeth and jaw correctly. On top of that, Natursutten has been tested by both national and international regulators to meet all European standards for safe baby products.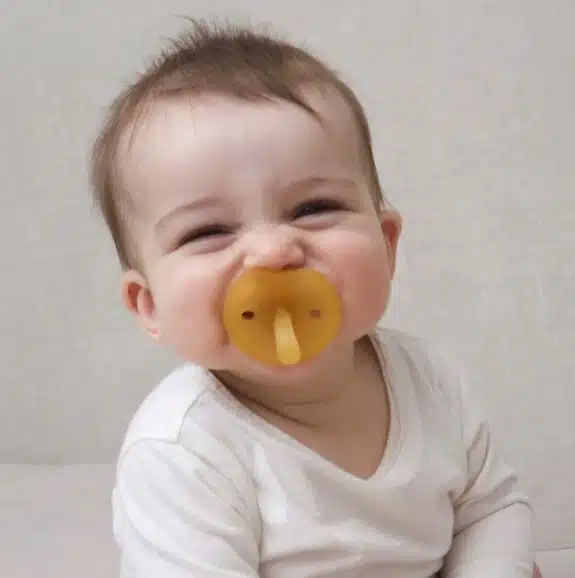 Natursutten pacifiers come in 2 nipple styles; orthodontic and rounded, and are available in three sizes; 0-6 months, 6-12 months and 12 months+.

Created with safe materials, Frigg's pacifiers are manufactured under strict safety standards and have been approved by healthcare professionals to be safe for babies of any age. Not only is it safe but it's also comfortable – the smooth silicone nipple won't irritate your little one's sensitive skin. The larger shield ensures a snug fit and ease of breathability for extra safety. With its safe yet stylish design, Frigg's baby pacifier makes it easy for parents to keep their little ones safe without compromising on style.
FRIGG's fairytale, Daisy, night, moon, and rope soothers come in two sizes:
Size 1: Nipple is 27 mm and is recommended for ages 0-6 months.
Size 2: Nipple is 30 mm and is recommended for ages 6-18 months.
Each is available with a nipple in medical-grade silicone and natural rubber.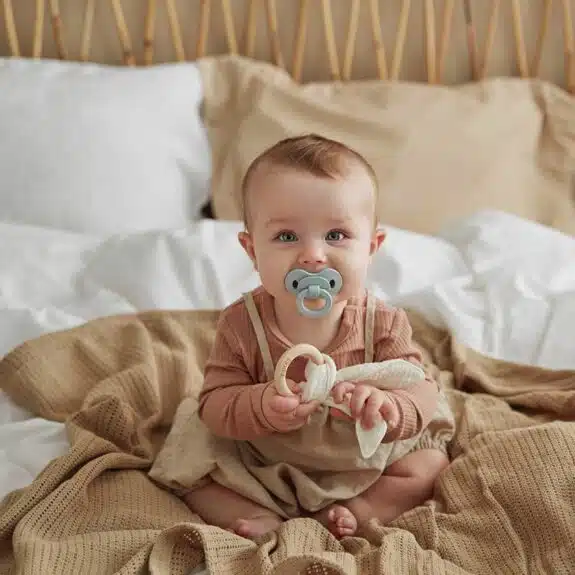 The Elodie Details pacifier provides a safe and comfortable solution for parents looking for safe baby products. Its non-toxic, safe silicone nipple is specially designed to be soft and safe against a baby's delicate skin, while the shield is made with natural plant-based materials, helping your family reduce your everyday use of plastic. The orthodontic nipple shape is designed to feel natural in a baby's mouth, while its vents allow air to circulate, helping prevent skin irritation. One-piece construction with no removable parts also makes it easy to clean, ensuring your little one's pacifier stays safe and hygienic to use.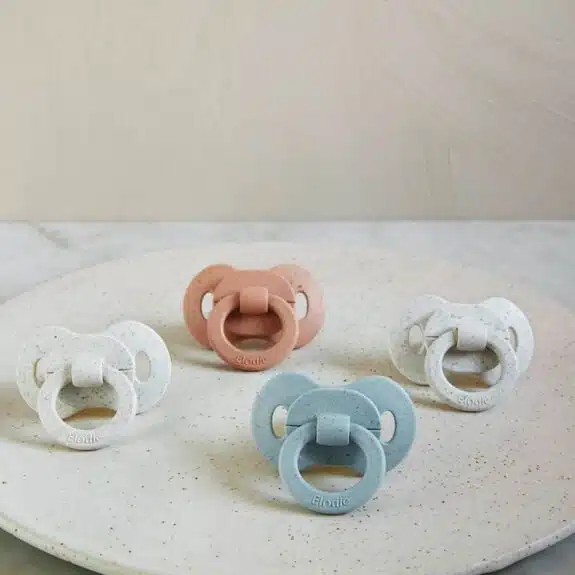 These bamboo pacifiers have dual ventilation holes to reduce skin irritation and they are suitable for babies 0 to 6 months of age.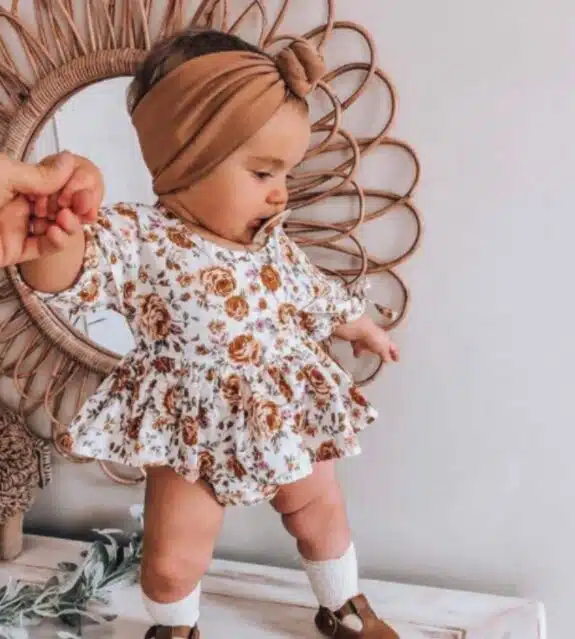 Harlee Bee & Co's pacifiers feature a one-piece silicone design that is free of BPA, phthalate, PVC, and other harmful chemicals, ensuring your peace of mind while also providing comfort for your baby. The strong yet gentle nipple allows them to transition easily from bottle to pacifier. Plus, its innovative shape helps reduce the risk of choking or suffocation.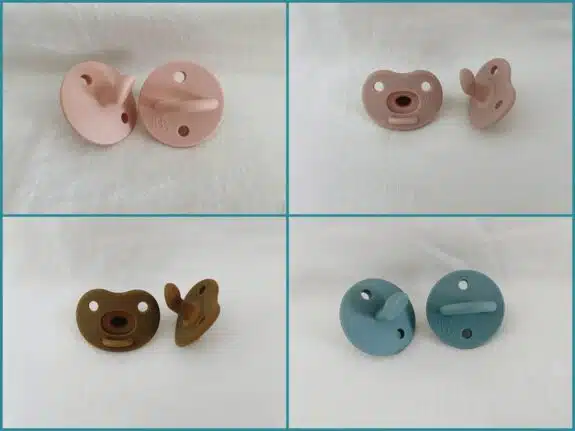 Designed for babies 0-12 months, the pacifiers come in 2 designs; natural and harleebeeanco.
When looking for safe baby pacifiers, these 10 brands are a great place to start. All of them use safe materials and design their products with comfort in mind so that you can rest assured your baby is safe and secure when using their products. From Doodle & Co's stylish designs to Harlee Bee & Co's safe construction, there is sure to be the perfect option for your little one. So make sure to choose the right pacifier from these safe brands to keep your baby safe and comfortable!
Related Articles: