Car seats are bulky.  We know this.  If fact they're so bulky it's hard to get more than 2 in the back of a regular sized vehicle.  There are some companies who have developed slimmer seats that will go 3 across – but never 4.

A UK company is changing that with their unique single piece design that allows parents to place a multi-car seat unit overtop of their current back seat.  Using the existing LATCH connectors and the brand's ratchet system that sits under the middle seats you can easily connect the unit to your vehicle's frame.  The unit also comes with 2 stabilizer legs to prevent and skewing during an accident.
The company has designed 6 different 3-4 seat versions of their Multimac product to fit most vehicle models and sizes.

What I love is that once the unit is installed in the vehicle there are no longer any concerns about whether or not the install is tight, if there is play or if the tether has been connected.  The seat unit itself comes with a combination of options for parents to adjust as their child gets older.
The 5-point harness has 3 height adjustments and there are 2 headrest options to accommodate a growing child.  The 5-point harnesses on the seats are designed for kids up to 36kg.  The brand has been recently been approved for use with the adult lap belts for older kids in the outer seats when they outgrow the harness weight.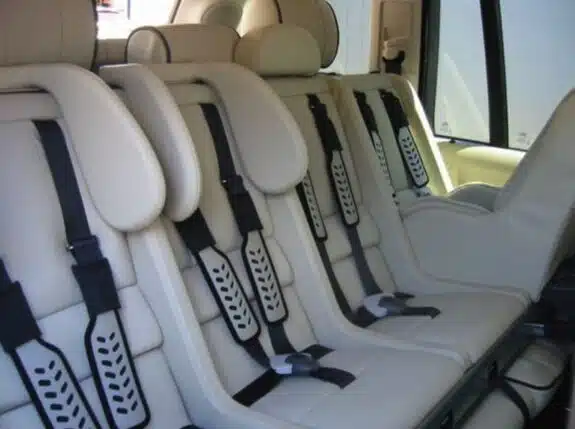 For newborns 0-13kg they have a 'minimac' that includes a body hugging insert and carry handles. This additional seat snaps in on the outside of the unit and can be used in the rear-facing configuration until your child is about 18 months old.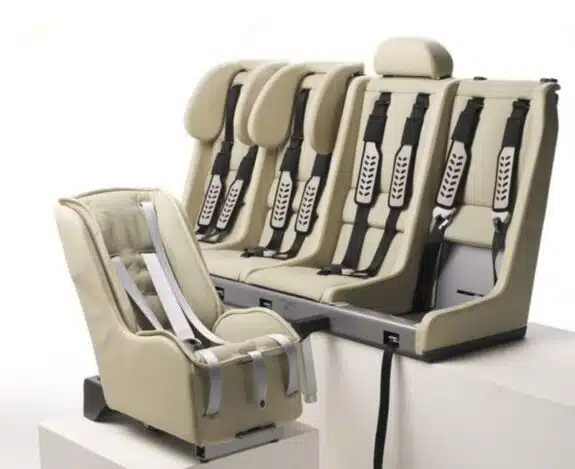 While I think there would be a need for some modifications before it could be approved in North America, I absolutely love this design and would think it will be welcomed by parents of multiples or those who have 4 under 4.
Below is a video demo:
---