Already mom to 4 grown children, and grandma to four grand-children, Sharon Cutts, 55, has broken records in the UK after she gave birth to triplets Mason, Ryan and Lily, on March 21st.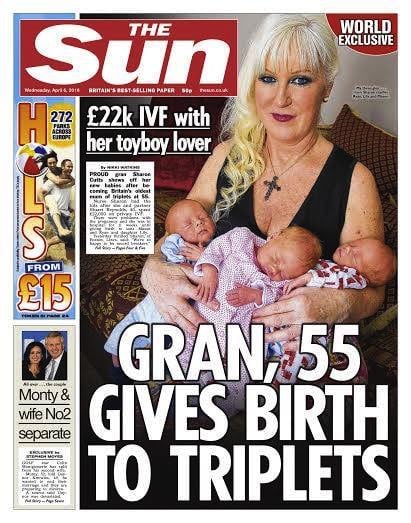 Sharon traveled to Cyprus to undergo IVF after she was deemed too old for the procedure in the UK.
She reportedly used donor eggs and the sperm from her her partner Stuart Reynolds, 40, for the £15,000 procedure.
Sharon said, "Two weeks after the procedure I took a test at work and I was pregnant. I couldn't wait to tell Stuart, who was over the moon.  We both couldn't believe our eyes when the scan a few weeks later showed we were having three babies.  After the initial shock I was delighted."
At 23 weeks, though, she was placed on bedrest for nearly three months in an NHS hospital after losing blood.
She recalled,
"I was convinced I was miscarrying and was rushed to a hospital in Sheffield. But the babies were fine."
Despite paying the £22,000 bill on her own for her hospital stay, critics accused her of being "selfish" and wasting public money.
"The consultant said my 11 week hospital stay was money well spent. If I had been sent home there would have been bigger, costlier problems.  I could have had a bleed at home and then it would have been over two hours in an ambulance – costing a fortune."
At one point  doctors advised her to consider reducing the pregnancy out of fears for her health.
But she refused and the triplets were born by Caesarean section at Nottingham University Hospital each weighing between 4lbs and 5lbs.
Stuart admitted: "It was the most incredible and terrifying time of my life."
Now the couple is on full time diaper duty, changing 24 nappies a day!
The triplets are the first babies for Stuart.  He told The Sun,
"I was excited, and then bricking it. Now they're here I wouldn't change it for the world."