While playing in the same Salvation Army Band, John Willows, 73, met his girlfriend 30-year-old partner Polly Jackson D'zacchaeus.  The truck driver had lost his wife to cancer 11 years ago and the pair hit it off.
"We're both bass players, and gradually we were spending more time together. Then after a couple of years I text him as I was going away and said, 'What do I say if people ask whether we're a couple?'  He replied: 'Say yes,' and that was it really."
While some don't understand the large age gap, Polly says,
"It doesn't bother me. He is a brilliant father and a fantastic person.  Although we're quite far apart in our ages, we're very similar in how we think.  I'm very traditional, and so is John so we're a good team."
Four years ago, when John was 69, the couple welcomed their first child together on Christmas Day.
The family grew again last month when their son David, who was born weighing 6lbs 12oz.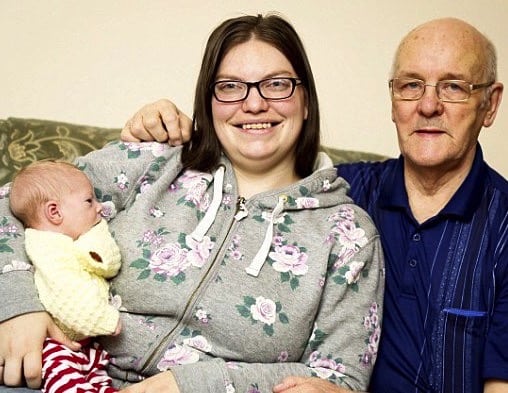 The grandfather-of three and father to two sons in their 40's says, "I've never been happier in my life.  The kids make me feel young and keep me going."
"They definitely put a spring in my step and keep me on my toes.  I was very happy to meet Polly and she is the love of my life.  We do get the odd comment about the age gap but it doesn't bother us.  You cannot put an age on love and the majority of people are very supportive.  They are just glad to see us so happy."
The secret to their success may be that they don't actually live together.   They also don't have any plans to marry.
Polly has a seven year old son from a previous relationship, and she and the kids live just across the road from John.  "It's great, the kids all love having two houses," she told the magazine.  "On Christmas Day I think we'll open presents in the morning and then go over to John's for lunch to celebrate Esther's birthday."
---
[ad]