New for 2011, New Zealand buggy company phil&teds collection continues to grow, with new additions for every line they offer.
Fresh off a design innovation award for their freerider scooter at Europe's biggest Baby Trade Show Kind + Jugend, phil&teds has listened to parents and created some great gear for the on-the-go family.
Nest – The nest is the first portable crib to offer the multifunction of gear bag, and attractive, flat packing pop up baby bed crib in one.
lobster –  The lobster is an innovative portable highchair that features a one hand clamp & lock system with dual trigger lock for a fuss-free, secure attachment. It also comes with a tray that secures between the clamps to give your child a clean eating space anywhere, anytime.
verso smart stroller adapter – "verso" is an adapter which allows the smart's aerocore seat to be both forward and rear facing, delivering adaptability as well as choice.  Also new to the smart stroller will be increased lay-back offering two positions from upright giving the seat 10deg and 20deg of recline

verve – p&t's newest inline stroller is essentially a 4-wheeled version of the vibe with a full recline in the second seat.  This sleek looking stroller also features lightweight steering and a gorgeously curved frame.
Mountain Buggy has been the go-to stroller for parents who want a heavy duty frame with a luxury ride. New for 2011, they will be introducing their +one tandem stroller that features a stadium seating configuration to give both riders a good look out into the world.
This inline system will work with the following configurations:
newborn – carrycot, travel system, lie flat and cocoon
1 toddler – toddler upright, upright with storage
1 toddler, 1 newborn – 1 seat upright, 1 cocoon
2 toddlers – 2 seats upright
Other new features that appear on the +one include the HUGE canopy with its adjustable height as well as zip mesh extension giving full coverage to both children, the one hand quick fold and frame fold auto lock. The +one comes as a complete bundle which includes the buggy, inline seat and cocoon, making it perfect for a growing family.
free rider – The free rider is a genius design that offers dual functionality.  Simply a scooter that can be attached to a stroller, the free rider will be the must-have accessory for the 4-6 year old child that can walk but won't because it will be way more fun to have you do the work.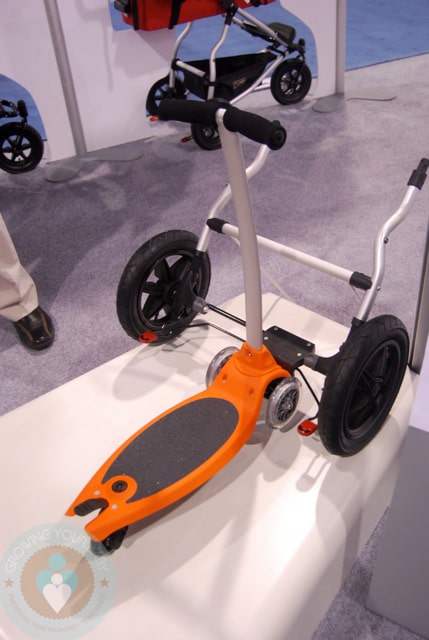 Mountain Buggy also has an exciting new double coming out, but we only saw a prototype and were asked to wait to fully discuss it when the final product is available.

Related Articles:
---