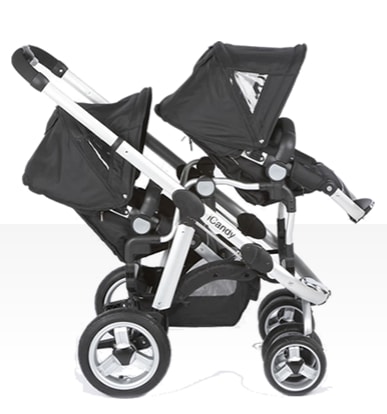 When Luxury stroller manufacturer iCandy crossed the pond earlier this year and introduced 3 of their signature strollers, they were met with excitement from North American parents.
I was first introduced to the line in 2007 when the company's second stroller – the apple was being launched. Shortly after, a doubles kits was introduced that revolutionized double strolling forever. With the addition of a bracket and a second seat, the apple was the first stroller that could be converted for a second child or infant if necessary.
Now 3 years later iCandy has lots of new stuff coming that will make strolling a dream for parents.
The Peach! Finally, we will be able to purchase the much anticipated Peach Blossom and Twin! They have both been available overseas for a while, but will be in store here soon.
Suitable from birth, the Blossom will accommodate a toddler seat, bassinet and infant car seat in the back and toddler seat in from.
Also suitable from birth, the Blossom Twin can do 2 car seats, 2 bassinets, 2 toddler seats or a variety of other combinations.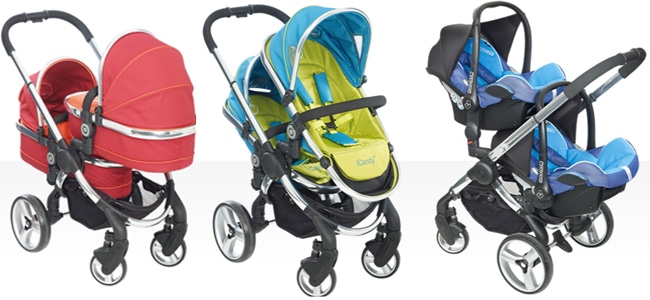 Both strollers feature a 17.3lb frame, an extra large shopping basket, freestanding chassis when folded and a unique one hand fold mechanism that folds to a size similar to a single stroller.
New for 2011 iCandy has designed a 3-wheeled version of the Peach with a brushed silver frame and black tires.
The iCandy Cherry will come in a really nice Special Edition. Taking inspiration from the iconic Union Jack, with classic regal colours and stylish finishing touches, the new cherry benefits from all the practical features which created our original cherry and comes as a complete package including stroller, carrycot, luxury superfleece footmuff, changing bag, parasol, parasol /cupholder clamp and raincovers.
Also shown, but only as a prototype so no pictures were allowed, was the new Strawberry. This new single takes iCandy's luxury features to the next level by offering a tweet bassinet and toddler canopy.
---
[ad]