New for 2016, Fisher-Price has a lot of great gear on the way to keep babies comfortable, entertained and engaged!
This Spring the Soothing Motions Seat will offer three calming motions – bounce, sway, or bounce and sway – to keep babies happy. While there's no substitute for the comfort of mom or dad's arms, this soft, cozy seat with a plush insert, calming vibrations, and gentle music and sounds sure does come close. It also features a mirror for self-discovery and dangling toys that encourage eye-tracking. For babies up to 20lbs.
It will retail for $159.99 when it is released in Spring 2016.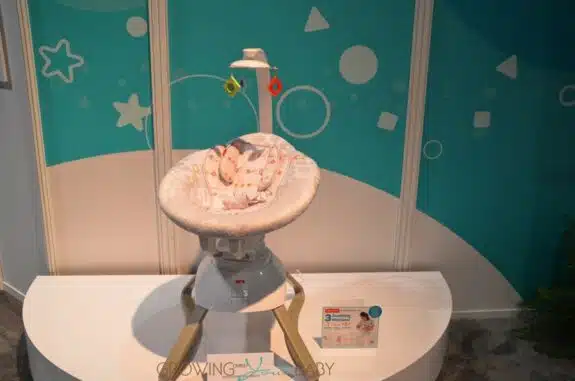 Also coming this Spring, the 4-in-1 Smart Connect Cradle 'n Swing is a rocker and a swing you can control from your smart device. The SmartSwing Technology offers 6 distinct swinging speeds from low to high so you can find the perfect rhythm to help soothe baby, whether swinging side-to-side (like a cradle) or head-to-toe. When baby's ready to rock, just remove the rocker seat, set it on the floor and baby can enjoy either of two rocking motions.
This swing also features 16 songs, 3 nature sounds, and deluxe overhead mobile with light-up birdies (one with a mirrored belly) help keep baby entertained. Parent will also like that there are two convenient power options that make this baby swing easy to use anywhere, just plug it in when you're near an outlet, or switch to battery power swinging when you're not. For babies up to 25lbs.
It will retail for $199.99 when it is released in Spring 2016.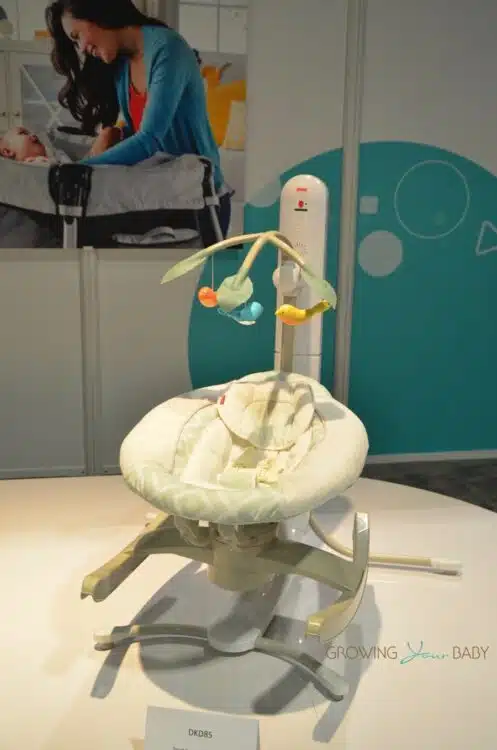 The 4-in-1 Total Clean high chair grows with you baby and can be easily disassembled and placed in the dishwasher for a total clean! This high chair straps securely to just about any kitchen chair, dining chair or restaurant chair to give you and baby all the features, comfort, and convenience of a full-size high chair. As your child grows, this high chair easily transitions from reclining high chair seat for newborns, to a seat for infants, to a comfortable, height-adjustable "big-kid" booster seat for toddlers! Just above the footrest it features a container to store baby wipes for quick clean-up, a stain resistant & crevice-free seat pad that is removable and machine washable, EZ clean straps, and one handed removable, dishwasher-safe tray.
Will retail for $149.99 when it is released in the Fall of 2016.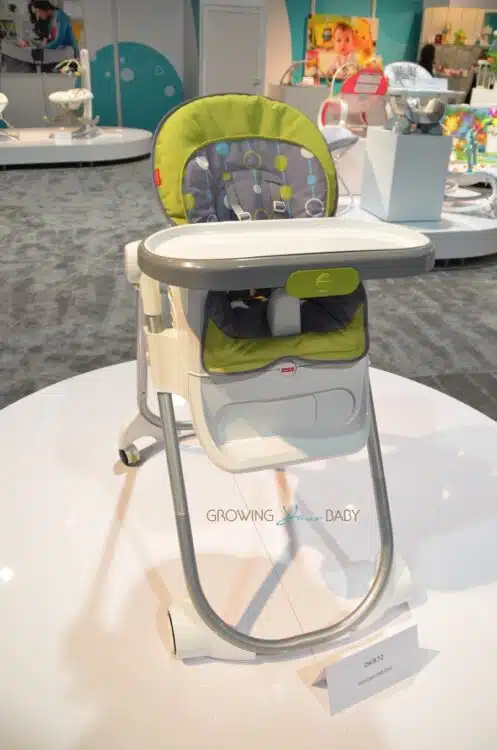 Coming this Spring, the 4-in-1 Step 'n Play Piano encourage baby's first steps with music, lights & room to grow! Built for physical, musical, all-around fun, there are more than 20 toys and activities all around. Every press of the piano keys (hand keyboard & feet keyboard) gives developing coordination and gross motor skills a boost.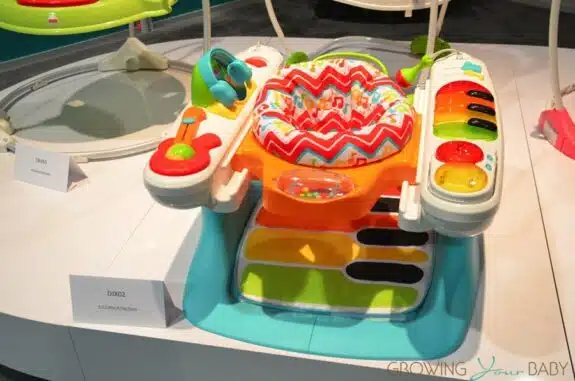 It features four ways to play:
Soft, removable play mat for tummy time or lay & play
Entertainer with spinning seat for all-around play
Stationary walker encourages first steps
Activity table for toddlers
Will retail for $129 when it's released in Spring 2016.
Video below. *Please note it's a prototype so it is just for show purposes and doesn't completely function like the full product will when it's released. *
Fisher-Price will also debut a very sweet collection of gear that has been designed with little girls in mind. We are in love with every piece in this collection!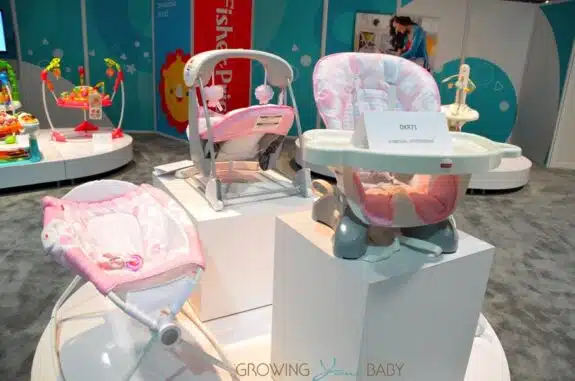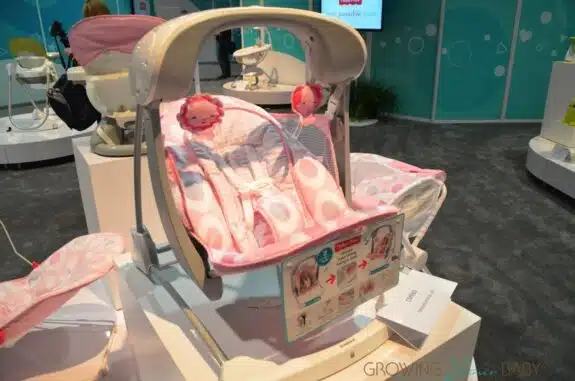 Parent's of little girls will also love the new Floral Confetti SpaceSaver Jumperoo! Just like with the Space Saver Jumperoo that FP released last year, this version has a lot of activity toys help keep baby busy, including colorful light bars, a wiggly-jiggly froggy teether to chew, 3 colorful rings to slide back and forth, and a turtle to click. Additionally, it features include easy assembly, 4-position height adjust, a machine-washable seat pad and it easily folds flat for portability and storage!
Will retail for $69.99 when it is released in Spring 2016.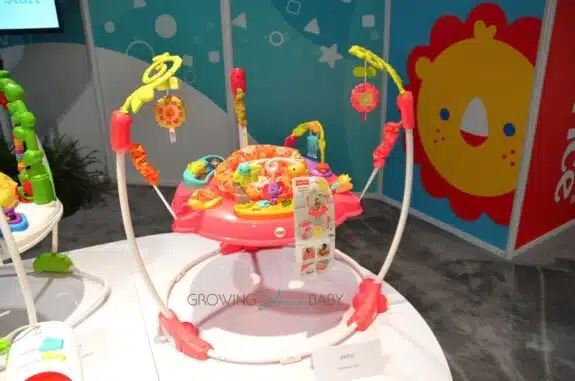 There will also be a new Rainforest version of the SpaceSaver Jumperoo that will feature a rotating seat that gives baby 360-degree access to toys, activities and friends all around, including soft monkeys overhead, spinners, clickers, a bead bar, mirror and so much more, all within baby's reach.
Baby can reach, grasp, move, groove, and jump so high – all things that give developing motor skills a helpful boost.
It will retail for $99.99 when it is released in Spring 2016.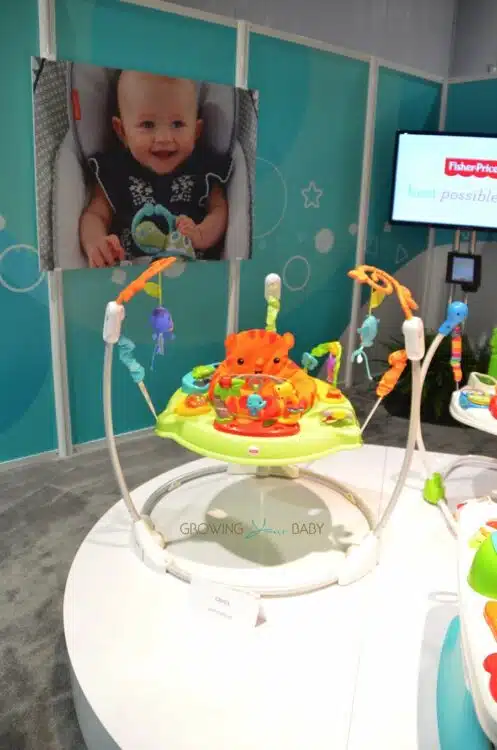 This grow-with-me activity gym drives nonstop fun from newborn right through the toddler years, offering three ways to play that grow with your baby.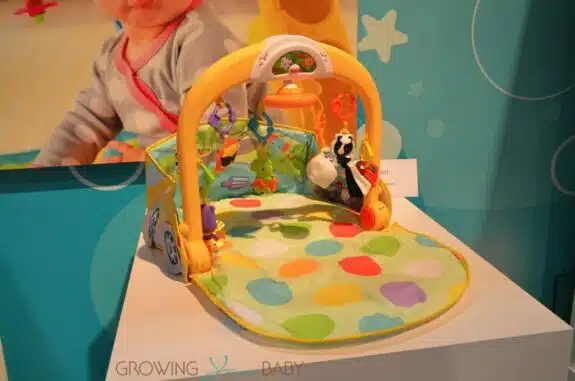 Lay & Play – Overhead activity toys reward baby's bat-at play with clacks, jingles, rattles, spins & more.
Tummy Time – Help baby cruise through tummy time by lowering the toy bar to the floor. Touching the steering wheel provides fun tune rewards!
Sit & Drive – Create a cute car dashboard by moving the toy bar to a 45 degree angle. Beep! Beep! The steering wheel now triggers fun car sounds.
Will retail for $59.99 when it is released in Spring 2016.
The Rainforest Music & Lights Deluxe Gym brings the rainforest to life with music, lights and nature sounds that respond to baby's movement.Linkable toys, busy activities and a soft mat make lay & play and tummy time so much fun!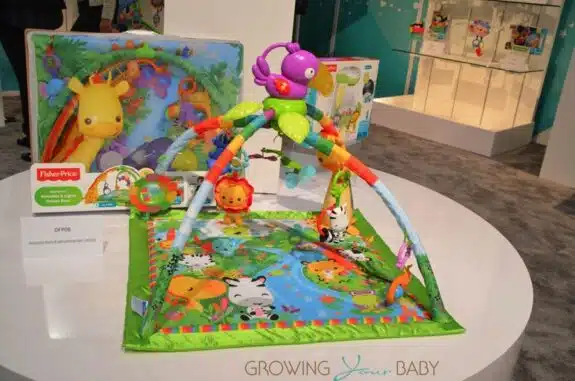 Activity mat play grows with baby with three ways to play:
Lay & Play – Overhead activity toys reward baby's bat-at-play with clacks, jingles, rattles, spins & more
Tummy Time – Low-hanging toys reward baby's touch with fun sounds, encouraging baby to push up, reach & bat
Take-Along – When it's time to start cruising baby can remove the take-along toucan with dancing lights and music.
Will retail for $69.99 when it is released in Fall 2016.
The Infant-to-Toddler Rocker (shown here in the Geo Diamonds print) is a sleek and modern infant to toddler rocker offers versatility with multiple uses including playing, soothing, feeding and just hangin' around. It starts out as an infant seat or rocker with bat-at entertainment overhead to keep baby entertained.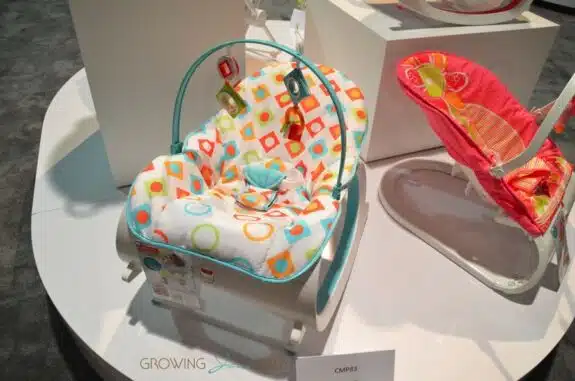 As your child grows, you can easily remove the toy bar and convert it to a toddler rocker, for children up to 40 lbs. It features calming vibrations to help soothe & comfort, a stationary seat position with kick stand, a removable toy bar with two bat-at toys, and a removable, machine washable seat pad. It also has a two position seat recline helps keep little ones comfy in both stages.
Designed for infants up to 40 lbs.
Will retail for $44.99 when it is released in Spring 2016.
The Soothing Savanna Deluxe Bouncer is so soft, so snuggly, and so comfy, it's perfect for soothing or entertaining! Soothing features include a deep seat with calming vibrations, cozy fabrics, a plush insert and soft head support. Features a removable overhead mobile with cute overhead pals, up to 20 minutes of music and nature sounds, a removable, machine washable and dryer safe seat pad and insert, a secure, three point restraint and non-skid feet.
For babies up to 25lbs.
Will retail for $64.99 when it's released in Spring 2016.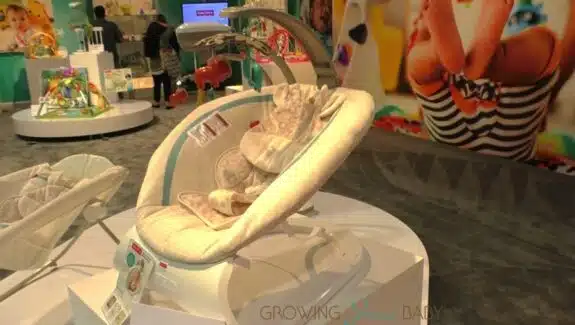 ---