After nine miscarriages and most of her reproductive organs removed, the chances For Abby ­Drinkkell becoming a mother were slim. But incredibly her dream has come true – thanks to aspirin.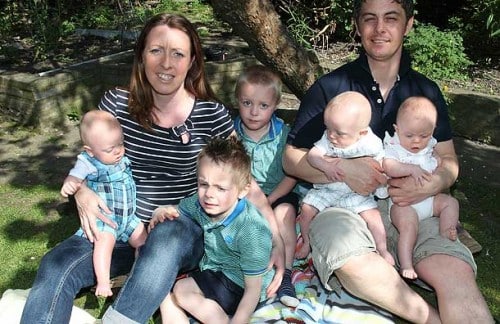 For 30-year-old Abby, it all began seven years ago when, like many young couples, she and her then-husband Steve began trying for a baby. She became pregnant within six months but unfortunately lost the baby at 7 weeks.
"Within six months I was ­pregnant," she recalls. "But at just seven weeks I lost the baby. I was very upset, but I didn't worry too much. I knew many women have miscarriages and I believed the next time I got ­pregnant it would be OK."
But sadly Abby lost two other babies one after the other in the next two years.
"It was always at around eight and 10 weeks," she says. "I began to give up all hope of ever ­carrying a child. Worse, ­doctors were at a loss about what to do."
Then one day, she heard of new research done at St Mary's Hospital in ­Paddington, London on recurrent miscarriages and how it could be tackled. Abby decided to consult the doctors.
The research suggested that some women suffer from a condition called Antiphospholipid ­Antibody Syndrome where, during pregnancy, their body starts producing blood that is too thick. As the baby grows the blood supply to the womb is eventually cut off, therefore, causing the baby to not survive.
Tests revealed that Abby was indeed suffering from the same condition and the solution to the problem was to take aspirin during pregnancy to thin the blood thereby preventing clotting.
A few months later when Abby again got pregnant she took doctor-recommended Aspirin and the drug helped her give birth to son Mason in 2007 and Blake a year later.  Sadly, her marriage broke up.
"Maybe all the miscarriages had taken their toll but Steve and I had grown apart," she says.
Shortly afterward, Abby met Lee through work and got married.
"We decided to try for another baby. Lee didn't have ­children and we wanted a child together," she says.
Abby again took Aspirin when she got pregnant but at around 10 weeks complications arose that prompted doctors to terminate the pregnancy. It was found that the fetus was developing in the fallopian tube instead of the uterus, called ectopic pregnancy.
"I was 10 weeks pregnant when I collapsed in agony and was rushed to hospital.  To save my life, doctors had to remove the baby. When I came round I was ­devastated to ­discover I was no longer pregnant."
She also was without a fallopian tube as doctors had to remove that too.
"It meant another problem, as with one tube, my ­fertility was ­reduced – my doctor ­explained it was reduced by at least 50%. It was terribly ­upsetting and Lee and I ­resigned ourselves to the fact we might not have our longed-for baby."
But contrary to their beliefs, Abby got pregnant again last February. The news became even more unbelievable when they found that she was expecting triplets!
"Lee had a work meeting that day so couldn't come with me," she says. "But when the ­sonographer told me there were three ­separate sacs and each of them had a heartbeat, I almost fell off the couch in shock. And when I rang Lee to tell him, he honestly thought it was some sort of bizarre joke. In the end I drove to his office to show him the photos of our triplets."
Abby's consultant too was equally surprised by the odds.
"Even our consultant is at a total loss to explain why I fell pregnant with triplets. With no ­family history on either side of twins or multiple births, it is a total mystery. In fact the consultant quoted the odds of having a multiple birth with one tube as one in 33 million. The only explanation medical staff can give is that with just one tube, my body went into overdrive and produced three eggs."
The triplets were non-identical and growing well. The couple suddenly needed to plan for three new arrivals.
"I did panic a little when I thought about how we would cope with three babies," says Abby. "We have a normal three-bed semi and drove a normal car. Then I did worry about having triplets as I knew there was more chance of premature birth and other problems with so many babies."
At 27 weeks in August last year, Abby walked to open the door for the postman when her water suddenly broke.
"Within minutes contractions began and I rang Lee to come home – he had only just got into work."
At the hospital, doctors worked to hold off the labor by giving her drugs and steroids to help the baby's lungs mature. Five days later, via emergency C-section Abby's triplets were born. Sullivan weighed 2lb 4oz and was followed by Tilly, 2lb 2oz, and Malachi, 2lb 1oz.
"All of them were rushed to special care," recalls Abby. "It was then touch and go whether they would be OK. I came home when they were a week old and that was awful coming back to the house without them."
As with preemies, the triplets went from one medical complication to the next, recalls Abby.
"The next few months were a rollercoaster as all the babies ­needed blood transfusions and got one ­infection after another. Some days we hardly dared ring the hospital in case it was bad news and a number of times we thought Sullivan might not pull through when he got MRSA and swine flu."
But thankfully Tilly and Malachi came home in November last year and Sullivan joined them in January.
Taking care of her precious babies Abby decided to get sterilized.
"Having them all home was ­fantastic," says Abby. "I always thought having a big family would be ­wonderful and it is. But it is also hard work and I ­certainly couldn't cope with more children."
She is now enjoying busy motherhood and the family had to upgrade to a bigger vehicle and adjust to the household full of baby toys and clothes.  But Abby is one mother who isn't complaining.
"I have got my dream ­family and after ­everything we went through, we feel so ­fortunate to have them," she says. "Having had so many fertility ­problems, even now I can't ­believe that something so simple as an ­aspirin has helped me ­become a mum of five."
After overcoming so many hurdles, motherhood is bliss for Abby.
Related Articles: