Often we write about moms who didn't make it to the hospital in time and were forced to deliver their babies on the side of the road and sometimes in the parking lot of the hospital. Over the weekend, however, Tessa Kilgore was forced to give birth in the parking lot of the Walker Baptist Medical Center in Jasper Alabama after the hospital was evacuated due to a bomb threat.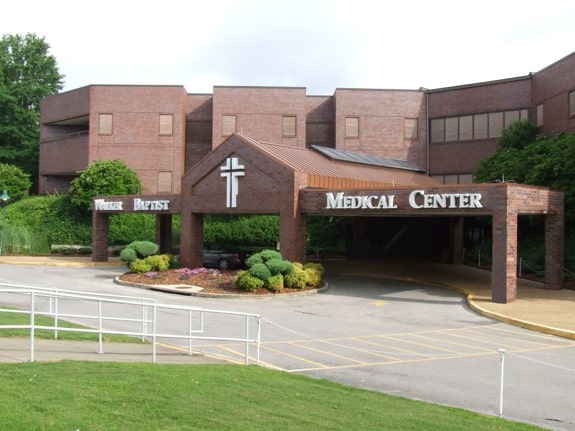 Tessa's pregnancy had been pretty uneventful and so was her labour – until the hospital received a bomb threat, which called in to Walker County E-911.
This is when everything changed. In full, active labor Tessa and 75 other patients were evacuated into the hospital's front parking lot at 8:50 a.m.
"At first I didn't know if I was supposed to push or not," Tessa. "I was scared, especially when they put up the blankets around me taking me to the parking lot."
But just 33 minutes later — at 9:23 a.m. while laying under the shade of a few trees Tessa delivered Kylie Babbs, who arrived weighing 5 pounds, 8 ounces and measuring 19 inches long.
"It was just crazy," the new mom told MountainEagle.com. "I didn't know what to think. I was as shocked as everyone else about (having to be evacuated). She would pick today to be born when all this was happening."
After the delivery mom and baby were taken by ambulance to the Alabama Outpatient Surgery Center.
New dad LaDarrick Babbs recalled the birth noting it was crazy.
"By the time she was born, I didn't care who was around and watching," Kilgore said. "It was quicker than I thought it would be."
Thankfully Dr. LoRissia Autery was on hand to deliver the baby girl and there no complications.
"Certain things can't be planned all the time. Birth is one of them," Dr. Autery said. "The patient remained calm and upbeat and the delivery was just as beautiful outside as they always are inside. It's an unforgettable experience. I have the best career."
The work of the nurses and doctors attending to her also helped make the situation better, Tessa also noted.
"They were great," she said. "They were calm and didn't freak out. Dr. Autery was great."

"It was great that, despite all the stress of the event, when we all heard the first cry of the newborn everyone started clapping their hands and cheering," said Dr. Mark Randall, a general surgeon at Walker Baptist who was caring for patients during the evacuation.
"Everybody was clapping," Tessa recalled. "I?think that's what made me cry the most."