Mom-to-be Alessandra Ambrosio showed off her growing belly and beach bod while celebrating her birthday out in the sun on Friday.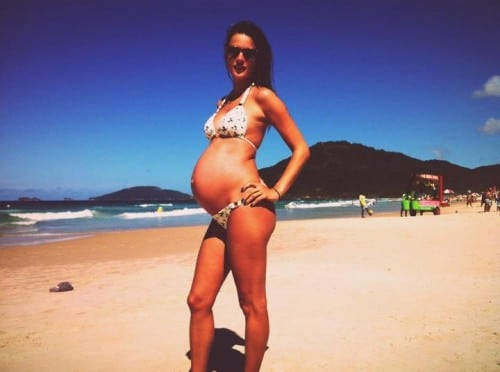 The Victoria's Secret model, who often uses her Facebook to connect with her fans, posted a photo of herself looking bumpingly beautiful in a two piece bathing suit along with the message,
Thank u all for the wonderful birthday wishes!!! Have a great weekend everybody!!!
Just last week Alessandra took to announce she and partner Jamie were expecting a boy,
We really tried to keep it a surprise but we were too anxious! Soon, we will have a little boy to rock our world!!
Due in June, the hard working mama recently told Vogue Magazine she already has lined up work commitments shortly after the baby arrives, which she hopes will motivate her to get back in shape as quickly as possible.
"I only have a few more jobs to do before I have the baby – all editorial, no more catwalk now – and then I hope to be back in London for the opening of the Victoria's Secret store in July. I should definitely be back for the next Victoria's Secret show – I have quite a while until then."
Crazy? I think so too!
---
[ad]