Ali Landry was spotted at LAX yesterday with her husband Alejandro Monteverde and their kids Estela, 4 and Marcelo, 7 months checking in for her flight to Mexico.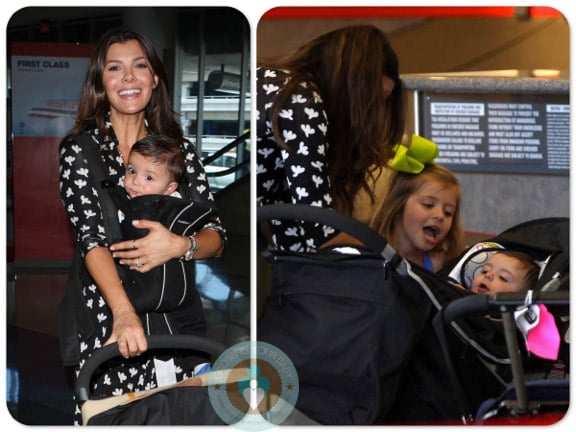 Because their original flight was delayed Ali re-booked the family on a different one.
Flight was delayed, purchased new flight, rushing to airport! Gosh I hope this is not an indicator of what the rest of our travel day will look like.
Unfortunately they didn't make it in time and missed their flight… Ali tweeted,
Oh my, missed flight, now getting on another, and to top it off paparazzi are snapping away during all of this chaos.
Thankfully, they were on their way not long after and were able to relax in the lounge before hand.
Finally arrived in Dallas:) thank goodness for American airlines family lounge.
A seasoned mom, Ali brought many of our top picks for travel including the Britax B-Agile with a matching Britax B-Safe infant seat, a Baby Bjorn infant carrier and a Lilly Gold Sit 'n' Stroll 5 in 1 Car Seat for Estela.
Hopefully the rest of their trip goes more smoothly!
---
{SPLASH, FAME/FLYNET}
---
[ad]