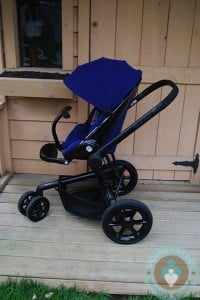 The Quinny Moodd is the newest addition to the company's collection. This luxury stroller is perfect for both city and rural moms as it will accommodate your child from birth to 50lbs. I have long loved Quinny's products for the perfect combination of style and function. The Moodd takes this to the next level, giving parents a chic buggy that will go anywhere you do.
Out of the box the stroller took about 15 minutes to assemble. Quinny provides a great instructional manual that highlights all of the steps needed to get up and running quickly. And while the steps are all easy to do I highly recommend following the manual as some were out of order from how I usually assemble a stroller. Quinny has a unique way of attaching the basket, which I love, but It needs to be done before you attach the front wheel. The canopy is also a different install from other buggys I have tested, which I liked because it doesn't attach to the frame.
Once together the stroller opens automatically after you unclip the tether strap and frame lock. I am already in love.
From birth new parents can use the Use from birth with a Quinny Dreami Bassinet or Maxi-Cosi Mico Infant Car Seat (adapters included) and the Cybex Aton to create a travel system. An additional Multi-Model Adapter can be purchased separately to accommodate almost every other model on the market in North America. Because of the 3 position seat recline infants can also be placed in the stroller seat both facing forward or rear facing. This is not a full recline so I would personally recommend this seat from 4 months up. To keep your little one safe the Moodd has an adjustable 5 point harness, which uses Quinny's key system to lock.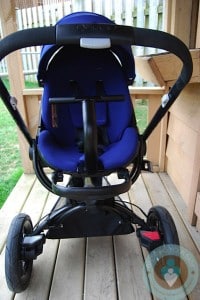 Unique to the Moodd, Quinny has added a cool bumper T-bar at the bottom of the seat that my son loves using as a steering wheel. It can be removed or not installed at all if it's not something you like, but it also does a great job of keeping squirmy kids in because it is hard to manoeuver around if they get unbuckled.
The seat does appear to be small, but my son, who is a larger three-year-old was able to fit into it nicely. One thing I wish Quinny would have considered doing was to allow the foot rest to be adjustable down a little further. This would make the ride more comfortable for him as he is tall and his knees ride up a bit.
The Moodd features a 4 panel canopy that locks in place. And while it is not the biggest canopy we have tested, it does a great job of protecting your child from the sun and wind. As an option Quinny offers a weather cover, which takes over should it pour if you are out with your little one.
For storage the Moodd has a medium sized basket that will store a diaper bag and maybe a snack. To save room I hang my bag off the handle bars and use the basket for shopping bags. It is accessible from both sides of the stroller and easy to get into regardless if the seat is reclined or not.
The Quinny Moodd is definitely one of the most stylish strollers I have tested and it got looks from every mom regardless of where we were. The model we have has a sleek black frame with a matching black seat. The outside is designed with modern polished plastic that resembles a mirror.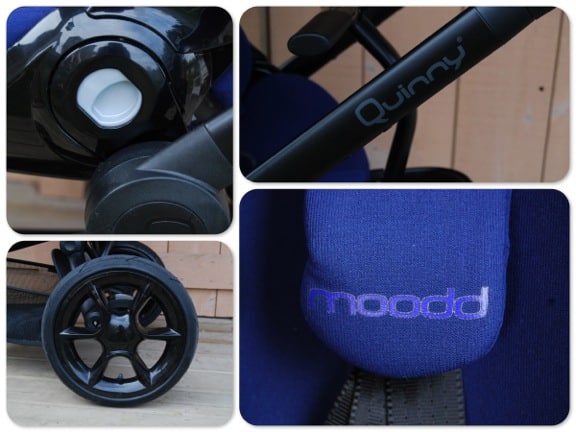 One thing that pleased me was that not only did the Moodd look good but it pushed like a dream. Quinny uses a nice combination of 12″ wheels on the back a set of 7″ wheels at the front to create the illusion of a 3-wheeled combination. Measuring 25.5″ across the back the wheel base is a bit wide, but the stroller is sturdy and stable. Regardless of the location this stroller pushed beautifully over uneven pavement, grass, gravel and even snow. To lock the breaks, Quinny has designed an on/off system that is flip-flop friendly. Step on the red lever on the right to lock and they grey on the left to unlock. I love it but always forget to unlock on the other side because I'm so programmed to use the same lever to do both things.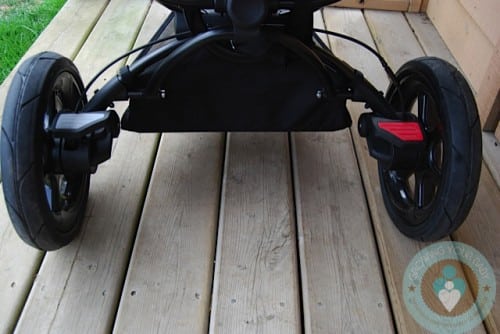 To accommodate parents of different heights the handle bar is adjustable from 37″ to 41″. I am 5'5″ and didn't have any issues with kicking the tires.
The Quinny Moodd is easily folded by using the levers on the side of the handlebars and lowering the handles down to the ground. Once closed, it makes a locking sound to let you know that it is completely shut. Parents will like that is does fold with the seat on, but it needs to be positioned facing out in order for it to work.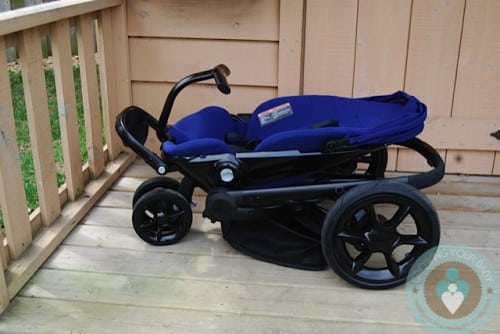 For travel or storage all three wheels come off in seconds with just the push of a button.  Quinny offers a travel bag for the Moodd and I would highly recommend purchasing one if you are planning to use this stroller for air travel.  The finish on the seat could be easily scratched if handled wrong and that would devastating to any parent who invested in such a beautiful stroller to have it ruined by a baggage attendant.
As well as offering a weather shield, cup holder and an additional storage box, Quinny also ha s footmuff and parasol for the Moodd.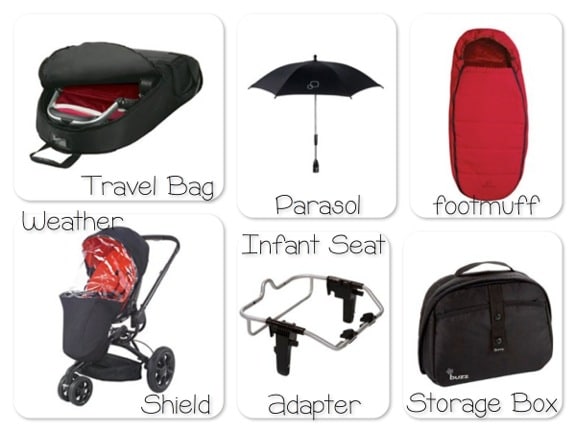 We have been using the Moodd for quite a few weeks and love everything about it.  As usual, Quinny has designed a stroller that is perfect for any condition or outing.  It does weigh more than the average stroller, but I am always willing to overlook that fact to push something that keeps up with my lifestyle.  It comes in 7 color combinations.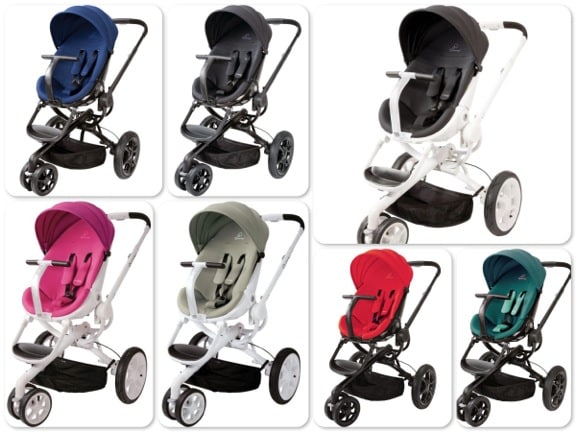 The stroller includes a shopping basket, sun canopy, removable front bar and adapters for the Quinny Dreami Bassinet and Maxi-Cosi Mico Infant Car Seat.
SPECS:
Weight: 30lbs
Open: 36″L X 26″H X 42″H
Folded Size: 31″ x 26″ x 14″
Warranty: 1 year
---
---
[ad]