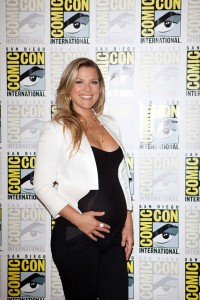 A very cute and very pregnant Ali Larter was spotted at Comic-Con in San Diego over the weekend promoting her new movie, Resident Evil: Afterlife with husband, Hayes MacArthur. Though the pair visited a farmers' market afterward to load up on fresh fruits, she admitted that her cravings have been less than healthy.
The 34 year old actress says the best part about pregnancy is the freedom to eat a little more than before.
'I love it because so much of the time, I have to be careful,' she says.

'I work out. I play certain roles where it's important for me to look a certain way. But now it's just freedom. It's like, bring on the Sprinkles cupcakes, pizza, pasta. I'm loving it!'
Larter and her husband just announced her pregnancy last week, stating that the baby is due sometime in winter.
Despite the junk food cravings, Larter still looks glowing pregnant. Part of it comes from being so happily in love.
"My heart got broken so many times because I put so much pressure on it. And then…I got blindsided. [Hayes] showed me the way, and all was right. This is how it's supposed to be.

'I look forward to that time when I'm home with babies.'
Ali and Hayes met in 2004 on the set of National Lampoon's Homo Eructus. They married last year at his parents' estate in Kennebunkport, Maine. Though the couple have been married only a short time, Ali is certain that their marriage is going to last.
'You know it's right when you feel this undeniable connection and chemistry.

'But to sustain a marriage for 50 years, you have to get real a little bit and find someone who is understanding and who you can grow with… My mom always says, "Marry the man who loves you a millimetre more."'
– Summer, staff writer
Related Articles:
---