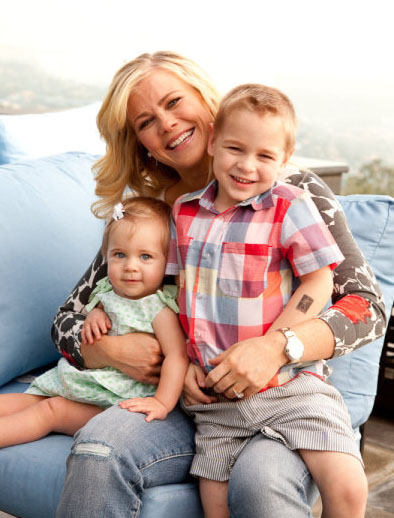 Actress and 'The Biggest Loser' Host Alison Sweeney recently sat down with Working Mother Magazine to talk about motherhood, balancing her career and children and her own struggles with weight.
Here are some of the highlights:
Can balancing a demanding career and children ever really be 50-50?
It's hard to strike that 50-50 mark each day, but if I look at a whole week or month, I feel that overall I get to spend a lot of time with my children. And when I'm with them, I give them my full attention. When I go to work, I give work my full attention and commitment. Everyone has doubts occasionally, but it's important to know you're doing the best you can. And if you regret a decision, make a different choice next time.
What do you do when you feel pulled in different directions?
That's a tough one, but there's no question that my kids come first. Every time there's a call from Ben's preschool, I worry that it's an emergency. Even when I get normal calls from the preschool, there's that instant that I wonder why they're calling and if everything's okay. There was one time that my husband and I were on our way to a charity event when the school called and said that Ben got a nasty scrape on his forehead. We turned the car around and met our son and his babysitter in the emergency room. I had that sick feeling in my stomach until I was there with him, holding his hand, making him laugh. Ben, on the other hand, was completely calm, asking questions about all the equipment, how the bed moves.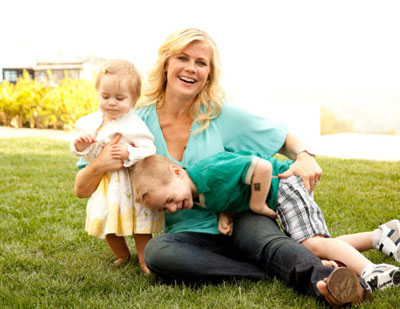 How do you stay in shape?
I eat healthy meals—my husband is a great griller. I schedule going to the gym into my days. I do a lot of cardio, especially spin classes. I also run, hike and do circuit training and yoga. I typically work out four or five days a week. Of course, sometimes it's three days, sometimes it's seven days. In my new book, The Mommy Diet [available in October], I encourage moms to take care of themselves.
What has been the best surprise of becoming a mom?
You can't comprehend until you're a mom how much your kids take over your whole world. Every decision I make, I'm always thinking how it will affect my children. I've gotten to the point that if I'm in the car by myself and I see a fire engine, I'll say, "Hey, Ben, look at that," and start waving at the truck. Then I realize I'm driving alone. [She laughs.] And the firefighters are probably thinking something totally different from what I was intending.
Did you take maternity leave?
With Ben I got four weeks off. It was awesome for a first-time mom. I took advantage of every minute. With Megan I was back to The Biggest Loser eight days after I gave birth and back to Days of Our Lives after two weeks. That was really hard. Both shows offered me more time. I was in a heavy story line at Days, though, and I didn't want to break the story. With Biggest Loser, it was only one month before the end of the season, and I didn't want to miss out on the finale. But I couldn't have done it without my husband and healthy kids. We all adjusted to things easily. It was a team effort.
Related Articles:
---