A smiley Angelina Jolie touched down in Japan in morning with her 4 oldest children Maddox, Pax, Zahara and Shiloh. While accompanied by a couple bodyguards, the actress navigated through the airport holding hands with her crew.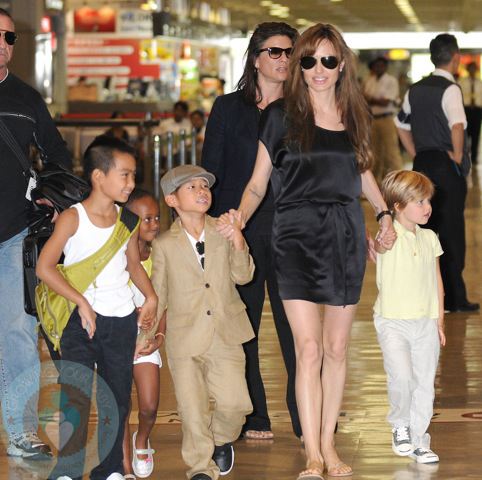 Besides being an amazing actress with a new movie out, Angelina Jolie is also just like any other mom. And as she shared in a new interview, even being famous does not mean you get space to relax at home.
Promoting her new movie, Salt, the mother of six was asked about her ability to juggle all six children along with her career. As Jolie admitted, having six children means escaping to the bathroom to get a little peace and quiet.
'I wake up. I've got four kids in bed with me and Brad is on the phone and with the twins. I just don't get any solitude – most people with kids don't. Sometimes you get a bath or a shower but usually somebody is trying to get in. You get used to it,' she said.
It is nice to know that parenting realities are the same no matter who you are. Despite the spotlight, kids will be kids. That often means trying to grab a quick shower while someone is screaming for you outside the door.
Luckily, Angelina gets help from her equally famous partner Brad Pitt. Angelina explained how the couple takes turns being the primary care giver so that each of them can continue to work.
'Brad and I take turns – like now, he's working so I'm home with the kids and then in four months I'll be itching to do something. It does balance itself out mainly because I have an extraordinary partner who gives me that time,' she said.
The couple is known for their large, mixed family. In recent interviews both have said they have no plans to add to the family yet, but are open to it in the future. – Summer, staff writer
Related Articles:
SOURCE
{SPLASH & WIREIMAGE}