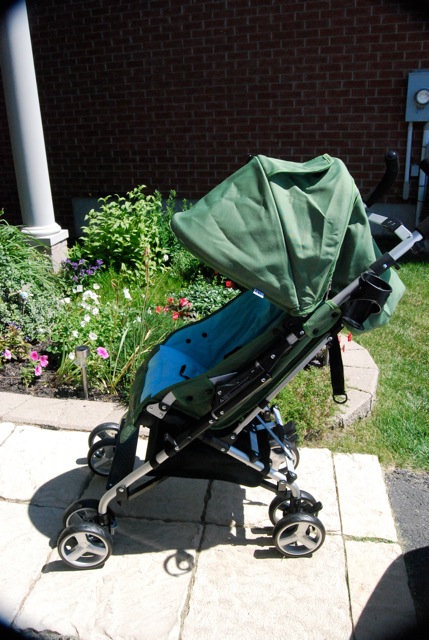 The Flite ($249) is Bumbleride's entre in the lightweight stroller market.  Weighing just 13lbs, it is one of the most full featured lightweight strollers we have ever tested making it a great choice for parents who are constantly on the go. This compact stroller may by tiny, but it is mighty.
Out of the box, all the Flite needed was for me to pop on the wheels and canopy.  In less than 5 minutes I was up and going. To open it, there are two levers on the side that unlock it.  Once open just give the stroller a shake and lock the two levers(bottom by the shopping basket and top by the handles) in place to get going.
Features:
The Flite offers a lot of features for a stroller in the lightweight category.  It's ability to hold an infant car seat  or carry cot makes it a great choice from birth to 4 (or 50lbs!).  For safety and comfort, the spacious seat comes with an easy to adjust 5 point harness and head hugger.  The seat, which measures 14″ wide and 27″ from seat to canopy, reclines almost flat to accommodate a sleeping baby with a lever that can be adjusted one-handed at the back of the stroller.
The material Bumbleride uses to cover the seat is both soft and easy to wash.  If something happens that the seat gets dirty, the whole pad unsnaps in just minutes for easy cleaning, which I love!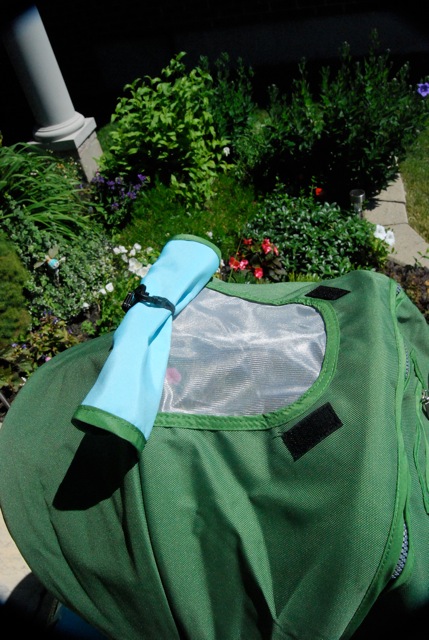 For sun protection, the canopy is not the biggest we've seen but it's durable.  It is double lined with a water resistant material on the inside to prevent rain or snow from coming through and features a zipper for better airflow on hot days, a peek-a-boo window and storage for keys or a cell phone.
During our test I took the Flite to the park, mall and around our neighbourhood.  It manoeuvres quite nicely in crowded areas and would be perfect for going to the market, an amusement park or on vacation. Bumbleride uses 8 – 5.5″ wheel with dual front and rear suspension to give it it's very smooth ride.   The ergonomic handles are not adjustable but they are 40″ from the ground, which on par with many others in this category.
Like many lightweight strollers, the Flite offers basic storage(12″x13″) under the seat.  While it's not big enough to hold a large diaper bag, it is perfect for holding a jacket, some snacks and a diaper clutch.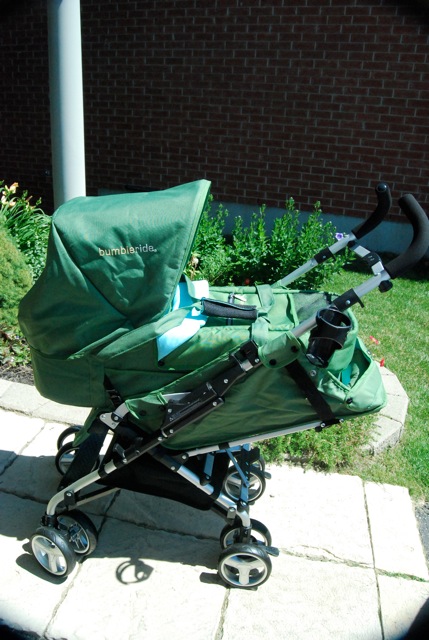 A highly recommended addition to the Flite is the optional carrycot.  This beautifully designed bassinet accommodates an infant perfectly from birth to 19lbs.  It arrives flat but can be quickly popped in place in just seconds, making this lightweight stroller a full travel stroller.  Two latches on either side secure it in place facing you with an included canopy attached to keep the sun off your baby.  Also included with the carrycot is a cover to protect your baby and a stroller liner that doubles as a footmuff when pushing the flite with an older child.  This is a great bonus for parents who use their strollers daily year round.  Also offered as additional accessories are the Jam Pack, an insolated shoulder bag for all of your essentials and a Snack Pack, a soft pouch packaged with its own adapter bar for easy access to snacks while out and about!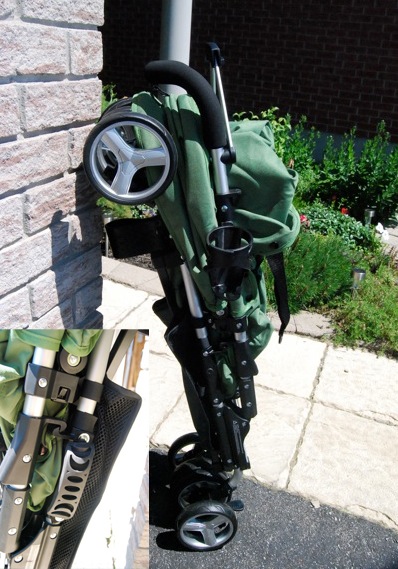 To keep the stroller closed, Bumbleride uses a puzzle lock(on both sides) that fits together to keep it shut when folded.  This system is not only convenient, but it is effective. Once folded, this Flite is super compact measuring just 9″ wide.
The Flite is my first experience with Bumbleride and I'm impressed!  They have created a beautiful stroller that rides nicely.  It's ability to accommodate a carry cot and an infant seat gives it the edge over any of it's competition, making it my number one choice for parents who are looking for a full featured stroller that will grow with their family.
Additional Features:
Accepts almost all Infant Car Seats including – Graco Snugride, Graco Snugride 32, Peg Perego Primo Viaggio SIP 30/30, Chicco Keyfit 30, Combi Shuttle, Baby Trend Flex Loc and Britax Chaperone
Features an adjustable footrest
Duo carrying options when traveling – side handle or shoulder strap
Lightweight, anodized aluminum frame construction
Offered in 5 colors

Dimensions – 32L 19W 40H
---