This is an incredibly scary time for women who are looking to get pregnant and those who are expecting. Concerns about contracting COVID during their pregnancies and the effect that it could have on a developing baby have been at the forefront for more than a year now.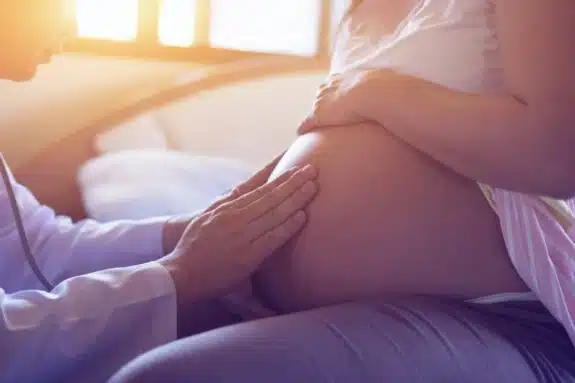 A small study published this week in the American Journal of Obstetrics & Gynecology has found that pregnant women in Washington state were infected with COVID-19 at a 70% higher rate than others of similar ages, with nonwhite women leading this segment.
A team led by researchers from the University of Washington in Seattle analyzed data from 240 pregnant COVID-19 patients at 35 healthcare systems, capturing 61% of the state's annual births, from Mar 1 to Jun 30, 2020.
It is estimated that women who delivered 13.9 of every 1,000 newborns had COVID-19, compared with 7.3 of 1,000 state residents aged 20 to 39 years (rate ratio [RR], 1.7). When they excluded 45 coronavirus cases detected through asymptomatic screening, the infection rate in pregnant women fell to 11.3 per 1,000 cases (RR, 1.3).
The study spotlighted the greatest disparities found among Hispanic, American Indian/Alaska Native, and Native Hawaiian/Pacific Islander women. This group had rates of COVID-19 infection two to four times higher than the expected racial and ethnic distribution of pregnant women in Washington in 2018.
"Pregnant women were not protected from COVID-19 in the early months of the pandemic with the greatest burden of infections occurring in nearly all racial/ethnic minority groups," the authors wrote. "This data coupled with a broader recognition that pregnancy is a risk factor for severe illness and maternal mortality strongly suggests that pregnant people should be broadly prioritized for COVID-19 vaccine allocation in the U.S. similar to some states."
The high rate may be in part to exposures from children in daycare and these women's role as a caregiver within an extended family, or a residence in larger households.
"Higher infection rates in pregnant patients may be due to the overrepresentation of women in many professions and industries considered essential during the COVID-19 pandemic — including healthcare, education, service sectors," lead author Erica Lokken, PhD, said in the release.
What makes this harder is that pregnant women are not eligible to be vaccinated because there isn't enough data on mRNA-1273 vaccination of pregnant women. For this reason, the World Health Organization(WHO) says it's not possible to completely assess vaccine efficacy or vaccine-associated risks in pregnancy.
WHO notes, however, that developmental and reproductive toxicology (DART) studies in animals have not shown harmful effects in pregnancy. More studies are planned in pregnant women in the coming months and the WHO will update their recommendations on vaccination as more information is available.
We are hoping that more of these studies are planned for all states to give us a better understanding of the statistics across the United States and not just one state.