Married 'Bachelorette' stars Ashley Hebert and J.P Rosenbaum were photographed over the weekend arriving at Miami International Airport.  The reality star dressed comy for the long flight in a belly hugging tank, yoga pants and sandals.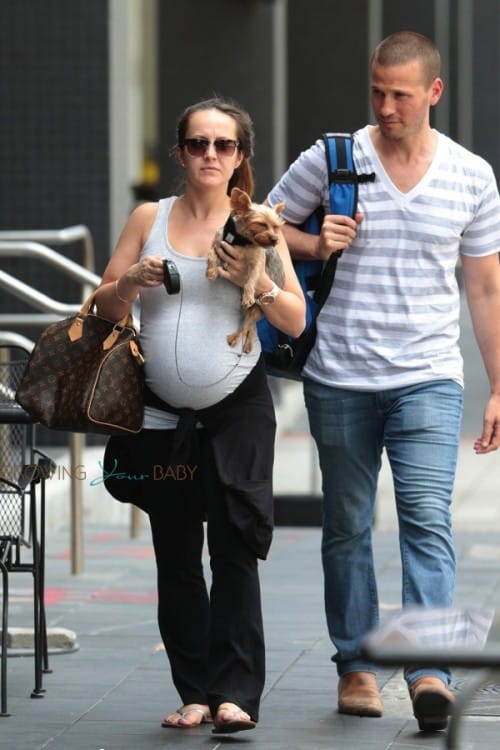 After exiting the terminal the pair waited for a taxi along with their adorable dog Boo. Due in October, Ashley didn't have an issue carrying her tiny dog, but picking him up after a stroll appeared to be more of a feat.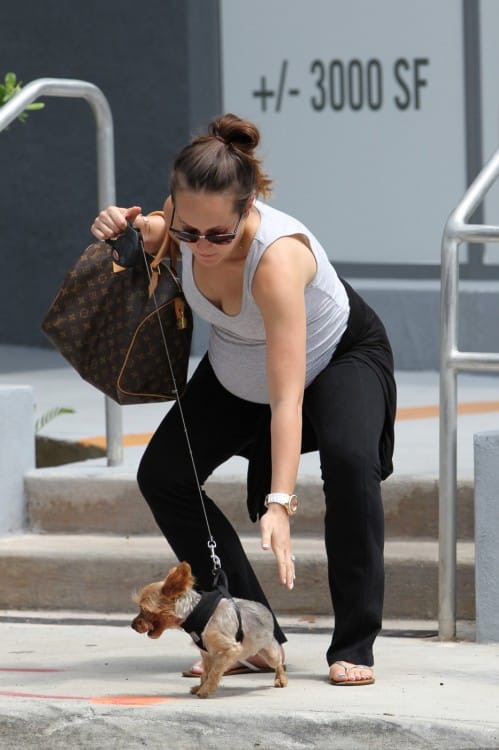 There will be year round fun in the sun for the couple now that they have re-located to the Southern city.
Last week the mama-to-be tweeted her excitement for the move,
'Can't believe we're moving to Miami in 5 days!!! CRAZYYYYYYY…but we so love new beginnings! Bring on the beach! 🙂 @JP_Rosenbaum.'
With a couple months to go they will have some time to settle in and get ready for their baby boy. Ashley recently told People.com that there is excitement all around for baby R's arrival,
"As excited as I am for this, I think I'm just as excited for my parents. This is their first grandchild and [now] the Rosenbaum name lives on. Not to mention that my dad already called dibs on his first baseball mitt."
For the past two years Ashley has been doing her dental residency at St. Christopher's Hospital for Children in Philly. Now that she has graduated she can set up shop, just in time to go on mat leave!
{PACIFIC COAST NEWS}
---
[ad]