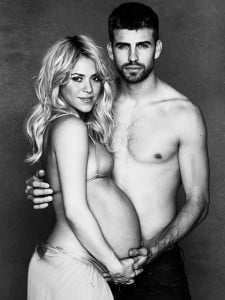 You have a chance to attend Shakira's baby shower! The pop singer, who is expecting her first child with Spanish football star Gerard Piqué is inviting the whole world for her online baby shower hosted by the United Nations Children's Fund (UNICEF). The event will help raise awareness on the world's most vulnerable infants.
The invitation to the baby shower by the Colombian singer and Pique reads,
"To celebrate the arrival of our first child, we hope that, in his name, other less privileged children in the world can have their basic needs covered through gifts and donations."

"Thank you for sharing this unforgettable moment with us."
Shakira is the Goodwill Ambassador for UNICEF.
"Every expectant parent around the world shares all the same hopes and dreams for their children that we do," Shakira said. "Yet many don't share the same opportunities. Together we know we can change that."
At the online baby shower fans can visit the couple's 'virtual' living room and learn about different issues involving child survival. They can also purchase a so-called UNICEF Inspired Gift that are simple life-saving items that can save babies and children across the world. Priced from as low as $5, these items will be then distributed to some of the poorest families globally.
According to UNICEF one of the prominent causes for infant death in the world is malaria and one small purchase of $5 can help them distribute mosquito nets to save the infants.
Other gifts include 17 polio vaccines for $10 that will protect children from contracting the incurable infection, baby-weighing scales to monitor growth in the first critical years of life, and therapeutic food, which consists of a peanut-based paste that can save an acutely malnourished child.
Every day 19,000 children under the age of five still die from largely preventable causes. While the mortality rate of children under-five has dropped from nearly 12 million in 1990 to less than 6.9 million in 2011, more needs to be done.
Social media fans who attend the baby shower will be personally greeted by the celebrity couple. After purchasing a gift, they will also receive a personal thank you note from them. For ardent fans there are also exclusive photos of the would-be mom and dad that have been clicked recently and have not been seen publicly.
---
[ad]