Even though there are laws to protect nursing moms, one woman alleges that she was she was hassled in Babies 'R' US this week for nursing in a section of the store that was not allocated for such use.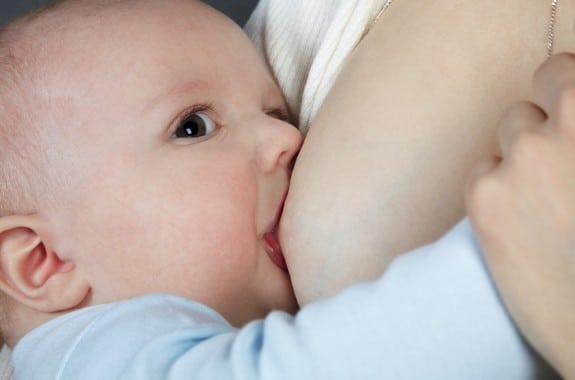 While shopping at the Babies 'R' US store just off the Island of Montreal on Wednesday Marianna Aboulhosn's 10-month-old son began to cry from being hungry.
After finding the store's dedicated changing and nursing room occupied, she made her way to a secluded corner of the store and began to breastfeed her son in a chair reserved for customers.
Shortly after a store employee approached her to tell her she was not allowed to breastfeed in the store outside of the nursing room.
Upon telling the clerk the room was occupied, the associate responded by asking her to accompany her so they could check the room together. By that time the room was vacant, to which the clerk told her, "There you go, it's empty."
The problem now was that the room wasn't clean. Marianna told CBC Daybreak on Friday the garbage was overflowing with dirty diapers and wipes, the nursing chair in the room appeared to have feces on it, and the room stunk.
When she said she didn't want to nurse in that room, the clerk and the store manager told her there were no other options, and that 'BABIES R Us has a policy that prohibited babies from nursing[sic] on their shop floor!'
"I left the store, I was so upset. I couldn't believe what happened," Marianna said.
After the incident Marianna posted on the company's Facebook page. The company replied to the complaint saying,
"We take this issue very seriously. Toys" R"Us and Babies"R"Us are committed to ensuring expectant Moms and new Moms are comfortable when shopping in our stores. Mothers have the right to nurse their children wherever they wish in our Stores. We sincerely apologize for any inconvenience this may have caused."
Marianna is also planning to file a complaint with the Quebec Human Rights Commission. Currently Quebec doesn't have specific laws protecting nursing moms, but Ontario's Human Right's Commission states,
"You have rights as a breastfeeding mother, including the right to breastfeed a child in a public area. No one should prevent you from breastfeeding your child simply because you are in a public area. They should not ask you to "cover up," disturb you, or ask you to move to another area that is more "discreet."
---
[ad]