Sonia Rani Roy and her husband Sukanta were headed to the hospital for admission when their baby revealed a different plan causing Sonia to become the first person to give birth in the Metro Rail Station!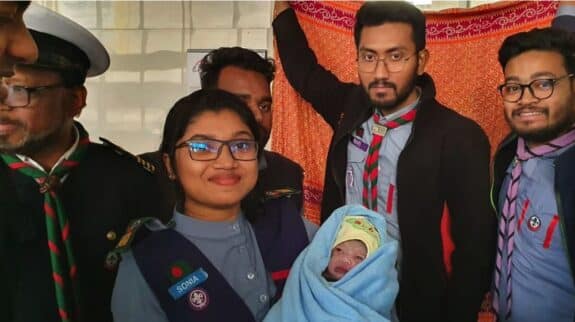 The couple was on the metro rail train from Uttara to Agargaon Station en route to the Renaissance Hospital in Dhanmondi for admission when Sonia started feeling labour pains in her abdomen.
Thankfully Scout Sonia Rani Das, a trained midwife, and Dr. Ferdousi Akhtar were in the station, and they then took the expecting mother to the metro rail First Aid Station to assist her with the delivery.
Within 10 minutes, at 8:45 am at the Agargaon Metro Rail Station's First Aid Centre, the baby was born.
A metro rail ambulance took the family to the Renaissance Hospital in Dhanmondi afterward where doctors said the mother and the baby are fine.
While passengers wanted the couple to name the baby Metro, Sukanta said they already had a name picked out.