Refusing to give up hope as they race against time and terrifying aftershocks, rescue teams scouring Haiti's earthquake-hit capital are rewarded with small miracles.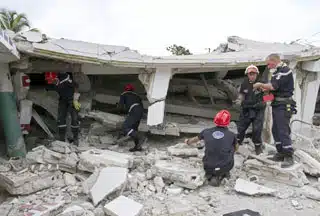 There was a bright light in the rescue effort in Haiti on Tuesday after rescuers pulled a three-week-old baby girl alive from the rubble of a house more than a week after it was destroyed in the devastating earthquake.
The French rescuers spent spending five hours trying to free tiny Elisabeth, from a hollow beneath the ruins of the house in Jacmel, a town in the south of the island.
"The mother had told rescuers that she had been unable to save her daughter when the quake hit," said Philippe Besson, head of the organisation Emergency Firefighters' International.
Even though she had nothing to eat for nearly a week, the 23 day-old baby appeared healthy when she was pulled from the wreckage.
"We handed her to her mother who put her to the breast. It was a real joy!" said Besson, who spoke from Limoges where the non-governmental organisation is based.
Elizabeth was taken to a field hospital run by a local NGO and was said to be in satisfactory condition.
The United Nations said Wednesday that 121 people had been rescued by international teams from the debris of collapsed buildings in Haiti since the January 12 earthquake.
Related Articles: