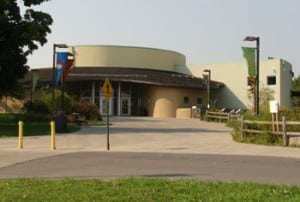 Being trained animal keepers, the zoo staff of Rosamond Gifford Zoo in Syracuse is used to handling animal deliveries. But on Friday morning they were in for a surprise when a woman gave birth inside the zoo!
Zoo Education Coordinator Liz Schmidt was at the reindeer exhibit with three five-year-olds and their parents when she got an urgent call. It was 11 am on Friday morning and she was told that a woman was in labor just 500 yards away, near the bear exhibit.
"I honestly didn't expect her to deliver at the zoo," Schmidt said to syracuse.com. "I thought we'd pop her in a wheelchair and she'd be good to go to the hospital."
The 21 year old, heavily pregnant woman was touring the zoo with other children and adults when she her contractions began. The children were led to the lion exhibit while a few other adults attended to her.
Liz says that she has taken training in baby deliveries but she does not usually carry the medical equipment or supplies with her normally.
Liz came to help the woman and also radioed for more assistance and medical kits.
A family member of the new mom had already called 911.The dispatcher spoke to Liz to help her with the birthing process.
"They asked me to look for the head, so I was looking for the head and they asked me to remove any clothing that might be in the way…as soon as her water broke, it was fast after that," said Liz.
Zookeeper Sarah Kohler arrived next.
"As I came on the scene, the baby was pretty much on its way out," she said.  "Our main concern was to keep the mom and baby warm."
The women visitors among the group and the zoo staff handed articles of clothing to keep mother and daughter warm.
"The mother was remarkably calm and me and Liz gave an exchange when we saw the baby take its first breath, it was heart taking to know the baby was going to be okay," Sarah told 9wsyr.
John Moakler, the zoo's elephant collection manager helped coordinate and divert the crowd that had gathered and moved them to other exhibits as the mom gave birth.
Soon after Rural Metro took mother and daughter to a nearby hospital.
Zoo Director Ted Fox said he, county parks Commissioner William Lansley, and county Executive Joanie Mahoney were proud of the zoo staff.
"Our thoughts and prayers go out to the family. Hopefully the baby and mom are doing well," he said. "Not every child, although I'm sure a lot of children would love to say they were born at the zoo, not many can."
Fox says they've never had to train for a live human birth, but now they'll think about it. The zoo also plans to send something special to the baby girl.
"We're certainly putting a care package together for the family.I'm sure it will be animal related," Fox said. "It's certainly been a bumper crop at the zoo for babies. It's following suit with the human species."
The mom and baby girl are said to be doing fine after their wild adventure at the zoo.  This will likely be a story they will the family will talk about for years to come!
---
[ad]