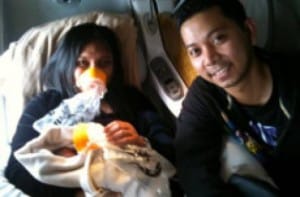 In a Boeing 777 (EK332), a little boy was born thousands of feet over Indio-China earlier this week. His Filipina mother, identified as "Nedz," was only 27 weeks pregnant, so she wasn't set to deliver for a few more months. But for whatever reason, the little boy decided that he needed to make his entrance just a couple of hours before the plane's final destination.
"I was sitting beside them," said Karen Caballes-Santos, one of the two nurses aboard that helped deliver the infant.
Karen was supposed to fly to Kish Island in Iran for a non-nursing job. She needed a visa exchange. She found out that her trip held a different purpose that day.
"My visit visa was running out. But then, I found out that on the day I was supposed to fly to Kish, there were just five months left on my passport's validity. I was super sad because I went home empty-handed. Little did I know there was a 'higher purpose' for what happened," Karen said.
She was the first to notice the mother's predicament.
"When I saw the mother walking toward the toilet, she seemed to be pain," Karen recalled. "The father was restless…walking back and forth, nearly in tears, so I offered to help."
When she entered the bathroom, Karen says she found the baby inside the toilet turning a bluish-brown color.
"He was in a cyanotic condition due to lack of oxygen," she said.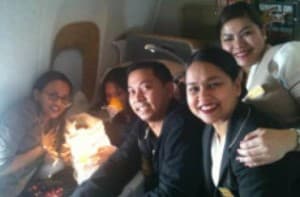 So she and the other nurses jumped into action quickly, aspirating amniotic fluid from the little boy's mouth, nose and ears. Nurses then gave the baby an oxygen mask and kept him warm with the LED lights attached to two passenger seats. Meanwhile, four flight attendants cared for the mother; she was also supplied with an oxygen mask. She still didn't calm down, however, at least not until she was informed that her baby was okay.
"I told the mother, 'Your baby is alive, don't worry,'" Karen said. "That's when they calmed a little."
Not long after, pilots conducted an emergency landing in Vietnam where mother and baby were taken to the neonatal ICU care unit at Tudu Hospital. Before exiting the plane, however, the entire family posed with the nurses that helped save the life of their child.
According to XPRESS, the mother was released on Friday. The little boy, however, is still in critical care.
Related Articles:
---
[ad]