The police in Quebec deserve recognition after they rescued a one-year-old boy who spent 12 hours alone overnight in the cold, damp woods near Quebec's Eastern Townships. They believe that he likely cried all night and had no tears left when they located him.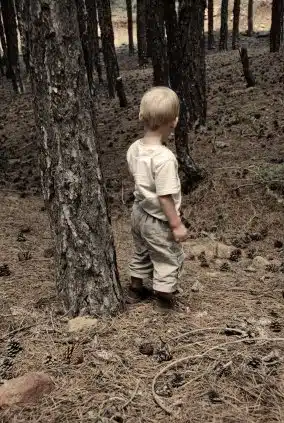 Const. Patrick Sullivan carried the lucky baby out of the woods about 120 kilometres east of Montreal around noon on Sunday.
Somehow he managed to survive overnight despite wearing only a T-shirt and soggy diaper in the rain. Temperatures dipped to 5 Celsius overnight.
"I was so happy to see that this child wasn't dead, that he was alive," Sullivan told reporters in French. "He wasn't even crying. He tried. But I sensed that he was crying and screaming so much during the night that he couldn't even cry anymore. That really touched me."
Twelve hours earlier, the baby's mother had called police saying her husband had taken their child in the family minivan.
Twenty minutes after the call, police located the minivan in a ditch near a wooded area, but did not find the father or the baby.
A 7am on Sunday, the baby's father was picked up hitchhiking by a women who thought he needed medical attention.
When the pair stopped briefly stopped at a friend's house on the way, police say the man pushed her out of the car and drove away.
Not long after, officers found the man at the hospital, said provincial police spokesperson Louis-Philippe Ruel.
In the meantime, a massive search was launched for the baby that included a team of officers searching on the ground, a K-9 unit and a police helicopter, which spotted the baby from the air.
When police found him, the baby seemed healthy, except for mild frostbite on his cheeks.
He was under observation at a near by hospital and then released yesterday into his mother's care.
The unstable father was arraigned in Granby, Que., on charges of robbery and criminal negligence.
He is to undergo a psychiatric evaluation to determine if he is fit to stand trial. His next court appearance is scheduled for next Monday.
Related Articles:
---