There is no denying that babies come with a lot of gear. Crib, bassinet, highchair, bouncer, swing, car seat, stroller – it doesn't take a long to fill your house. When you are planning what to put on your registry it's important to choose toys that will grow with your baby so you can get more out of them for longer.
Baby gyms are a popular toy with parents because they offer a lot of play value from birth+. There are a lot of great options on the market but many age out when your baby learns how to sit. We have found 7 play gyms that will grow with your baby which will extend your investment.
Here are some of our favorites!
Lovevry's modern play gym was designed with a variety of learning elements. A 4-time award winner, this set was created by child development experts and crafted with safe, healthy, and durable materials for babies ages 0+.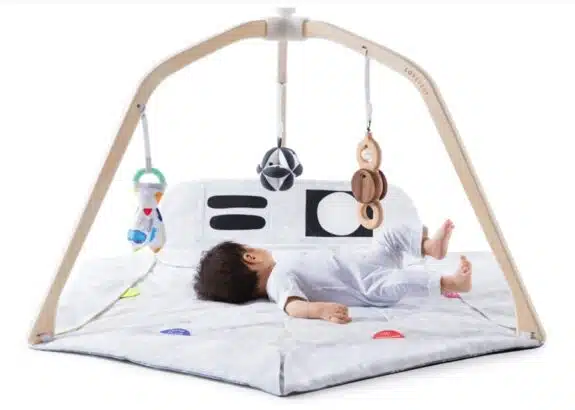 A silicone teether, wooden batting ring, and high contrast organic cotton ball hang from the arches over your baby.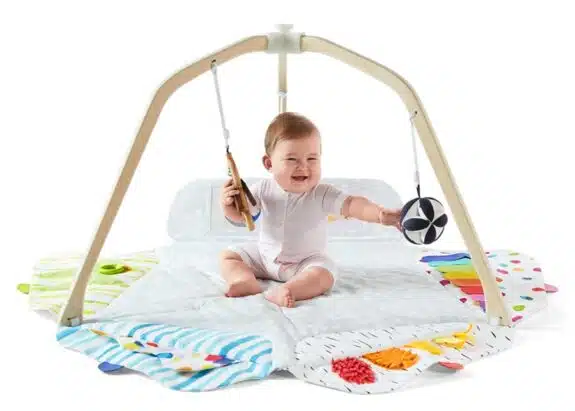 When babies explore during tummy time they will find extras hidden under the side flaps of the oversized floor mat. From sensory patches to bright fabrics and patches, there are a variety of developmental features designed into the entire system.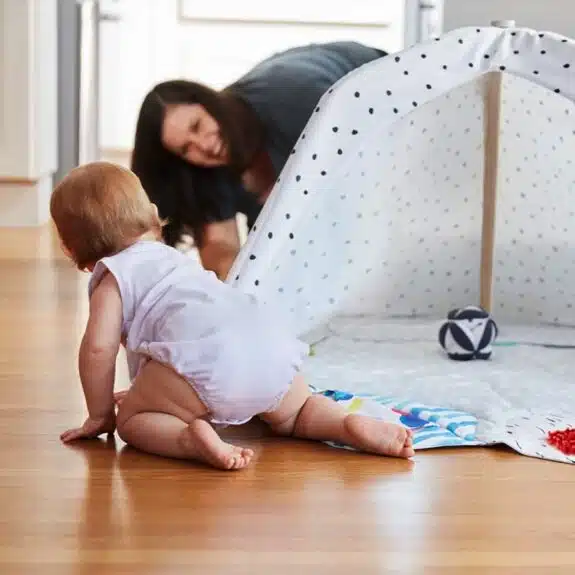 When your baby outgrows the gym it can be covered to create a play nook or a reading space as they get older.
This modern Play Gym is free from flame retardants, BPA, lead, and phthalates. Mouthable accessories are made from 100% organic cotton and silicone. The mat is made with polyester materials batch-tested to be baby-safe and non-toxic.
This gym starts as a classic activity gym when your baby is small with fabric arches to hang the four adorable sea pals from.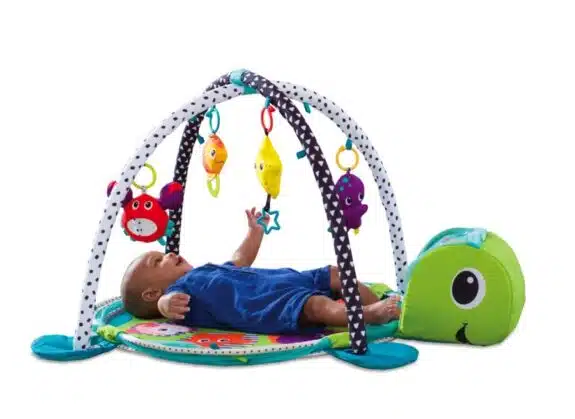 As your baby gets bigger you can keep the arches up but add the mesh around the sides to keep the play contained.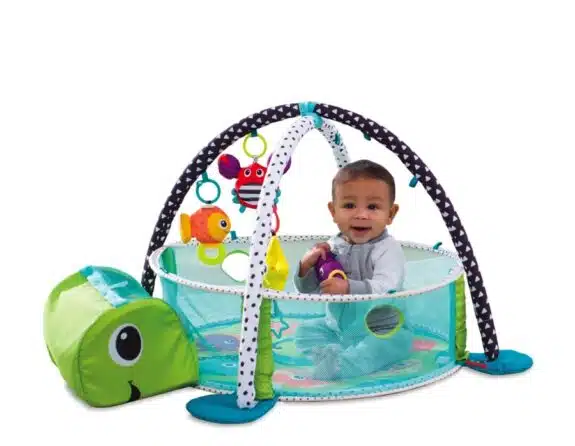 When your baby gets older you can remove the arches and fill the gym with balls for next-level play!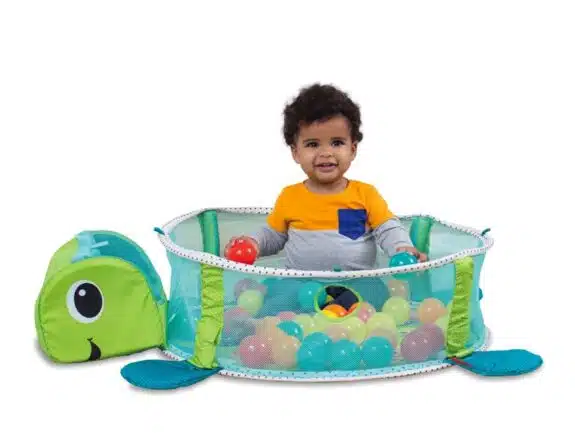 This discovery gym comes packed with quite a few developmental elements for little ones from birth to toddler.
From birth, babies can grab at some of the shapes and toys hanging from the arches.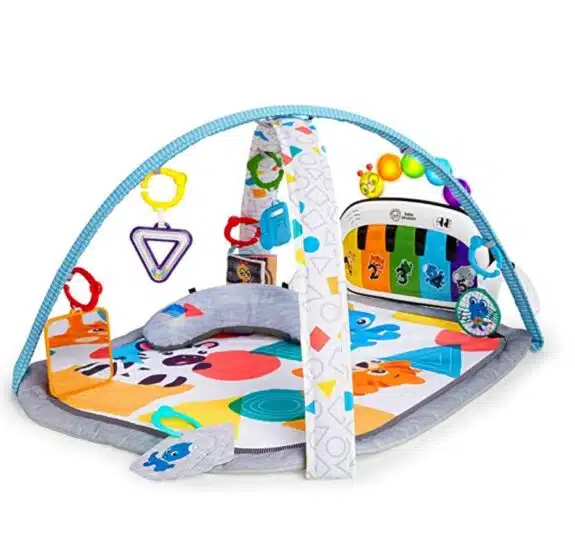 When it's tummy time there is a cushion for more comfort and a mirror they can use to check themselves out.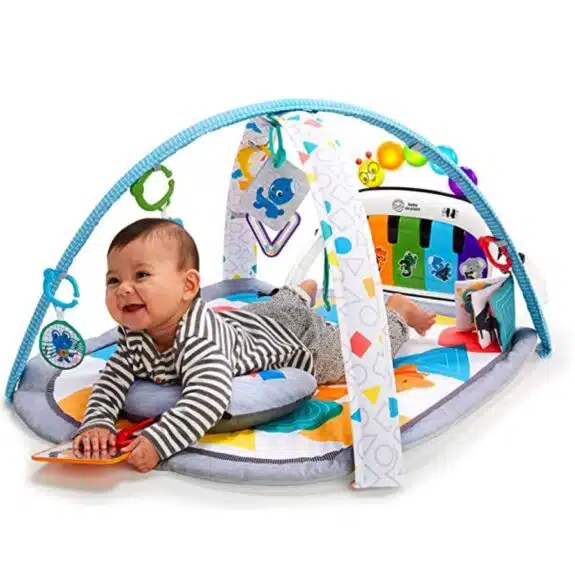 As they get more co-ordinated they can learn to play a tune with the lights and sounds piano at the end of the gym.
When they have outgrown the gym entirely they can take the piano with them and create music on-the go!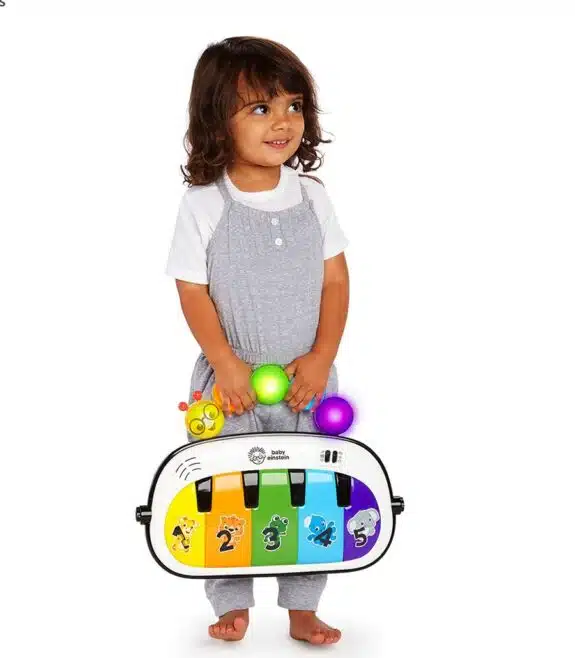 Tiny Love's Gymini is the original portable activity center. The Meadow Days Dynamic Gymini features a convertible arched design that creates the ultimate space and allows easy access to the baby.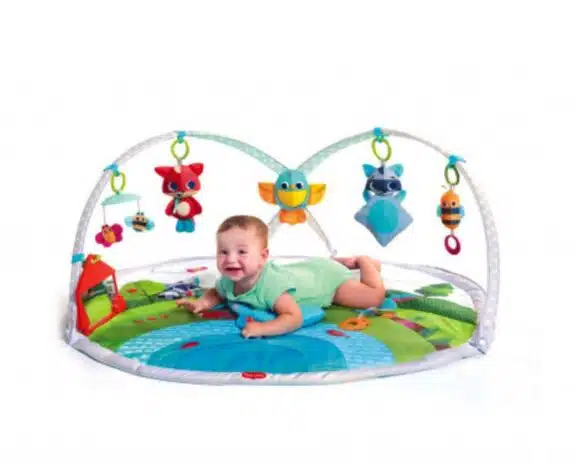 Parents can adjust the arches to adapt to the baby's age and stage.
There is a tummy time mat and mirror along with an electronic recording bird toy with lights and music feedback that stimulates the baby and encourages the development of language.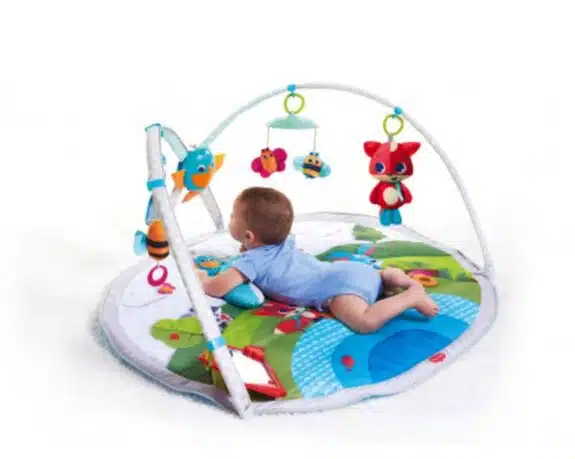 The wide mat also offers baby plenty of room to roll around comfortably and, later on, sit up and play.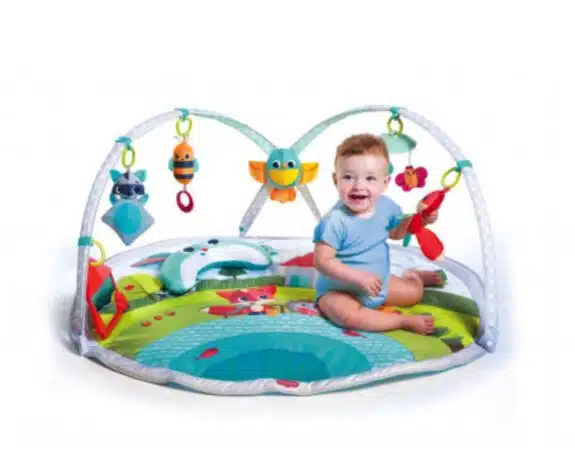 Parents can also record sweet messages for younger babies and toddlers!
The 5-in-1 Your Way Ball Play Activity Gym from Bright Starts is a 4-foot jumbo mat with walls that can be adjusted up or down based on our your baby's play. Engaging toys include an electronic toucan, a plush elephant, monkey bead chaser, leaf-shaped teethers that can hang from the arches to keep your little one entertained.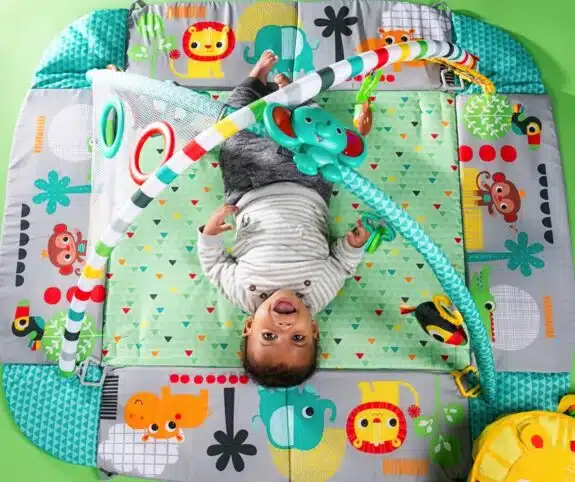 For tummy time Bright starts has included a pillow and some cute animals on the mat for babies to interact with.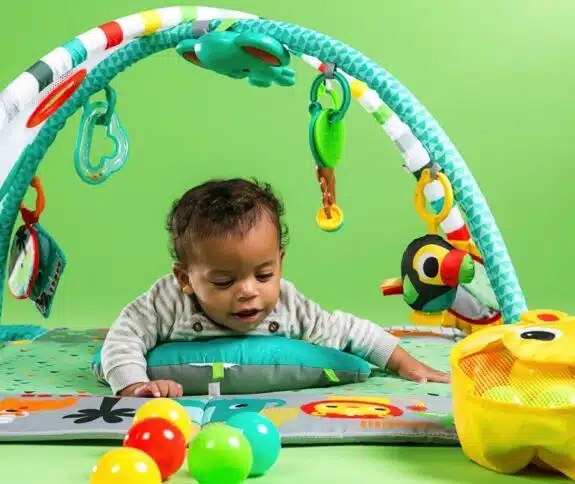 When your baby becomes more independent fold up the sides and release the 35 colorful balls to create a ball pit!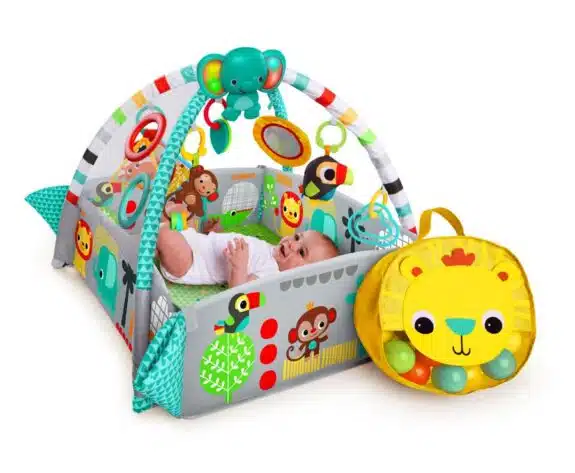 This set comes in a couple of colours to fit into your nursery decor or home design.
How cute is this activity gym? Disney fans will love all of the sweet details designed into the Mr. Ray Ocean Lights Activity Gym by Disney Baby.
All of Nemo's fishy friends including baby-safe self-discovery clamshell mirror, Squirt rattle filled with colorful beads, Nemo bead chaser, tug-able Pearl the octopus, and sand dollar teether.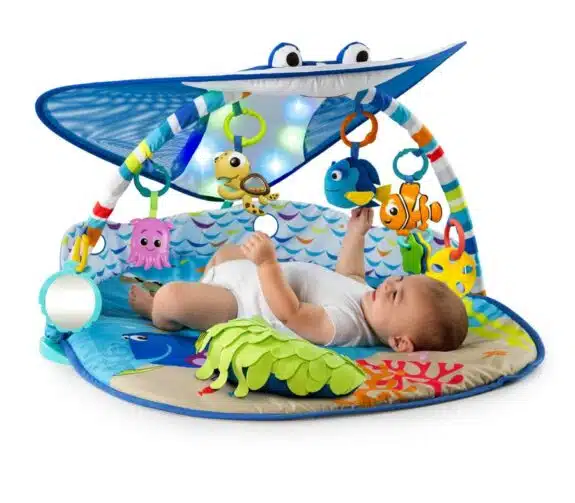 There is even a seaweed-inspired prop pillow for tummy time.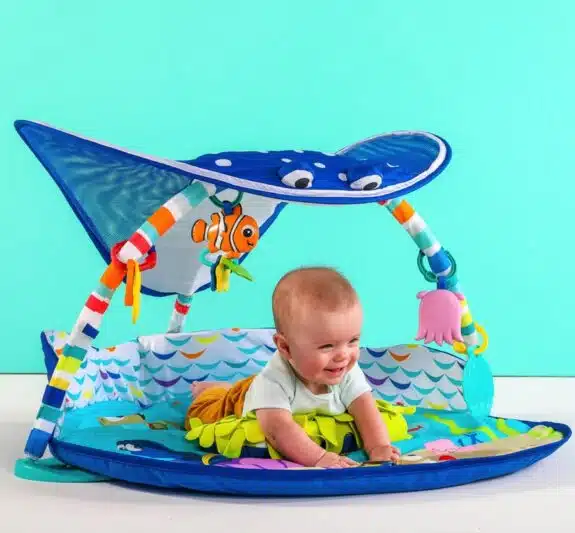 When laying on their back, babies can gaze up at the overhead canopy that features Mr. Ray's captivating lights and 20+ minutes of ocean-themed melodies for baby to kick and play for fun and auditory stimulation.
As your baby gets older, the arches and canopy can be removed so the gym can be used as a mat to take to the park or beach.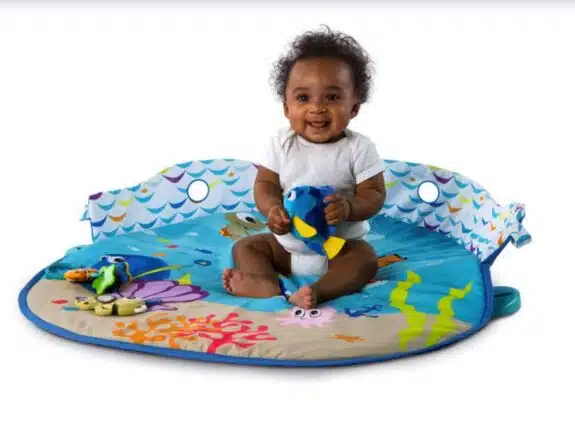 Skip Hops' dreamy Silver Lining Cloud oversized baby activity gym is designed with a soft color palette that complements modern decor along with pops of bright colors to stimulate the baby's sight.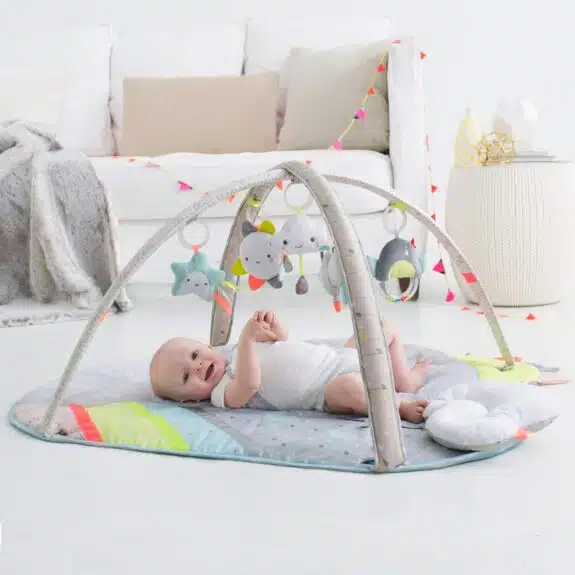 The baby will be engaged with a musical sheep, light-up star, cloud squeaker, bird rattle, and baby-safe sunshine mirror.
A cloud-shaped tummy time pillow was designed with a plush minky surface on one side and a fun print on the other.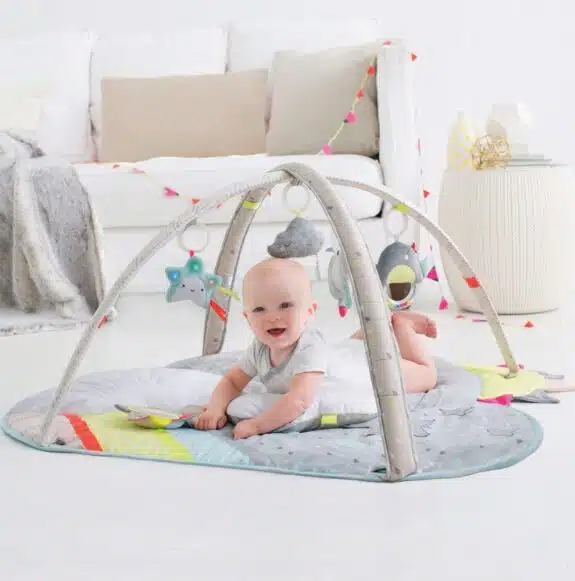 As your baby grows the arches can be removed and the mat can be used on it's for playtime on the go!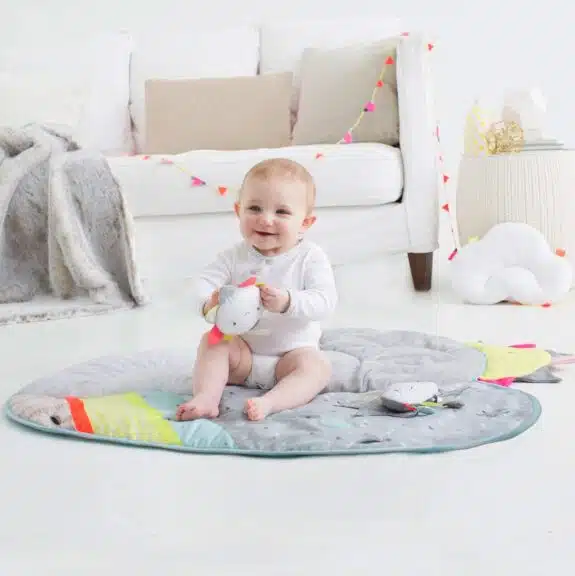 The soft fabrics and adorable characters make this activity gym a favorite with babies and parents.