It's a story that was revealed by a reporter while doing a news piece on the Thai surrogacy industry. A young mother carries a baby telling the reporter the baby is not well but she cares for him because he was left behind by his adoptive parents who chose to only take home his twin sister.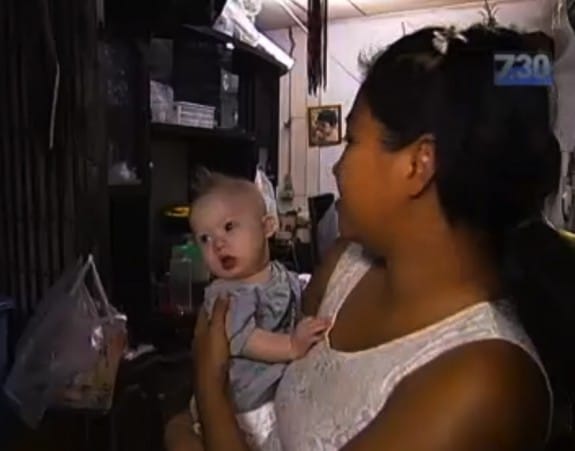 The baby, she tells the reporter, has Down's Syndrome, a congenital heart defect, and a lung infection but she doesn't have the money to get him the help he needs. The story dominated the world media over the last few days leaving many to wonder how a parent could leave behind a child that needs so much extra love.
It also led to many wondering who the couple was that could do such a thing.
Over the weekend the Thai surrogate mother spoke out about abandoned baby Gammy and his biological parents from Australia saying that they did not take him because they said they were too old and could not take care of twins.
Last week Pattharamon Chanbua, the 21-year-old Thai single mother, and surrogate mom to twin boy and girl said that their Australian biological parents took the baby girl but abandoned baby boy Gammy with Down's syndrome.
She said that both babies were unwell during birth and the girl was in the Thai hospital for a month before her biological parents took her to Australia.
She added that the baby's father, who was in his 50s, came to the hospital to take care of the girl but never looked at the twin baby boy, carried him, or provided any necessities for him.
"He did not buy milk for Gammy. He only bought milk for the girl," Ms Pattharamon said from a Thai hospital.

"The twins stayed next to each other but the father never looked at Gammy … not one bottle of milk did he give Gammy," she said."I could say he never touched Gammy at all."
The surrogate mom also claims that the biological parents, the surrogacy agency, and her doctors knew well in advance when she was four months into the pregnancy that Baby Gammy had Down's Syndrome but they did not inform her until the seventh month. She adds that the agency later asked her on the parent's request to abort the fetus, which she refused.
Baby Gammy is currently receiving treatment for a lung infection and responding well after he was transferred to an international standard hospital in Thailand. This was possible after, fund-raising for his medical expenses and long-term care topped almost $200,000 through an Australian charity.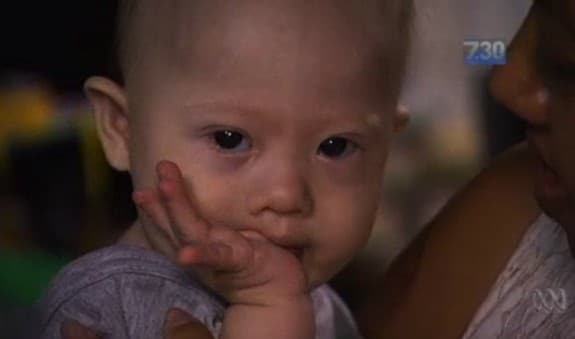 Chanbua wept when she was informed by an Australian charity Hands Across the Water that she will have enough money to treat his lung infection as well as a congenital heart defect.
Mom to two kids of her own aged three and six she says, "My children love Gammy very much and want him to come home."
She is also planning to file a police complaint against the surrogacy agency which still owes her thousands of dollars she was promised for giving birth to the twins.
Meanwhile, the Australian couple also has come out and denied leaving baby Gammy in Thailand. The father says that the clinic only told them about the baby girl and said the surrogacy agency no longer existed. They also added that they do have a daughter, same age as Gammy but their experience with the surrogacy agency was traumatizing.
"We saw a few people at the hospital. We [didn't] know who the surrogate was – it was very confusing. There was a language barrier," the couple told ABC7.30 news from their home in South Perth.
The Thai mom however says that the couple stayed in Thailand for a month before they took the baby girl home. It would be impossible for them to now know her brother was sleeping the next bed over.
After the news of the abandonment came out last week authorities have intensified a crackdown on surrogacy and gender selection in Thailand, a booming multibillion-dollar industry.
Peter Baines, founder of the Australian charity, Hands Across the Water, says he will be traveling to meet Gammy and his surrogate mom soon. They will discuss his future medical and schooling needs and may set up a trust account for the baby.
He adds that the response to crowdfunding has been overwhelming.
"This has been a heartwarming project for our team and we look forward to seeing what the final donations amount to … this is people power at its best!" the message posted on the GoFundMe page said.

"We do not view this as a short-term project, it is our vision by working together we can work to make Gammy's life meaningful and his challenges dealt with with respect, love and care."
While the baby's future seems to have been secured for now the question remains whether or not he was willfully abandoned by his biological parents.