It is estimated that the rate of twin births rose 76 percent from 1980 to 2009-2011. This has led to some record-breaking deliveries at hospitals all over the country.
Twelve Missouri families have something to be extra grateful for this year. Each one welcomed a set of twins at St. Luke's Hospital in Kansas City over the Thanksgiving holiday – a possible record for the number of twins cared for at one time in any U.S. hospital.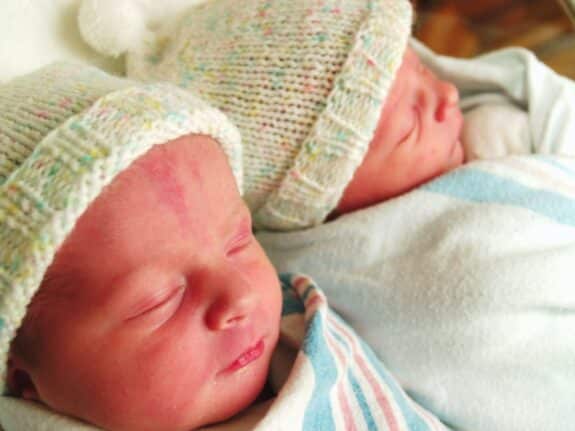 "There is no time here at Saint Luke's that there has been 12 sets of twins," Kayla Anderson, a registered nurse at the hospital, told Good Morning America. "There are nurses here who have been here 40-plus years and at no time can they remember that there were 12 sets of twins at the same time."
The multiple sets of twins brought about other blessings for each of the families; many of the families were able to bond over the experience and the journey ahead. Whitney and Brian Riley, new parents to Camden and Callie, couldn't be more grateful for the support they've received from other families in a similar situation.
"[The parents] are all in the same boat as us," Brian said.
Tyler and Jenna Williams found comfort in knowing they aren't the only ones who will have to wait for the homecoming of their beautiful bundles of joy.
"Everyone here at Saint Luke's has been fantastic," Tyler told KSHB-TV. "From the top-down, I feel like we've had as good of an experience as we can expect to deal with our early birth."
They'll be at the hospital for another 11 weeks, until Jenna's original due date. Right now, they're in the NICU, receiving attention from the hospital's care team.
Helen Ransom, a former nurse at the hospital's neonatal unit, volunteered her time during the twin bust so that families could get early photographs as keepsakes. Life for each of them is different, she told Global News.
"One of the great things about this special twin shoot was that we have such a beautiful cross-section of the reality of multiples in the NICU," she said. "It was a great variety and an accurate reflection of life in the NICU."