Baby Kate, now three-months-old, is doing quite well, considering all she's been through. And her parents, couldn't be more grateful because this story—despite all odds—has a wonderful happy ending.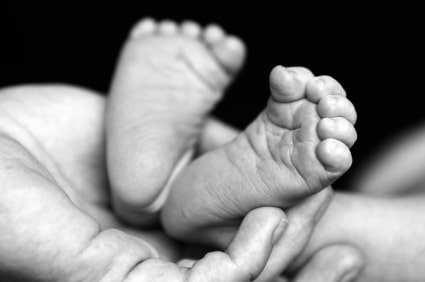 It all started with a 20-week ultrasound. Her mom was told that her baby might have a Sacrococcygeal teratoma (SCT), a rare tumor on the tailbone of newborns. Five weeks later, that diagnosis would be confirmed.
"It was a massive shock to us," the 36-year-old mother told the Birmingham Mail. "It was very isolating in a way. Nobody around us knew what it was, and what could happen. The tumors can be very quick growing, and put a lot of strain on their little hearts and their bodies. There was no guarantee whether she would die or whether she would survive."
At first, the SCT had been nothing more than just a noticeable speck on the ultrasound scans, but over the next several weeks, the tumor began to progress at a frighteningly fast pace. Then, on June 30th, baby Kate was born. Minus the 3lb 2oz tumor, she weighed 7lbs 2oz.
"She looked as though there was a rugby ball stuck to her, but not as big," The new mom said. "My husband got to hold her for a few minutes, but I couldn't."
Her mother couldn't hold her daughter because the tumor—made up of brain, liver, veins, and skin—had to be removed immediately in order to save her life. Thankfully, all went well, and six days later, her mom was finally able to hold her baby girl.
"It wasn't until six days later that I got to hold her for the first time, which was very special," the thankful mom said.
And there would be many more special moments, like the day that Kate was allowed to go home, just three weeks after her life-saving surgery.
"It felt like three years rather than three weeks as we waited to take her home," her mom said. "[But] we are so grateful to all the staff at all the hospitals."
Now, baby Kate's days are filled with smiles, giggles, and a bossy older sister, who is just 18-months-old. And her family couldn't be happier.
"We are just happy that she was one of the lucky ones."
Related Articles:
---
[ad]