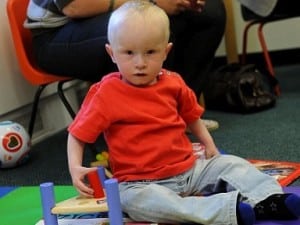 Leo Shepherd was just three weeks old when he underwent a crucial heart surgery. But that was only the beginning of successive surgeries the brave little boy endured with five open heart operations conducted on him even before he turned two.
17 year old Chelsea Shepherd gave birth to Leo via C-section. The baby seemed healthy initially but just 23 days later she rushed him back to hospital for a life-threatening complication. Leo had a heart problem where his pulmonary artery had not formed completely.
Doctors at Glenfield Hospital's children's heart centre in Leicester operated on Leo for the first time to reconstruct his artery. This was followed by a second operation in October 2009 to reconstruct the other side of the artery.
Post surgery Leo recovered well, but just 10 months later he was back in the hospital with an infection so severe that it could have taken his life within two hours. A few weeks later his lung collapsed and he had to undergo yet another surgery.
In February this year, doctors again operated on the baby boy to work on his pulmonary artery. Post this surgery, his heart stopped beating and to revive him doctors used specialist ECMO treatment, extra corporeal membrane oxygenation for three weeks.
The treatment is a technology pioneered at Glenfield where the blood is oxygenated outside the body giving the lung and the heart time to recover properly after an injury.
Chelsea said, 'It was a really hard time when Leo was so poorly, I didn't really know what to think, it was so very scary. Doctors said Leo had just two hours to live because of the infection and they warned me he could also lose his arm.When they operated they said his little body was just filled with the infection.'
Miraculously, the baby boy fought back and is now home with his mom.
Chelsea feels her son has received some of the best treatments and care at the hospital and she has joined the campaign to save it from closure.
Presently, there are 11 surgical centres in England catering to children born with heart problems. An NHS review may cut this number to six or seven and that is where the concern lies for families living in Leicester. If Glenfiled is closed the young heart patients in the area would have to travel to Birmingham, 45 miles away.
Chelsea strongly feels Leo could not have made it if she had to travel that distance.
'I don't know what we would have done without the staff there, it's important for people to join the campaign to save the children's heart service. If we had had to travel anywhere else I don't think Leo would've made it.'
Her grandmother adds,
'We're doing what we can to help the campaign. Leo is a little soldier, considering what he's been through, and we're all very proud. I don't know what we would have done without Glenfield.'
Leo's brave recovery and the care he received at Glenfield is the sole reason the family hopes that the hospital is saved.
---
[ad]