Nothing about Erin Peeple's delivery went as planned. First, Erin went into labor a month ahead of schedule. Then, as her husband drove her to the hospital, the baby decided he couldn't wait. But scariest of all, they learned, in the parking lot of a church, that their premature baby was breech.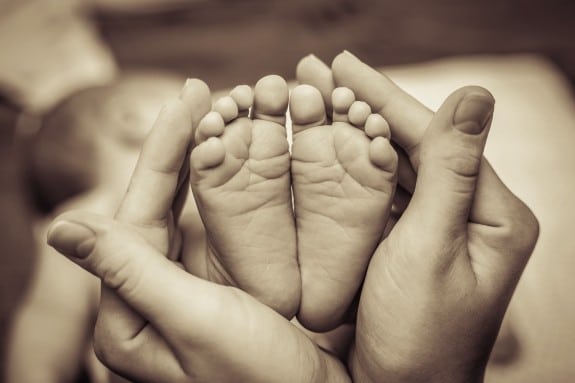 "The baby is right here," Erin Peeple, 31, told her husband, Jordan, as they were driving to Spectrum Health Butterworth Hospital in downtown Grand Rapids.
And when she looked down, she realized that she was looking at her baby's bottom. Her husband pulled over instantly, parking the two of them at the intersection of 100th Street and Division Avenue into the parking lot of Cornith Reformed Church. Jordan called OnStar.
"The baby was out by the time we got to the parking lot," Jordan told MLive.
And, at first, it was a very scary ordeal. As he spoke to the American Medical Response dispatcher on his cell phone, Jordan rubbed their son's back, trying to get him to breathe. Finally, he made his very first cry.
"It was definitely a relief," Erin said about hearing their baby cry for the first time.
But their grand adventure wasn't quite over yet – dad still had to clamp the cord. With the dispatcher giving instructions on how and where to cinch it off, Jordan removed his shoelaces.
"I took it off my boot and they told me to tie it six inches from the baby," Jordan said. "So I tried to measure it and [Erin] let me know several times that it was way too close, way too close. I just said, 'No, it isn't – it's just right.' So I tied it and they said help was on the way."
And it certainly was – just a couple of minutes after little 4lb, 3oz Cam Edward Lee Peeple had been delivered. Mom and dad aren't worried, though. Not now, when they managed to work together to deliver their beautiful baby boy and, despite all odds, he's been sent home.
"You think about all the things that could have went wrong with delivering in a car, delivering a breech baby and a preemie baby at that," Erin said. "He's proved a lot of people wrong. He's beaten a lot of odds, that's for sure. We're happy."
As they should be since little Cam had already been permitted to leave the hospital and is now safe and sound in the arms of his parents – a place the first time mom and dad plan to keep him for as long as possible.
"I'm looking forward to holding his hand throughout the rest of my life – either through becoming a man, throwing a ball, or working on cars, hopefully," Jordan said. "I'm looking forward to just being a father – being a dad."
Related Articles:
---
[ad]