Just a week after it was revealed that Bryan Masche was arrested for fighting with his wife and father-in-law, Jenny has filed for separation.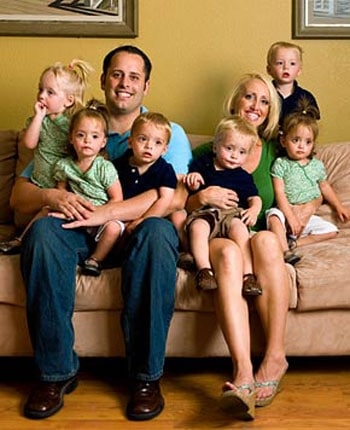 According to E! News, the 'Raising Sextuplets' mom, filed for legal separation from her husband on Sept.17 – a day before the details of Bryan's arrest hit the news.
The couple's six-year marriage imploded after a fight on Sept. 11th at the Arizona home of Jenny's parents, Sue and Robert Simbric, which resulted in his arrest. According to reports the disagreement escalated when Bryan discovered Jenny planned to go to the Phoenix area to meet friends, while he wanted to drive the couple's six kids – Savannah, Bailey, Grant, Cole, Molli and Blake – more than 200 miles to Lake Havasu.
Reports say that Jenny didn't know if Bryan planned to return with the children.  The Police tried several times to get Bryan handcuffed, but the reality star, "was hesitant and refused" and almost needed to be tasered.   He was then taken to the Yavapai County Detention Center where he was booked and released on bond.
Jenny's mom Sue told Radaronline.com
"We're very, very sad, about the split. Other than that I cannot comment on my daughter's marriage."
A spokesperson for We TV said:
"Out of respect for the Masche family and their privacy during this time we are not going to comment."
Radaronline reports that Jenny  is requesting to live separate and apart, as part of her court bid to grant an order of legal separation.  She is seeking both sole legal custody and primary physical custody of the kids with reasonable visitation for Bryan.
In addition, Jenny is asking for child support but is requesting an order from the court determining that neither party pay spousal support to the other.
She is also asking for equitable division of certain joint, community and other property and debt and that each party pay for their own attorney fees.
By way of Arizona law, both Jennifer and Bryan must attend and complete a Parent Education Program.  Failure to do so may result in Contempt of Court.
Related Articles:
---
[ad]