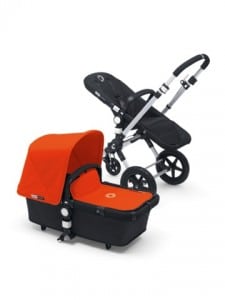 The U.S. Consumer Product Safety Commission, in cooperation with Bugaboo, today announced a voluntary recall of about 10,160 Cameleon3 strollers because the stroller's carrying handle can break and detach posing a fall hazard. Bugaboo has received 16 reports of carry handles breaking. No injuries have been reported.
This recall involves the Bugaboo Cameleon3 strollers. The stroller has an aluminum and plastic frame with rubberized wheels, a removable seat and bassinet, a removable "U"-shaped carry handle, an under-the-seat storage bag and a sun canopy. The bassinet, seat and sun canopy come in a variety of colors. The removable carry handle is used to transport the bassinet or seat separately from the chassis. The words "Bugaboo" and "Cameleon3" appear on a fabric tag on the side of the sun canopy. Strollers included in the recall have serial numbers from 19010 11153 00001 to 19010 51248 00215. Serial numbers are printed on a horizontal bar of the stroller's chassis beneath the seat.
Consumers should immediately remove the carry handle from the stroller's bassinet or seat and contact Bugaboo for a free replacement handle. While awaiting the replacement handle, consumers can continue to use the seat or bassinet when attached to the chassis but should not attempt to use the seat or bassinet separate from the chassis.
For more information please contact Bugaboo Americas, at (800) 460-2922, from 7 a.m. to 4 p.m. PT Monday through Friday, at e-mail serviceus@bugaboo.com or online at www.bugaboo.com, and click on "Important Safety Announcements" at the bottom left of the page for more information.
---
[ad]