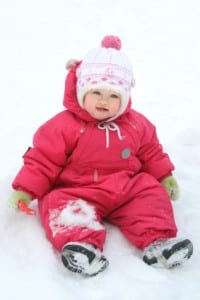 It's cold out there! Temperatures across Ontario, this morning, range from a balmy -5oC in Windsor, to a ridiculously cold -29oC in Sioux Lookout. It's the time of year when parents become preoccupied with keeping their children warm. Puffy awkward coats and snowsuits become a child's day-to-day norm, conjuring the image of Randy in A Christmas Story crying, "I can't put my arms down!"
Bundling a child under mountains of bulky outerwear poses a problem, however. His or her car seat harness no longer fits correctly.
Car seats are not designed to be used with bulky clothing. The more compressible the outerwear is, the looser the harness becomes and the greater the risk that is posed to the child. The worst case scenario is that, in a collision, the loose harness may result in the child being ejected from the car seat. The straps of the car seat harness need to fit snugly against the infant or child's chest with no more than two fingers fitting between the strap and the shoulder bone.
So, what's a responsible parent to do? The kids have to be warm but they also have to be safe in the car. The key is to remember that bulky, compressible clothing doesn't belong under the restraint system of a car seat but it can go over it.
Toddlers, in forward facing car seats, need to have their heavy outer wear removed before buckling the restraint. Once secured, the coat can be put on backwards, with the child's arms through the sleeves. Alternatively, the child can be covered with a blanket.
Infants, in rear facing car seats, can be protected with blankets and an elasticised car seat cover, after being buckled into their seat. The blankets cannot be tucked under the harness or behind the baby's back. When using a seat cover, double-check that the baby is buckled into the restraint. It's an easy thing to forget when it is out of sight.
Often, parents dress their children too warmly. Don't use the temperature of the baby's hands or feet to decide if they are cold. Instead, feel their neck or the small of the back and see if the baby is sweating. A hot, uncomfortable baby will start to fuss during the car ride and that's not pleasant for anyone.
Remember the basics:
Adjust the straps of the car restraint so they fit snugly over the child's chest and shoulders
Use bulky clothes and blankets above the harness; not beneath
Dress the child so that they are comfortably warm, not overly hot
Have a safe and happy winter. – Jen R.
---
[ad]