Dinner date! A very pregnant Busy Philipps was spotted leaving a West Hollywood eatery with her husband Mark Silverstein on Wednesday.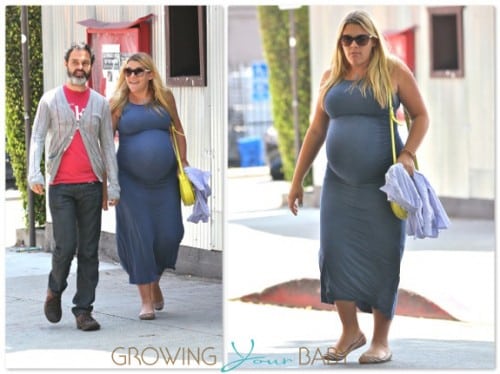 Just a couple weeks away from her due date, Busy showed off her growing baby belly in a ruched blue dress.
The Cougar Town star recently told the BUMP that she is more stressed during this pregnancy than with her first.
It's been good! But I do I feel like I was even happier when I was pregnant with my daughter, Birdie. My husband recently reminded me that it was because I did nothing, all day long. I literally slept and went to prenatal yoga and meditated for nine months. And I ate nonstop! Now I'm stressed. I have to go back to work two months after the baby; I have a 4 year old; and I'm in involved in 47 different things. I can't say no to anything!
She also recounted an ambitious girls trip she recently took with her daughter to New York City.
I agreed to go to the premier of my movie, A Case of You, at the Tribeca film festival. I said, "Sure, I'll go, and I'll also bring Birdie by myself to New York City, and take her to see some Broadway shows." Because that's not stressful! I took my four-and-a-half-year-old at seven-and-a-half months pregnant on a six-hour flight to New York City. It was nuts. The second day, I had a breakdown in the bathroom by myself where I was like, "This was a terrible idea!" But she had so much fun. We saw Annie and Cinderella, and now she wants to be on Broadway.
Every mom has been there. I love she is so candid about it!
{WENN, SPLASH}
---
[ad]