Things happen for a reason.  That is what we always say.  And for Luis Rodriguez it was a chance stop at a parking lot in South LA that lead him to finding two abandoned toddlers and rescuing them.
It was around 9 am in the morning when Luis pulled into the parking lot of a liquor store because of car trouble. While he was busy checking his vehicle he spotted a toddler on his tricycle pedaling toward traffic. The boy was 3 years old.
Luis was surprised to find the toddler alone.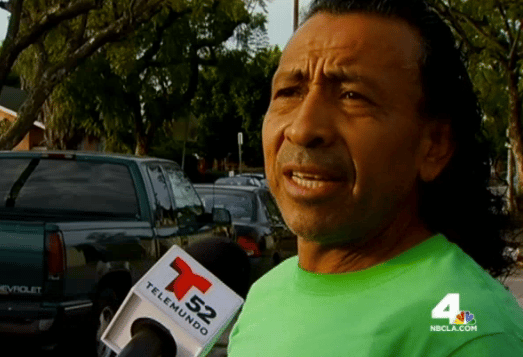 "Destiny or whatever, I never have problems with my truck, I was ready to go to work," Rodriguez said. "I ask them, 'Where you live, know? Where is mom?' And, he just pointed out to that gate over there. I said, 'You live over there?'"
That is when Luis also noticed another boy, just a 1 year old, standing on the sidewalk with no guardians in sight.
"These kids, they were suffering," Rodriguez said.
Another witness Markeisha Hall called 911 for help.
"(The 3-year-old) ran down to the apartments where he stayed, he seemed a little frightened until he figured out that we were really trying to help him," she said.
LAPD Capt. Lillian Carranza later said that the older of the two boys went to a nearby store to get bread and made sandwiches.
Police are searching for the toddlers' mother, identified as 32-year-old Sidnicka F. Wilson.
Markeisha said that the two looked 'filthy' and unable to see them in that condition, she peeled their clothes and cleaned them. A nearby store donated new diapers.
"Thank God the guy was at the corner fixing his car because he said they were on their way into the middle of Manchester," she said.
The home where the boys pointed they lived had no toys inside, though many lay outside the premises.
The LAPD confirms the boys are now with the Department of Children and Family Services.
Neighbors believe social workers have checked with the children before.
Armand Monteil with DFCS said,
"With every family, we look to see if there's a history, and we pay close attention to that history."
The police are still searching for the mother and not sure if there will be any charges.
"The concerns about child abandonment and neglect…that is a concern, but we do not know if we're there yet," Carranza said.
Whatever be the reason for a mother to leave her little children is such a state it is thanks to a good stranger who ensured they stay safe.
---
[ad]