The hot ticket in New York City yesterday was the Smurfs Premiere! Along with the movie's stars Hank Azaria, Neil Patrick Harris, Jayma Mays and Sofía Vergara, the premiere also brought out some celebrity families whos parents were likely fans when the original series was on in the 80's.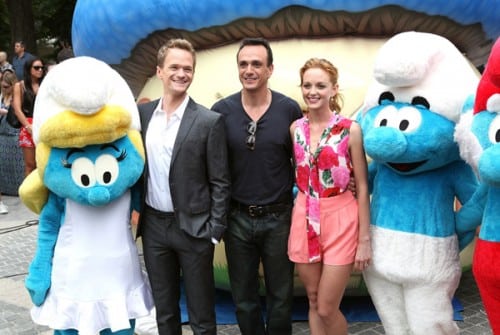 Katy Perry, who voices Smurfette, stole the show in a gorgeous sequined Smurfette cocktail dress, Christian Louboutin heels and a smurftastic manicure.
Some of the families in attendance were:
Brooke Shields with husband Chris and daughters Rowan and Grier Henchy
Jeff Foxworthy with his wife Pamela and daughters Jordan and Julianne
Hank Azaria with girlfriend Katie Wright and son Hal
Melissa Joan Hart with her husband Mark and son Braydon and Mason Wilkerson
The Smurfs hits theaters this Friday!
---
Related Articles:
{fame}
---
[ad]