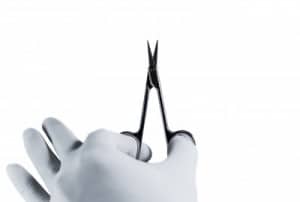 Circumcision: It's one of those hot debate parenting topics, almost right up there with breast vs. bottle. And it seems that more and more parents are opting to forgo it altogether, especially parents from Western states.
Back in 1979, about two-thirds of all boys in Western states were circumcised in the hospital after birth. That was about even with the nationwide rate of about 65 percent. But according to the National Center for Health Statistics, a division of the Centers for Disease and Control and Prevention (CDC), as of 2010, only about 40 percent of all boys in Western states are circumcised after birth. National rates have dropped as well – to about 58 percent – just not as drastically.
About two-thirds of Midwest boys are still circumcised. And in the Northeast, rates vary anywhere within the 60 percent range seen from 1979 to 2010. The South saw a peak in 1998, but their rates have also been on a steady decline.
"The overall modest rate of decline reflects that parents are more thoughtful about circumcision now than they were a decade or two ago when circumcision was a given," Dr. Thomas McInerny, president of the American Academy of Pediatrics told NPR. "I don't think that anyone has surveyed parents by U.S. regions to determine why there are significant regional differences, so I can't tell you why the variation exists."
But one thing is clear – there are many reasons that circumcision could be responsible for the overall, nationwide decline, including cultural and religious beliefs. For those that are opposed for cultural reasons, circumcision is viewed as a cruel procedure, one that inflicts pain on and ultimately changes the child's body. And because they're infants, they're not even able to give consent for this painful, body-changing procedure.
The mission statement for one non-profit anti-circumcision organization, Intact America, says that it seeks to "protect babies and children from circumcision and all other forms of medically unnecessary genital alteration, whether carried out for cultural conformity or profit, in medical or non-medical settings."
And in San Francisco, the November ballot almost included the option to ban all male circumcisions in the city. However, a judge ended up ruling that this issue should be voted on by the state, rather than the city.
But where is all of this coming from? CBS News says that part of it may have something to do with the fact that there are mixed messages on the benefits vs. disadvantages – so much so that several insurance companies have stopped covering circumcision altogether. In fact, state health care (Medicaid) in Arizona, California, Oregon and Washington have all stopped covering the procedure.
Part of that mixed messaging comes from one of the top children's medical society in the U.S. – the American Academy of Pediatrics.
In the 1970's, the organization took the stance that there was no medical reason to have a baby circumcised. Then, in the 80's, they said there could be medical benefits. In 1999, they changed their stance again, saying that there wasn't enough evidence to back the procedure. Again, just last year, the AAP released a statement saying "the medical benefits of circumcision outweigh the risks," and they recommended that the insurance companies start covering the procedure again.
"In 1999, there was some data suggesting there was some small medical benefits to circumcision, but at the same time, there was not a compelling medical reason to recommend circumcision. So the previous policy didn't argue for or against circumcision," Dr. Douglas S. Diekema, a member of the circumcision task force behind the new statement told CBS News in a statement last August. "However, now there is much stronger evidence about the protective medical benefits associated with circumcision, so the tone of this policy statement has changed."
Claimed benefits are said to include lower risk for male urinary tract infections, particularly during the first year of life, and a lower risk of cancer and heterosexual acquisition of sexually transmitted diseases, including HIV.
So, what's the other side of things look like? Well, there are risks to getting circumcised as well, including complications like bleeding and infection. There have even been reports of decline sensitivity and reduced sexual satisfaction, the CDC says.
In the end, the AAP says there still aren't strong enough benefits to recommend the procedure routinely. They say that, like most decisions, this is one best made by parents after they've done their research and considered what is best for their child.
Related Articles:
---