Over the last six weeks, four healthy infant deaths have occurred in Delaware County. Doctors are linking these deaths to co-sleeping, a sleeping arrangement in which the infant shares sleeping space with their parents or guardians.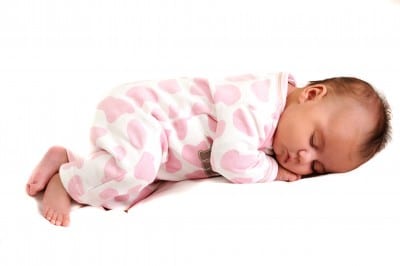 Co-sleeping is a highly controversial issue. Parents that choose to co-sleep say that they have more bonding opportunities with their children. Co-sleeping has also been said to promote breastfeeding, which is very beneficial for infants. But co-sleeping has a downside that, according to experts, could never outweigh the benefits.
"For all the benefit that you're getting from that, I would say that if you accidentally smother your child or have a co-sleeping death, that outweighs any of the pros," stated Scott Hahn, the Delaware County Coroner.
Hahn says that co-sleeping deaths can occur for many reasons – falling in between cushions of a couch, being rolled on by a parent, falling in between a bed and the wall and more. And from the moment that the infant loses its oxygen source, there are only about two to three minutes before the situation becomes deadly.
"It's just never recommended," said Stephanie Henry, a nurse practitioner at IU Health Ball Memorial Hospital in Muncie, who has been in the emergency room during two of the most recent deaths. "You think you're going to wake up. You think you'll hear them. You don't think you'll sleep that sound. You think you'll notice if you roll over. You just don't though, and it should never be done."
Henry also shared just how difficult it can be to inform the family of the horrible news.
"It's devastating. It's guilt, hysterical. The look on someone's face when you tell them that it was because they were sleeping with them, it's just devastating to a family."
What's even worse is that parents can be prosecuted in co-sleeping deaths. Charges in a co-sleeping death can range anywhere from neglect of a dependent, a Class D felony, to neglect of a dependent causing death, a Class A felony.
While no parent sets out to kill their infant in a co-sleeping situation, attorneys like Delaware County Prosecutor Jeffery Arnold say that all co-sleeping deaths are preventable.
"That's what makes it so sad," Arnold said. "I would pursue a case if the facts were right and if the medical evidence supported a suffocation. Definitely if someone was intoxicated or under the influence of drugs, coupled with co-sleeping, I would consider that blatant negligence."
But what about parents that don't even set out to co-sleep; those parents that are so exhausted that they accidentally fall asleep with their infant in the bed. According to experts, this is one of the worst times to co-sleep.
To help in situations like these, Donna Wilkins, a health officer at the Delaware County Health department offers some advice to mothers who accidentally fall asleep in their hospital beds with their infants:
"If you think you're getting sleepy, just put the baby back in its bed."
So what about co-sleeping safely? There are techniques, aren't there? According to Arnold, there is never a safe way or reason to co-sleep.
"There's a debate and there's websites that promote co-sleeping," Arnold said. "But I've never known of not co-sleeping with an infant to cause infant injuries…But I do know a number of co-sleeping situations that have caused suffocation deaths."
Keep in mind, even when putting an infant into their own bed, it is important to follow certain safety guidelines. You can find a full list of safe crib sleeping at http://www.healthychildcare.org/pdf/SIDSparentsafesleep.pdf.
Related Articles:
---
[ad]
Save