An Indiana couple looking to add one more child to the family is getting more – much more!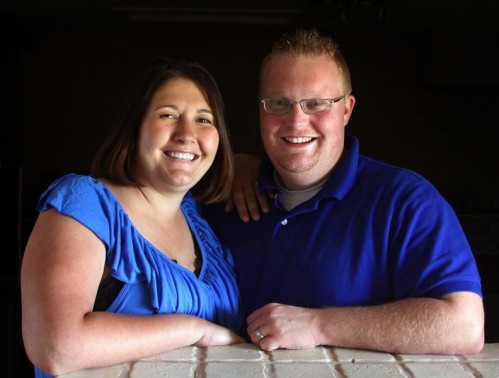 When Christy Kessinger and her husband Bill Clark decided to expand their family Christy started taking herbal medicines plus a very low dose of hormones to get her system back after having her intrauterine device removed.
Just one week later she couldn't stop throwing up.
After the first exam revealed twins, the couple, who are already parents to three children including one with Down's syndrome, started preparing for the addition of two babies. Even though five eggs had been released, doctors told them the remaining three eggs would likely disintegrate. But at a second check-up it was found that there were now three fetuses developing inside her womb.
Eventually, a scan at eight weeks showed another and by the tenth-week ultrasound revealed that all eggs had fertilized and Christy was pregnant with quintuplets.
"When they said twins, we were like oh gosh! That's two more," the mom-to-be said. "(Then triplets) we said, oh my goodness! We were just stunned. (After hearing there were five) we're going oh no!"
The family is now gearing up for the due date of October 26 when the 4 girls and one boy will become a part of the family. They currently live in a three-bedroom ranch home and only have a minivan. But they are not planning to buy a home or a car as Bill is the sole provider after Christy left her job to look after the youngest with Down's syndrome.
Doctors had also suggested to the family to reduce the pregnancy to just 2 babies, but that was not an option as they had already gone through the pain of losing one child earlier. Reducing the pregnancy could also have put the other two babies at risk.
The couple is now preparing themselves for the challenges ahead by stocking up on five of everything and are hitting up yard sales when they can to score deals. Doctors have also told them to be prepared amount of time it will take with five babies, saying feeding them all will take 21/2 to 3 hours, with them having to eat every 3 hours.

"We're scared more than we are excited knowing we don't know if we can do it," Christy says. "I'm taking it as a week-by-week thing. If I think too far in advance, I get overwhelmed."
She also adds,
"I'm definitely finished after this."
– Atula, Staff Writer
Related Articles: