Currently it is believed that about 56% of all twins born will arrive before 37 weeks.  But often they come much earlier than that. Because the occurence of fraternal twins is double or triple that of identicals, the babies may also not arrive at the same time.  And that is exactly what happened to a Boston couple after mom Lindalva delivered her first son but was able to grow her second son for more than 3 weeks after.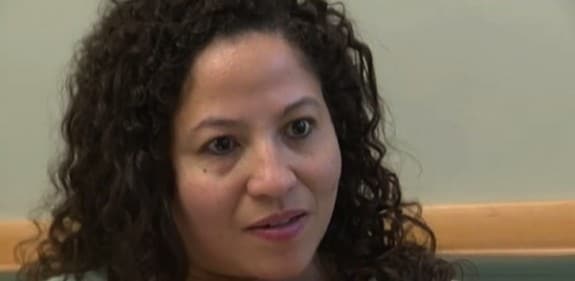 Pregnant with twin boys Lindalva Pinheiro da Silva was hospitalized in March after she started to experience premature contractions. Considered the threshold of "viability," the doctors were concerned about the babies' survival if they arrived before 24 weeks, but just 4 days after being admitted Lindalva delivered her son Alexandre.  Weighing a mere 745 grams –- roughly 1 pound, 10 ounces, Lindalva and her husband Ronaldo were only able to kiss their baby's hand before he was whisked away to the NICU.
"They brought him to me to give him a kiss," said da Silva, recalling the whirlwind delivery after just three painless pushes. "He was crying, but he was very tiny and I was very scared. I said to my husband, 'He's too tiny.'"
But after Alexandre's birth something happened – her contractions stopped and her cervix closed back up.
"They said, 'Maybe you'll deliver in hour or a day or one week," she said, recalling how a team of doctors listed the benefits of keeping "Baby B" inside. "They said, 'The longer he stays inside, the more he will grow.'"
But there was still one problem the baby's placenta and cord were still inside Lindalva's womb, which caused concern for infection.
To combat this the new mom took antibiotics to fight off infections.
"On the second day after Alexandre was born, his umbilical cord came out," da Silva said, recalling how her horrified husband "saw it hanging." "But they just cleaned it and put it back inside."
Thankfully Lindalva stayed healthy, and was well enough to make the trip from her room to the NICU each day to see her little guy.
"I would sing to him and touch him," she said of her visits with Alexandre.
Just 24 days later baby Ronaldo decided to make his grand entrance.  This time labour came on strong.
"That time made a crazy difference," said da Silva. "He was born like a regular baby. He didn't need a breathing tube or anything."
The 27 weeker was born weighing 3 pounds, 3 ounces.
Today the twins weigh more than 6 pounds each.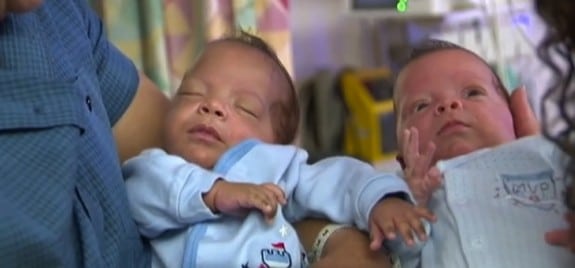 "They're my miracle babies," she said of her growing boys. "Ronaldo because he stayed inside, and Alexandre because he's a survivor."
Alexandre is still a bit smaller than his brother, and doctors say he might need surgery down the road for eye problems and a hernia. But both babies are expected to leave the hospital on June 18 – their original due date.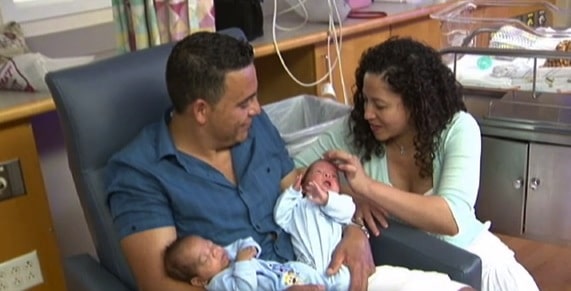 And while Alexandre and Ronaldo's arrival is incredible last year twins Amy and Katie made history when they were born 87 days apart!
---
[ad]