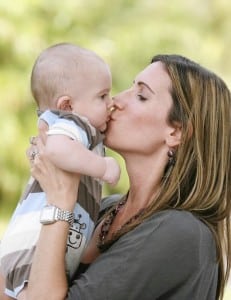 No one would have ever believed that winning a raffle ticket could make a couple proud parents, but that is exactly what happened to Niki and Fred Trusty from Ocoee.
Niki 35 and Fred 41, were married in 2007 and although they wanted to have a baby, could not conceive naturally because of unknown reasons. They met medical experts, spent thousands of dollars but still could not find a way to have a child even after 2 years of trying.
Finally, in May 2009 the two decided to go for IVF although the cost of the procedure was expensive approximately $10, 000 to $ 15,000 per attempt and it was not covered by insurance. They also planned to attend an annual conference called Paths to Parenthood.
The yearly conference was being organized by a charity called Fertility Dreams to promote the creation of families through fertility treatments and adoption.  The charity also held a raffle during the event which promised one round of IVF treatment.
"Fred sat there and calculated the odds and said, 'I think we ought to go in on a ticket,'" Niki said
The couple bought 20 tickets that day spending a total of $500 and three days later they found out that they had won.
During the prize winning IVF procedure, doctors removed 18 eggs from which 15 were found to be suitable for fertilization.  Five days later however only two were viable and both were implanted inside Niki's womb. The odds of an IVF treatment being a success are only 30-50% in each attempt, but for Niki, the first and only attempt was good enough as she got pregnant.
"We were so blessed," Niki said. "It's such an emotional journey, and there are people who go through this, all the way through, and end up with nothing."
The person behind the blessings Dr. Mark Trolice, a reproductive endocrinologist and infertility specialist, could identify with the feeling they were going through because he had dealt with the same situation.
'For 10 years, my wife had every complication you could imagine — from miscarriage to ectopic pregnancy," said Dr. Trolice,, "I even had surgery to help. … Can you imagine, having my patients cry all day long, trying to conceive,and then my wife and I crying in the evening?"
But after adopting five children who he calls his angels, Dr. Mark and his wife were finally happy and it was then that he decided to start the charity to educate and help couples become parents.
For the Trusty's, nothing more miraculous could have happened in their lives. Their baby boy Harrison is now six months old and says Niki,
"I still cannot believe to this day that we won that," We were just so lucky."

"When he was born, the first thing I did was look at him and say, 'You're my miracle baby."
– Atula, Staff Writer
Related Articles:
---
[ad]