Designer, recycling pioneer and used clothing alchemist Crispina Ffrench offers a vibrant, cuddly line of eco-friendly critters called Ragamuffins which are handcrafted in the USA from recycled sweaters, handmade felt and upcycled wool sweaters from thrift shops! Each sweet creation, available in personas including dog, cat or spiky dinosaur, is a one of a kind toy that will teach kids about living green by appreciating a new toy that was craftily made from an old item.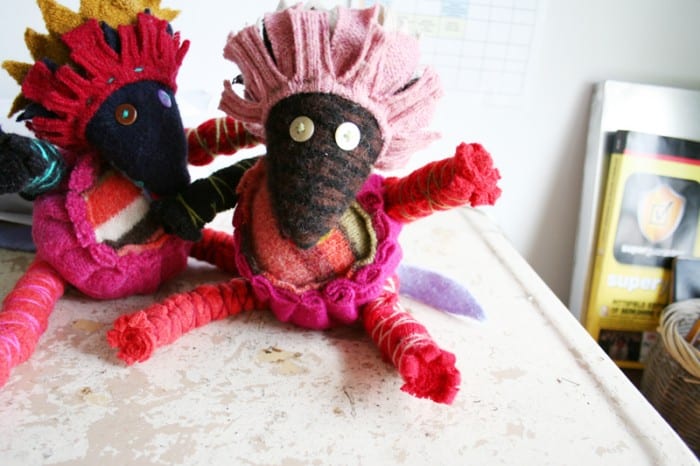 Ffrench's Ragamuffins are unique offerings for kids ages three and older and thoughtful nursery decor for babes of all ages. They come with an inspirational inherent vibe from their designer: "Ragamuffins focus on an intention of living a happy, contented life in balance with nature and a desire to spread that good word. They are not preachers but prefer to inspire by intentional living that is seen as an example of how great life on this planet can be."
Infusing her Ragamuffins with a life of their own, Ffrench details the family history of each new Ragamuffin she creates on her blog in "Ragamuffin Tails." And don't miss her new book, The Sweater Chop Shop, released in August of this year. In its pages Ffrench shares the rewards that may be reaped from old sweaters — from blankets and pillows to rugs and new, improved sweaters designed from their old counterparts. Her green design mission is inspiring and her Ragamuffins would make the perfect holiday gift for all the green kids in your life.
---
---