It was a routine C-section that turned unusual when one baby girl's father clicked a picture of her holding on to the finger of the doctor, even before she was out of the womb!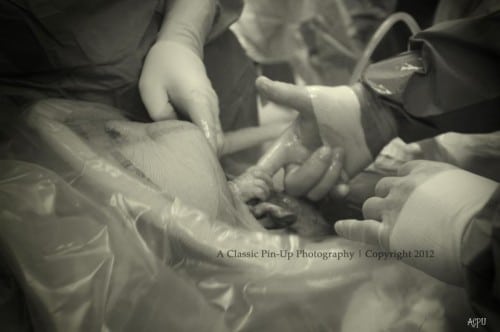 Alicia Atkins gave birth to baby Nevaeh on October 9th. But what made this C-section delivery extra special was when her husband snapped a rare image showing the doctor and the unborn baby bonding.
During the C-section, at one precious moment the yet to be born girl grabbed and held on to the doctor's finger, like most infants do. But what made this gesture unique was that she was still very much in the womb.
"I just wanted to make sure I got the picture because it was so cool," said Randy Atkins, the baby's father.
The couple gifted the image to Dr. Allan Sawyer, who proudly displays it at his clinic.
"I've never captured that picture before," Dr. Sawyer said to abc15. "It's really rare."
Alicia also posted the picture on December 26 to her facebook page and it has been shared more than 1,000 times and like by  2300 people.
"I am in awe of this photo," she writes on her Facebook page. "Something to remember forever."
Alicia has her own photography company, but this prized picture was clicked by her husband.
---
[ad]