Danielle O'Hara was beautiful in a black dress, while on the red carpet at Tesco's Mum of the year awards.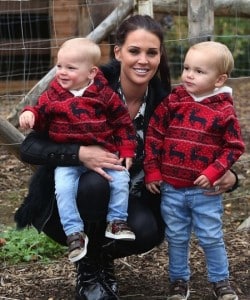 Pregnant with her third child, the model told Closer magazine,
"It's going to be our last baby, so I'd love a girl I can dress up rather than have to play football with. But, ultimately, all I wish for is a happy, healthy baby."
The pregnancy, she says, was a surprise for her and husband Jamie O'Hara. They had gotten "a bit carried away" on a night out in December celebrating her birthday and it appears all of the stars aligned.
"When I first saw the positive test, I thought to myself, 'I must be mad,' but when we had the six-week scan and saw the heartbeat, we were over the moon.

"I can't believe I'll have three children under four. Just having two boys is a handful, they're very boisterous. Hopefully things will calm down once they reach Archie's age."
{WENN}
---
[ad]