Molly Sims was spotted enjoying a relaxing afternoon at the park in Beverly Hills with her son Brooks Stuber.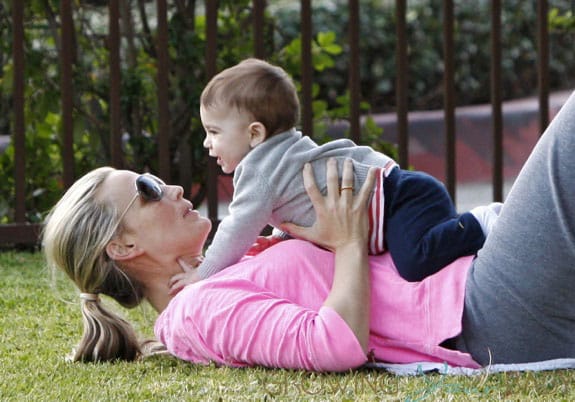 The pair found a nice spot under a tree where they sat and watched the day go by.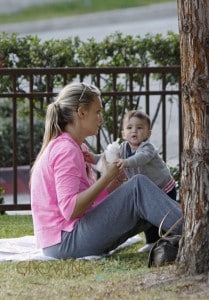 At one point Molly could be seen feeding Brooks by bottle.  Before he arrived she had hoped to exclusively breastfeed him. But those plans had to be re-considered after he was born with a tooth.
"Early on in the hospital, they really want you to breastfeed, so I'm trying everything," the actress shared with Anderson Cooper.

"And I'm like, 'Gosh, this really, really hurts.' And they're like, 'Oh, we know.'"
Determined to find the source of her pain, Molly was surprised to find a tooth.
"I'm like, 'Is there any way a baby could be born with a tooth?'" she recalls. "And they went, 'Oh sweetie, I know you're a model, but … babies aren't born with teeth!'"
Sure enough there was a tooth and it made it hard for her to breastfeed him.
"I did nipple shields, nipple guards, supplemental nursing system, it was horrible.  He was literally like a vampire on me for three months — it was unbelievable," she says with a laugh. "Cut to I'm not breastfeeding and I'm proud of it."
---
{SPLASH}
---
[ad]