One of the most iconic buildings in New York City, the Empire State Building is a 102-story skyscraper located on Fifth Avenue at 33rd Street. It makes appearances in almost every movie and TV show produced in the city and shines like a star from almost every corner of midtown Manhattan.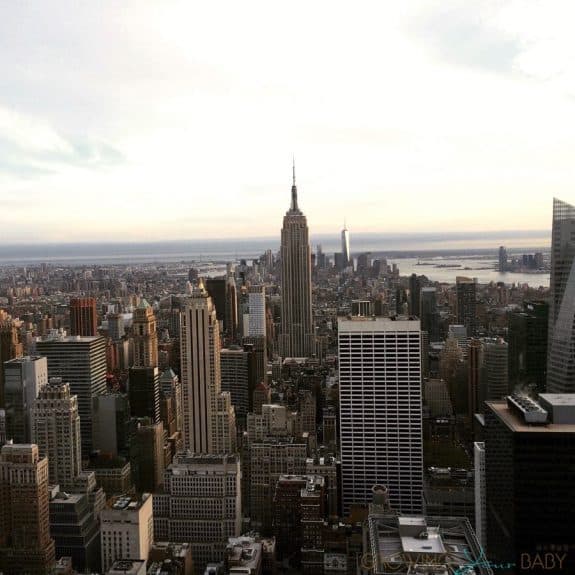 I travel to New York City three to four times a year for work but had never seen the city from above.  My first time experiencing the Empire State Building was last April while visiting the city with my sister-in-law. It was on her list of must sees, so we headed over to see if it was worth the hype.
As soon as we walked out onto the observation tower, I was amazed at the view. I could have stood there for hours.  It definitely lived up to its reputation.
For this reason, I added it to the list of places I wanted to take my son when I planned our visit in October.
His first time in the big apple, he immediately fell in love with the city – the lights, action, and energy. As we walked down the street he ran ahead of me excited at what he would find around the next corner. I knew he would love to see it from above.
As luck would have it we were staying just a couple blocks from the Empire State Building so I thought we could whip over, check out the site and then go for dinner afterward.
Completely miscalculating the site's popularity, we were met with a huge crowd of people when we arrived.
What To Expect If You Visit During Busy Time
The line will go quickly I thought… Well it did, but it winds and twists and winds and twists so what felt like it was going quickly – actually wasn't. We then went through security, and then qued up again to buy our tickets. At this point, we were into this trip by more than an hour.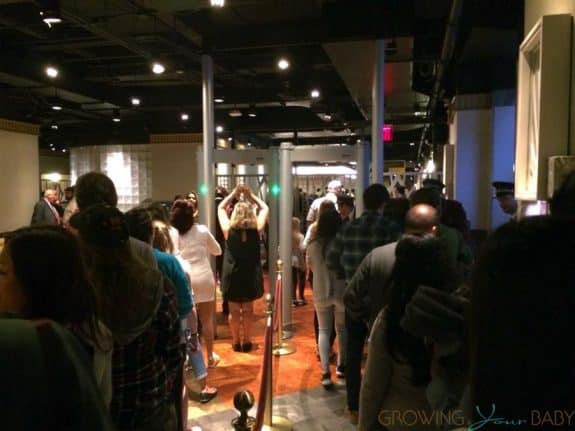 From here, you can choose to visit just the 86th or go all the way to the 102nd floor. We chose just to go to the 86th floor. After you get your tickets you que up again to get your picture taken and then again to ride the elevator to the first landing, walk through that floor and finally line up to get to the 86th floor. By this point, the excitement was lost on my 7-year-old. He was mad and angry at me and I didn't blame him. He had been patiently waiting to see the city 'from above' for almost 2 hours. I am normally quite patient, but they really do draw the process out far too long. Our timing must have been better the first time because we didn't run into these long lines.
By the time we actually made it out onto the observation platform we were both very frustrated and it didn't help that we couldn't move an inch there were so many people. Certain areas are lined up 3 or 4 deep to get the perfect selfie, but thankfully – others had no one.
But… Was It Worth The Wait?
Yes!
We quickly grabbed those spots and marveled at the sparkling city.  As we made our way around the building other visitors offered to take our picture, and we did the same for them.  I met a man whose children had brought him to Manhattan for the first time.  He was beside himself with excitement.    I asked him if he'd like me to take his picture.  He told me he had already taken 20.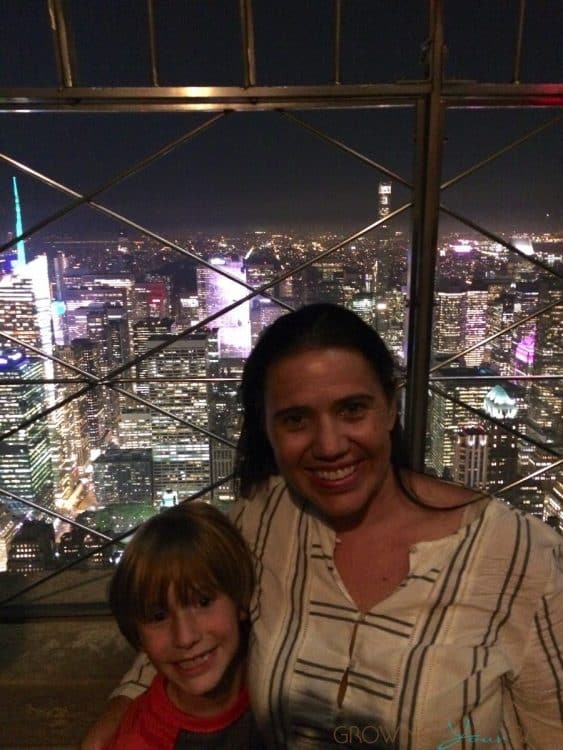 The top of the Empire State Building is pretty awe-inspiring and I fully understand why it's so packed.  People just don't want to leave.  You could easily stand there for hours and pick out new things every time you look down.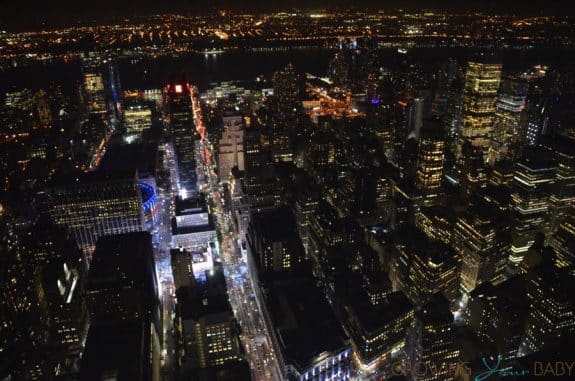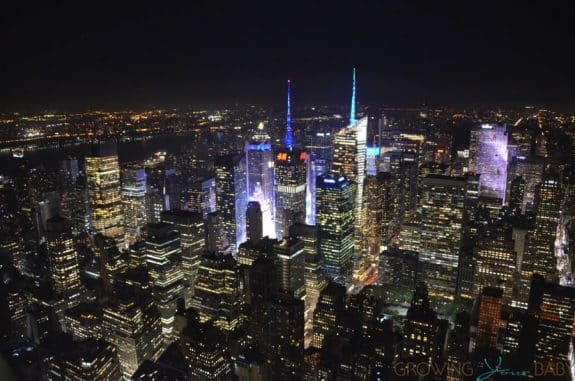 With that being said, I prefer it in the daytime.  Beautiful pictures of the whole city are much easier get.
Tips For Visiting The Empire State Building
Someone once told me to plan my visit for dusk to get the best of both worlds, but clearly, you need to give yourself 90 minutes to ensure the timing is perfect.
The Empire State Building website says that if you are looking to visit without the crowds – be there early.  For more space and less wait, visit between 8 AM and 11 AM.  Kids under six are free. If you're bringing a stroller, you'll need to fold it before entering the elevator.
Buying tickets online also bypasses you through the first hour of waiting.   The official website also has the waiting time listed at the top.  It is updated every 2 minutes so you can check that before you go!

All in all the trip to the Empire State Building was a success.  My son picks it out of every show, picture, and movie and proudly announces he's been there and seen it from the top.  It's an iconic spot that you must see if you are visiting the big apple.  You just need to make sure you plan for it to take some time for you to get to the top.
Have you visited?  Did you think it was worth the wait?
---
[ad]
Save