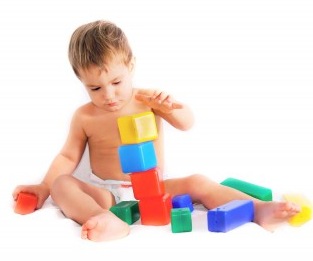 We love stacking toys! They are one of the most popular educational tools and are a great way to encourage fine motor and problem solving skills in young children.
Between the age of 6 months and 1 year, your baby will start to learn some developmental skills that will help them learn more later on.
Stacking a toy on top of another is a great way to teach them hand-eye coordination and cognitive skills such as color and size concept. You can start to introduce blocks and stacking toys as early as 6-7 months old.
By the time they are between 15-18 months, your child should be able to stack 2 blocks and stack 6 blocks between 18-24 months.
Once your child masters the basic 'one on top of other', there are a lot of toys out there that will further challenge them to think a little more and problem solve while they're stacking.
Here are 9 great stackers for kids 2 and older:
Stacking Construction Vehicles – This cool set includes a bulldozer, a dump truck and a cement mixer. Each vehicle has a free wheeling base and is constructed of solid wood stacking parts. The fun is endless, as they can be taken apart and rebuilt again and again. Interchangeable? Probably! ($20)
Plan Toys Stacking Tree – This stacking set is designed based on the concept of nature. Each wooden piece can be stacked to form different kinds of trees. Children can learn the color variation and size..($20)
P'kolino Stacking Toy – Children are initially challenged to fine-tune motor skills by placing the easy to hold rings on extra thick stacking pole. With that mastered the child begins to enhance spatial logic by interlocking anyone puzzle piece to any other; in any order. Finally, through "solving" the puzzle sequence the child learns color and size recognition.
Voila Four Load Truck – A pull-along truck with 4 stacks of 4 colored pieces perforated with 4 different geometric shapes.
Wooden Fish Boat Stacking Toy – Stick a small passenger in the boat and have the fish swim all around or stack the fish to create a beautiful rainbow-colored sail. This fish stacker is made of hardwood. 10 pieces in total.($37)
Rubbabu – Rubbablox – These multi-colored, natural foam building blocks have soft connectors so children can easily build with them. They are tactile and great for early spatial learning. Includes 9 blocks and 18 connectors.
Melissa and Doug Stacking Train – With just a little imagination little ones can custom build their own train from the 15 interchangeable pieces and three linking cars. My boys have this train and love it.
Wooden Numbers Stacking Board, Rings from Bajo – Made of solid wood and finished with completely non-toxic, child-friendly paints and finishes, the nicely sized disks are perfectly sized for a young child's hands. What's even better, you don't have to worry about losing any of the disks, because they are all attached to their posts via a long string with a balled end. 55 disks total.
Geometric Stacker – This large, colorful wooden toy has three different stacking towers, and includes 25 durable, solid-wood pieces to match, sort and stack.
---
[ad]