If you are shopping for little ones aged between 12-18 months we have some great gift ideas!
As kids approach their first birthday they are well on their way to independence. These toys will help encourage development milestones while teaching them some new play patterns.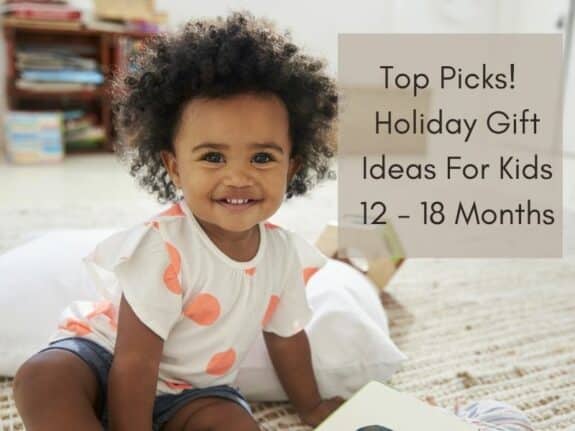 This post includes affiliate links.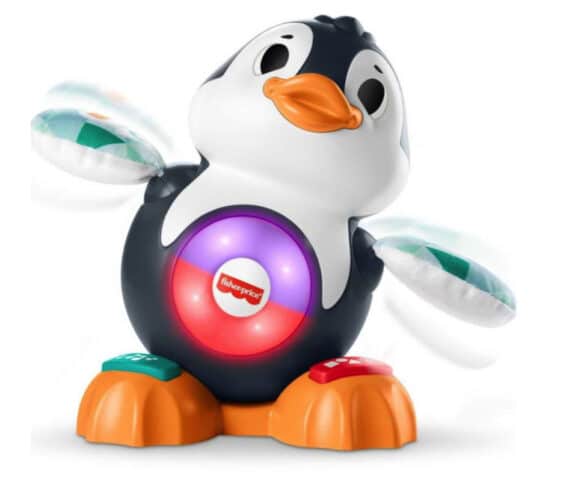 Introduced two years ago, the Fisher-Price Linkimals line is a collection of interactive animals that will play off each other when one is activated. The new Cool Beats Penguin™ musical toy features fresh tunes, multi-color lights, and jammin' moves. When kids press the buttons, the penguin flaps its flippers and bobs side to side while music and phrases introduce the alphabet, opposites, and more. And when this penguin pal meets up with other Linkimals™ friends, they light-up, talk, sing and play together! (Additional Linkimals™ toys sold separately and subject to availability.)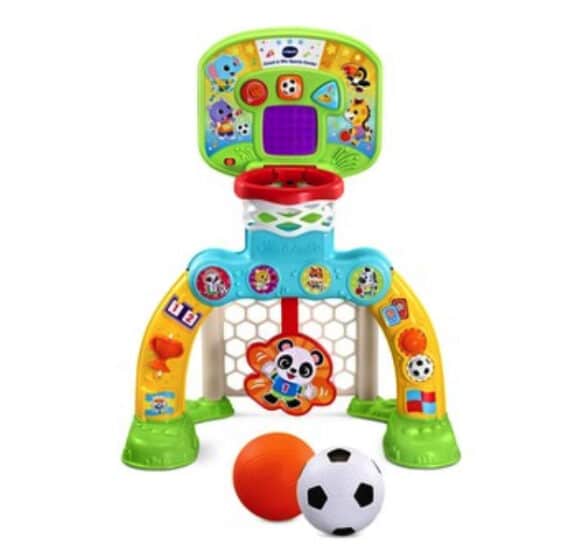 A toy that will grow with your child!
It's easy to practice counting with a basket that keeps the score. One, two, three! Pull down the basket for a slam dunk. Score a goal! The friendly goalie will cheer you on with encouraging phrases. The animated LED scoreboard keeps the learning and the energy going. Little fingers get a fine-motor workout, too, with buttons to press, gears that turn and a trophy that slides back and forth. Learn about shapes, colors, numbers and good sportsmanship as you enjoy 65+ songs, melodies, sounds and phrases.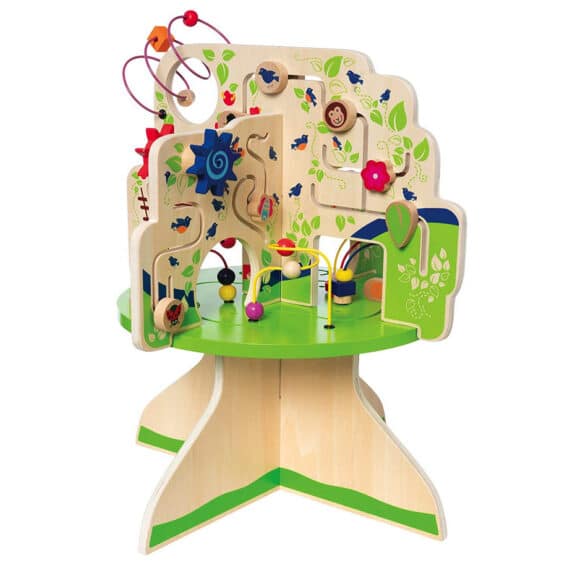 When your little one is old enough to stand they can explore this 4 sided activity center.
Designed with 4 quadrants of hands-on activity toys for toddlers, the Tree Top Adventure Activity Center is packed full of exciting features. It includes 4 quadrants with a variety of activities: 6 tracks with animal-themed gliders, 6 bead runs with colorful wooden beads, a spring flower and more.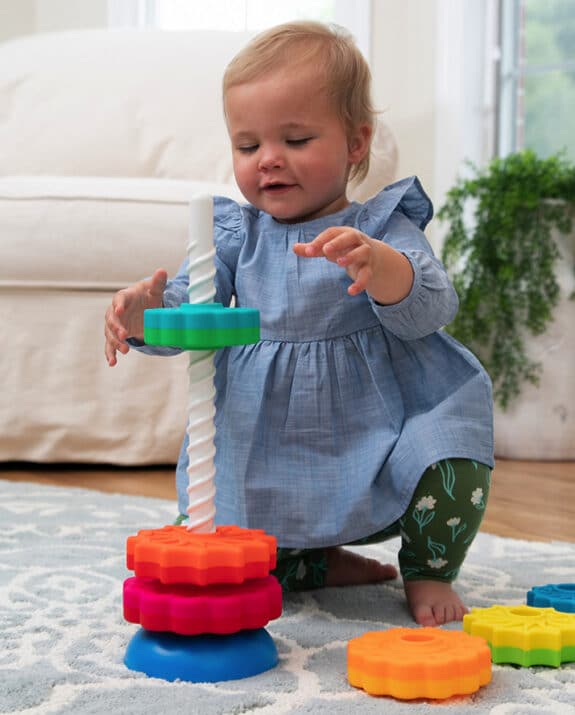 A stacking toy with a spin!
Kids place the vibrant discs onto the threaded corkscrew pole and then spin them to get them make their way down to the bottom of the base.
Each disc is dual-colored, and from largest to smallest, they form a dynamic rainbow utilizing fun shades like magenta, lime, and teal, and your more traditional shades of lemon, red, and sky blue. The star-like discs alternate between daisy style and star-burst shapes, too.
To add a bit more challenge the base can be set to rocking or stationary.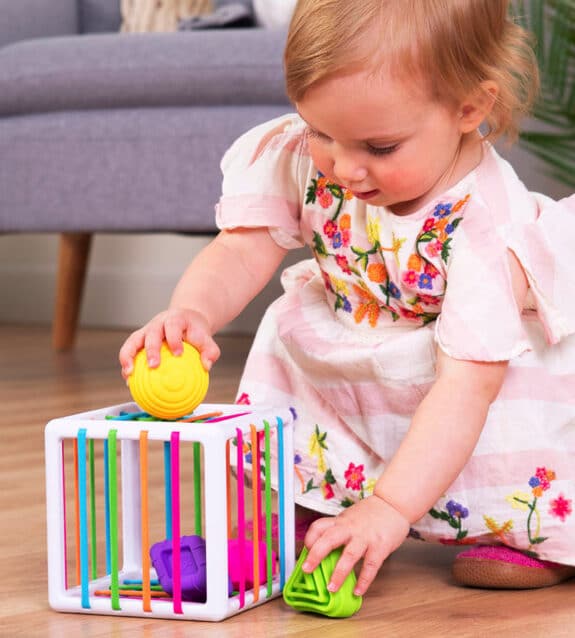 As kids push the shapes through the elastic bands of the cube they learn cause and effect, tactile exploration and strategic play.
The set comes with six chunky shape blocks are each designed with fascinating textures that are sure to thrill the fingers; a cube, a diamond, a sphere, a triangle, a flower, and the Fat Brain logo.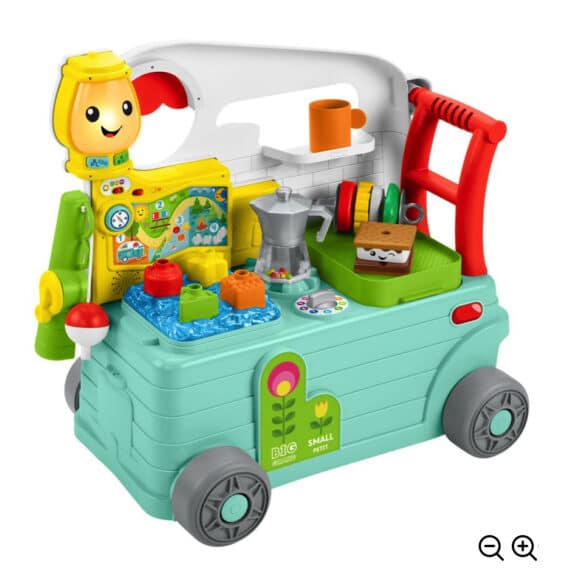 Fisher-Price's Laugh & Learn line has been a best seller for more than 15 years with new parents. Designed with learning to match your child's developmental stage, this collection comes with a lot of play value.
The Laugh & Learn® 3-in-1 On-the-Go Camper keeps exciting play going as your little one grows from sitting up to engage with the busy activities, to walking and pushing along, to acting out imaginary camping adventures. This musical activity center comes loaded with fun songs, sounds, lights, and phrases about letters, colors, counting and shapes, as well as 15+ removable play pieces to bring the pretend camping action to life. Use the globe button to select English or French language.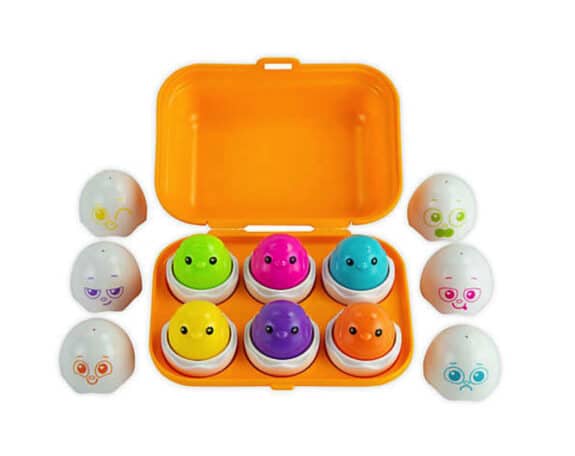 These brightly colored eggs will encourage creative play. This 19-piece set will teach colors and shapes, and feature fun chirping sounds when your child presses down. Kids learn colors by matching shells to chic and shapes by placing the correct shape to the right spot in the egg crate.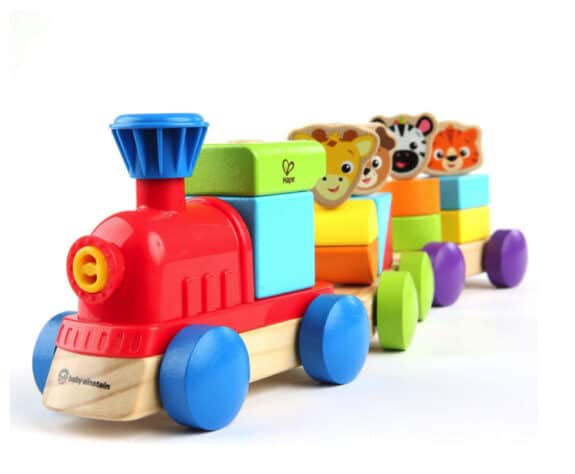 Made in partnership with Hape, this wooden train is a twist on a classic toddler toy. Toddlers can pair different colours and hopes together to make new animals and friends. And the durable wooden pieces will make sure hours and hours of playtime are ahead. Then they can move the train cars and characters around, and dream up miles of adventures for her Baby Einstein friends!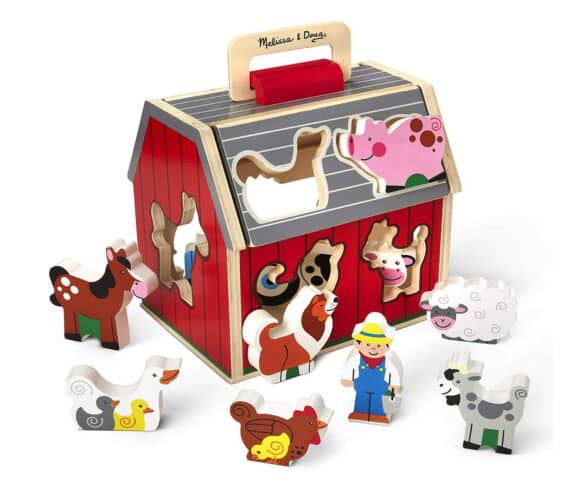 Kids can take farm animal fun wherever they go with the take-along sorting barn! Fit the 10 wooden play pieces(ducks, horse, pig, goat, sheep, chicken, dog, cow, tractor, and farmer) into shaped holes in the sturdy wooden barn, or stand the pieces up for pretend play. Flip-up the barn roof for quick and easy access, and use the handle to take playtime anywhere.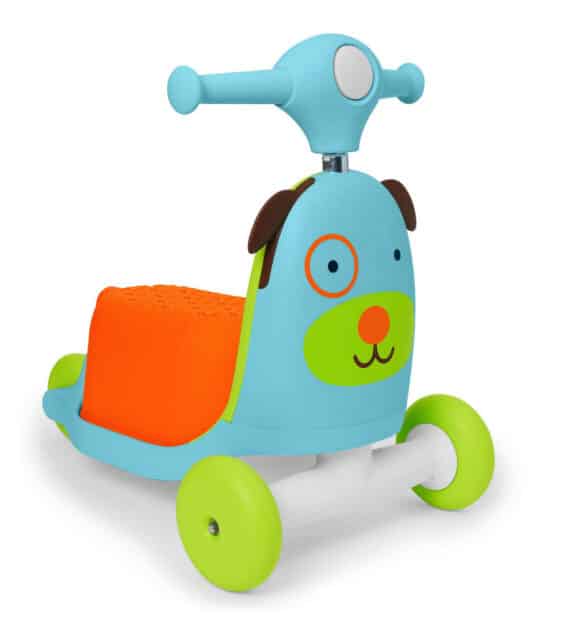 Designed to grow with your little one for three stages of fun, Skip Hop's cute and colorful Ride-On Toy offers an entertaining way to encourage motor skills development, balance, and coordination at playtime. Stage one was designed for early walkers. It motivates little ones to push and pull in wagon mode. For stage two, the wagon's storage tub converts to a seat for ride-on mode. As your child gets older just remove the seat, pull up the adjustable handle for your toddler, hop on the scooter and take it for a spin! They'll love pressing the button at the front for a headlight, melodies, a beep sound, and more fun sound effects as they whizz along.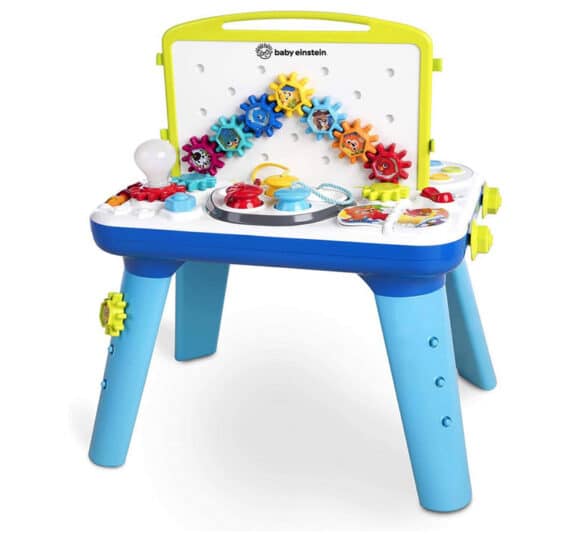 From removable, spinning gears to color-discovery circuits and flashing lights, the two-sided art and science table will capture your little one's attention for hours. Watch as the gears connect to make the light bulb turn on! experiment with color mixing using the mess-free "paint pots." Your little one will love investigating all the gadgets on this double-sided table. It plays more than 65 melodies and introduces vocabulary in English, Spanish or French. Volume adjusts to either high or low settings or can be turned off completely.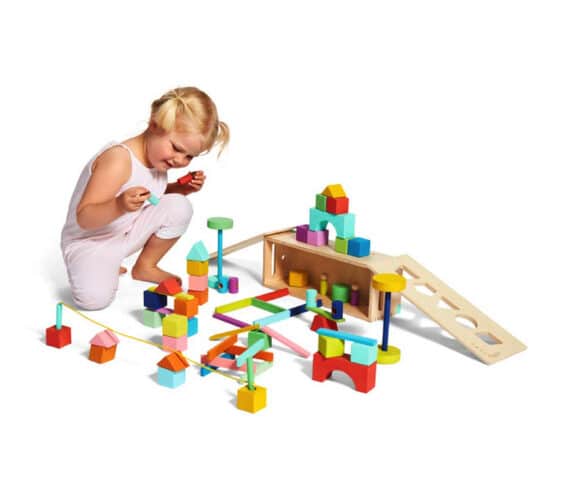 This science-based system of 70 heirloom-quality pieces comes in 18 colors, more than a dozen shapes, and a vast array of solid wood components including arches, wheels, bead threader, rolling ramp, and shape sorter, that also converts into a pull car.
Kids can unlock STEM concepts like math, physics, and engineering, along with higher-order planning and problem-solving; spatial awareness, motor-skill development, and hand-eye coordination
Fun activities for every stage: The Block Set by Lovevery is designed with 20+ fun and creative learning activities that range in complexity to meet every stage of your child's growth from 18 months to 4+ years, offering years of play in one box.