One of the most important purchases parents will make before welcoming their baby is the car seat.  Many familiess will start with the infant car seat(bucket), move to a convertible and then a booster as your child gets older.  Because choosing the right seat in each of these categories can be a daunting task, Diono has combined them all in the Rainier.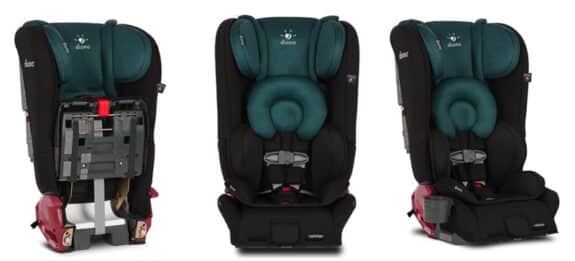 Designed from 5-120lbs, this seat is your 'one and done' option from birth to 10 years old.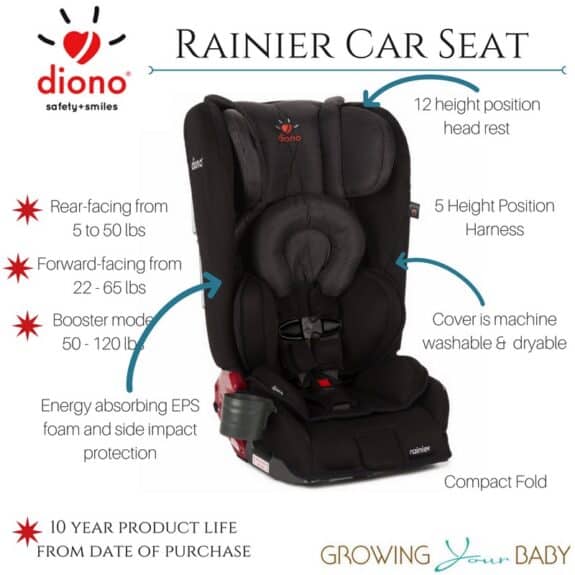 Out of the box, the seat comes ready to go.  All parents of newborns need to do is add the included base to use the seat in the rear-facing mode.  It is recommended kids stay in the rear-facing position until they are two, and the is seat has a good weight limit in this configuration(5 – 50 lbs) to support this.  When your child is 2, and at least 23lbs the seat can be reversed and used in the forward-facing mode(up to 65lbs).  The harness can be removed completely after 50lbs to be used as a booster to 120lbs.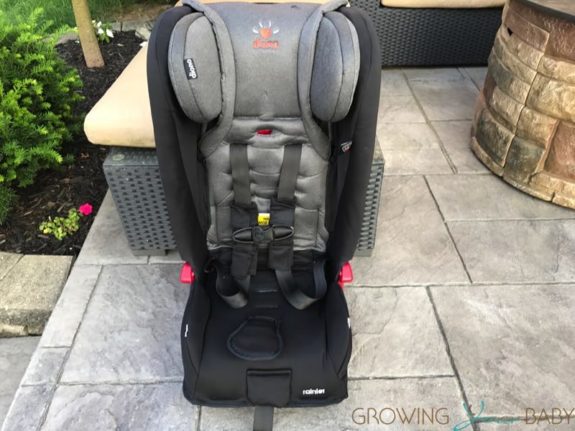 The seat itself features 12 headrest positions, 5 harness adjustment levels, and 3 crotch strap adjustments.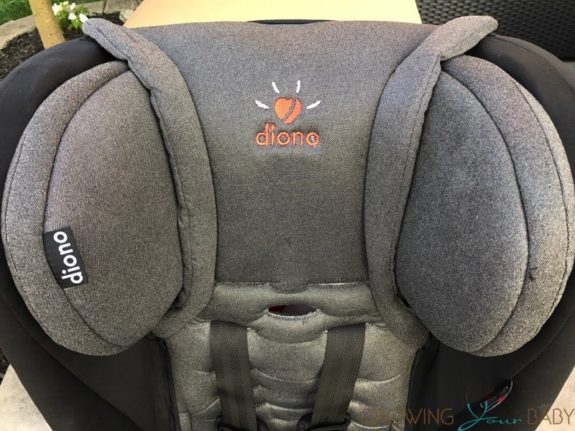 For newborns the seat has a head protector and memory foam body cushion.  It's expandable sides and long seat bottom also allow proper leg support.
There is also a cupholder so kids can keep snacks or a drink close while out.
One of the coolest features of this seat, however, is its portability or should I say its ability to be folded to be transported.  When not in the vehicle the Diono Rainier can be folded for easy storage or travel.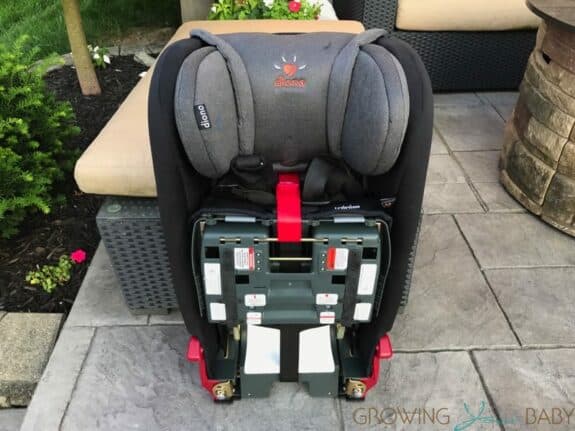 Diono has designed the seat to be transported 4 ways; with the red strap on the front that keeps the unit together, a strap on the side or with their additional backpack and shoulder carry straps.
If you plan to use this as your travel seat for flying, I HIGHLY recommend you get the backpack straps.  This seat is VERY heavy and can't be carried easily with one hand.
On the flip side, the weight of this seat is a good thing.  The Rainier was designed with a full steel frame and aluminum reinforced sides for unmatched safety.  This paired with the energy absorbing EPS foam and side impact protection provides added safety benefits for kids in the event of a crash.
The seat itself is narrower than others we've tested, which means it takes up less room in your back seat and you may be able to fit a non-car seated passenger in the middle.
Rubber bottom grips on the bottom of the seat offer a no-slip installation, and the cover is machine washable and dryable for when it gets dirty.
The seat itself sits low on vehicle seat for easy child boarding and improved safety performance in a crash.
The Diono Rainier comes with a 10-year product life from date of purchase so it should last for the entire time your child needs to be in a car seat.
Even though it's on the higher price range for car seats($400), the Diono Rainier car seat is a premium product that was engineered for safety and to meet your family's needs for their entire safety lifecyle.  Once you buy it, you won't have to worry about another seat for your child again – which is important for growing families.
Disclaimer:  Thank you to Diono for sending this seat for review.  As always, my opinions are my own.
---